Columbia's new virtual event series 'The Event Lab' opens with Oux concert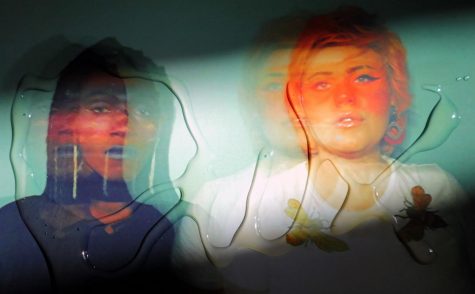 Styled in face masks and standing six feet apart, Indigo Finamore and Manae Hammond took over the Columbia Conaway Center's mainstage and managed to sing, play multiple instruments and dance while illustrating a new normal for live performance.
The Department of Exhibitions and Performance Spaces (DEPS) and the Department of Student Activities kicked off their new weekly event series "The Event Lab" with a virtual concert from art-pop duo Oux Thursday, Sept. 17.
Livestreamed on the DEPS YouTube channel, Oux members and Columbia music alum Finamore and junior music major Hammond performed a 20-minute set on the Conaway Stage, 1104 S. Wabash Ave.
The concert was hosted by senior comedy writing and performance major Jared Wiseman, who said he was excited to perform at a venue for the first time in nine months due to the pandemic.
"You don't really know what's going to happen with live performance," Wiseman said. "This is the future of what performance is going to be, at least for the time being. I want to be a part of it."
Senior music business major Hannah Davis, who co-produced the concert with senior music business management major Jana Gautschy, said the idea for the Event Lab was developed as a way to "maintain a campus community," despite students being all over the world.
The two departments reached out to Davis in August to produce The Event Lab's first concert, as she also helped plan the virtual mainstage for Manifest in May.
Davis said the plan is to have different hosts and producers for the events, as The Event Lab will be open to all registered student organizations.
"It's a way to get all the departments involved," Davis said.
Wiseman said he would host an event again if given the opportunity, but he would rather open it up for others to get involved.
"It's really cool to perform at a venue, even if there is no audience, and I would love for more Columbia students to experience that," Wiseman said.
While the plan is to keep the series completely virtual, there is a possibility The Event Lab could host in-person events in the future, and Davis said an outdoor event with safety procedures in place is being discussed.
The event series will take place every Thursday this semester at 7:30 p.m. on the Department of Exhibitions and Performance Spaces' YouTube channel. The next event will be on Sept. 24 and will feature the Columbia-based R&B group Aurin and the Hex with Paul Stretch, all of who are alums or current students at Columbia.
For more information about future events, visit columbiaeventlab.com.