Columbia students lose restaurants that once brought them together
As of Monday, Feb. 15, Pauly's Pizza, 719 S. State St., is closed permanently, leaving frequenting students saddened with the unexpected closure.
Pauly's, a local South Loop pizza hot spot, was more than just a restaurant for Columbia students. It was admired for its large portions, cheap prices and quality food.
"I will speak of Pauly's Pizza for the rest of my life," said Thurston Stevenson, a senior comedy writing and performance major. "I'm grateful for the memories and the food that I got there while I could; it will live on in my memories forever."
As of Aug. 31, 2020, 163,000 businesses had closed nationwide since the pandemic began in March, and 60% closed permanently, according to Yelp's Local Economic Impact Report.
Since its location was so close to Columbia's campus, Pauly's Pizza was a staple of many students' college experience, Stevenson said. Whether to get a bite to eat or stay a while and hang out with friends, it felt like a part of the Columbia community.
Stevenson has been a customer of Pauly's for two years and ate there one to two times every week, he said, making it a ritual to go there with friends before or after improv club.
The Chronicle made several attempts to speak to the owner, but was unsuccessful. The phone number associated with Pauly's Pizza has been disconnected.
Unfortunately, Pauly's Pizza is not all the South Loop and Columbia students have lost. The Panera Bread at 501 S. State St., which was connected to the University Center, closed before the Fall 2020 semester began.
Lucas Bold, a sophomore film major, commuted to class nearly every day last year and said eating at Pauly's Pizza and Panera Bread comprised significant moments in his early adulthood.
"That was the beginning of my freshman year of college when I was growing out of my nest," he said. "[Pauly's] and Panera Bread were always the symbols of my independence."
In Bold's friend group, he said there was a good-natured feud over whether they were a Pauly's fan or an Art of Pizza fan. Bold said he preferred Pauly's because of its friendly atmosphere.
"I'm not a regular in the sense that I went every other day, but I still was treated like a regular," Bold said.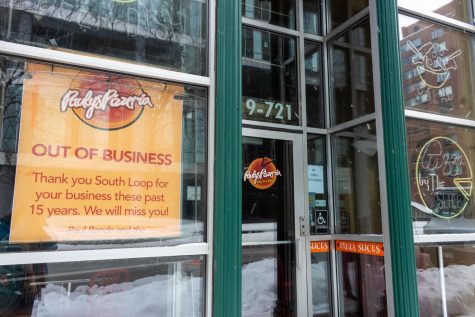 Jonah Cohn, a freshman exploratory major, and Jhonn Rusic, a freshman comedy writing and performance major, are roommates in 30 East, located at 30 E. Balbo Drive. They once went to Pauly's five times in one week.
"Pauly's helped us bond as roommates," Cohn said.
While students are upset about the multiple closures, some suspect it is due to the harsh effect of the pandemic on steady business.
"I'm still in denial. I refuse to accept that [Pauly's] has actually closed," Rusic said. "It's tragic that so many places like this are closing due to COVID-19."
With fewer students living on and walking around campus this year, businesses like Pauly's and Panera lost a significant amount of their customer base. This, compounded with insufficient government aid, has made it a challenge to remain open, as reported by the Chronicle.
Released in December, the Chicago Hospitality Grant Program aimed to relieve Chicago bars, restaurants and performance venues financially, but it has not been enough to help every establishment impacted by COVID-19 stay afloat.
The city eased COVID-19 indoor dining restrictions somewhat Jan. 31, allowing bars and restaurants to safely operate at 40% capacity, but no more than 50 individuals per space at one time, which could gradually aid struggling businesses.
Caroline Guffey, a freshman photography major, said she wished the Panera had not closed and found the Panera on North Michigan Avenue also closed.
"Every single time my friend and I go out walking, we just notice more and more stores closing," Guffey said.