Columbia student display modern day propaganda posters in Chicago museum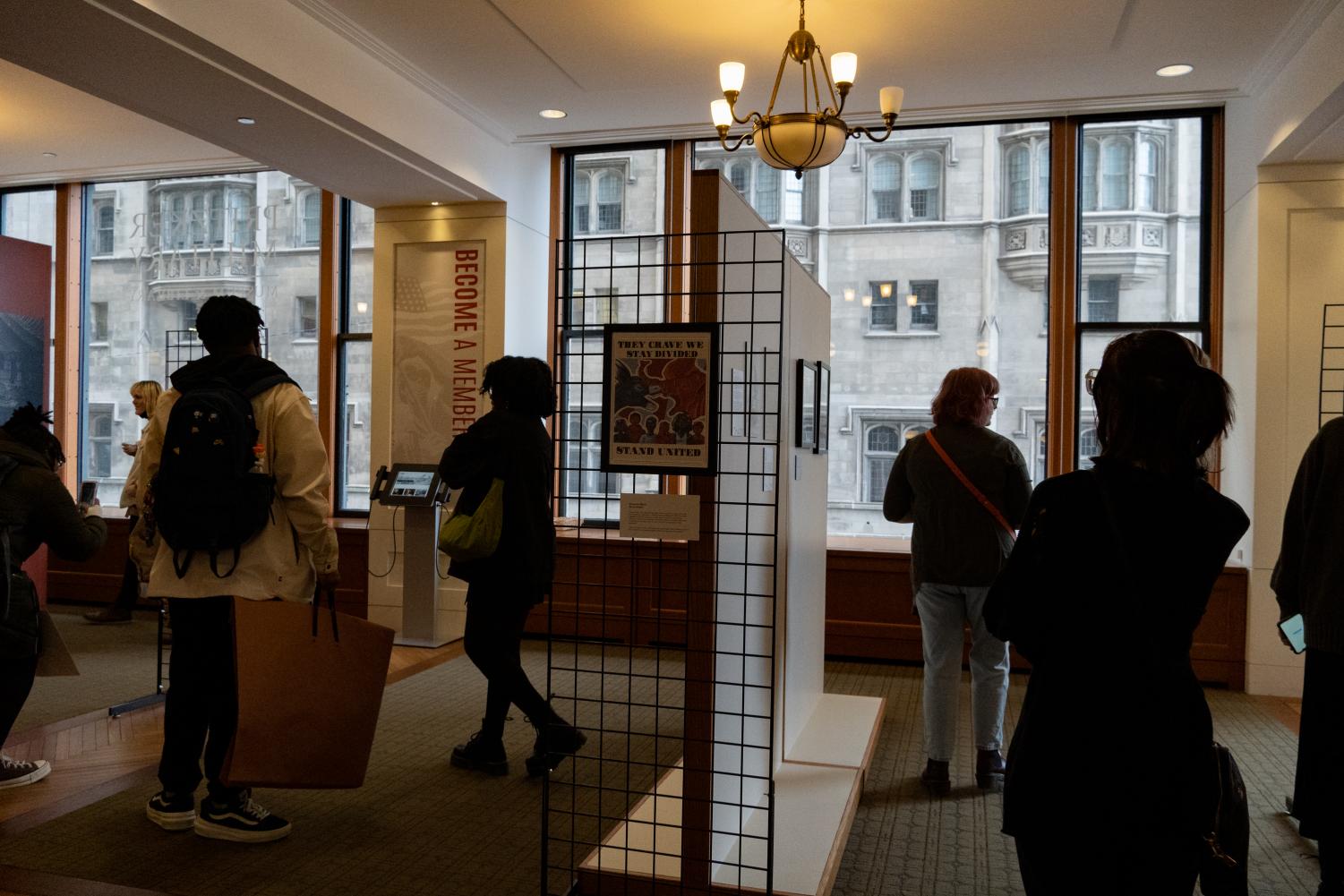 The posters feature images of burning books, a transgender Jesus and a crosshair over a schoolgirl. Each varied in art styles and topics like politics, the environment and human rights. But they all have the same goal of hitting the viewer with persuasive propaganda.
The 24 pieces of art were created by Columbia students and unveiled at the Pritzker Military Museum and Library on Thursday, March 23. The exhibition, "Propaganda Posters for the Modern Day," will be on display until April 1 at the end of Columbia's spring break.
There were a total of 70 entries made by students either majoring or minoring in illustration, or taking an illustration class this semester, said Ivan Brunetti, an associate professor in the Design Department. Brunetti helped coordinate the exhibit by collecting and printing all of the artwork.
"We had a lot of strong entries and it was not easy to narrow it down," Brunetti said. "There was quite a bit of debate with the judges on a lot of the images."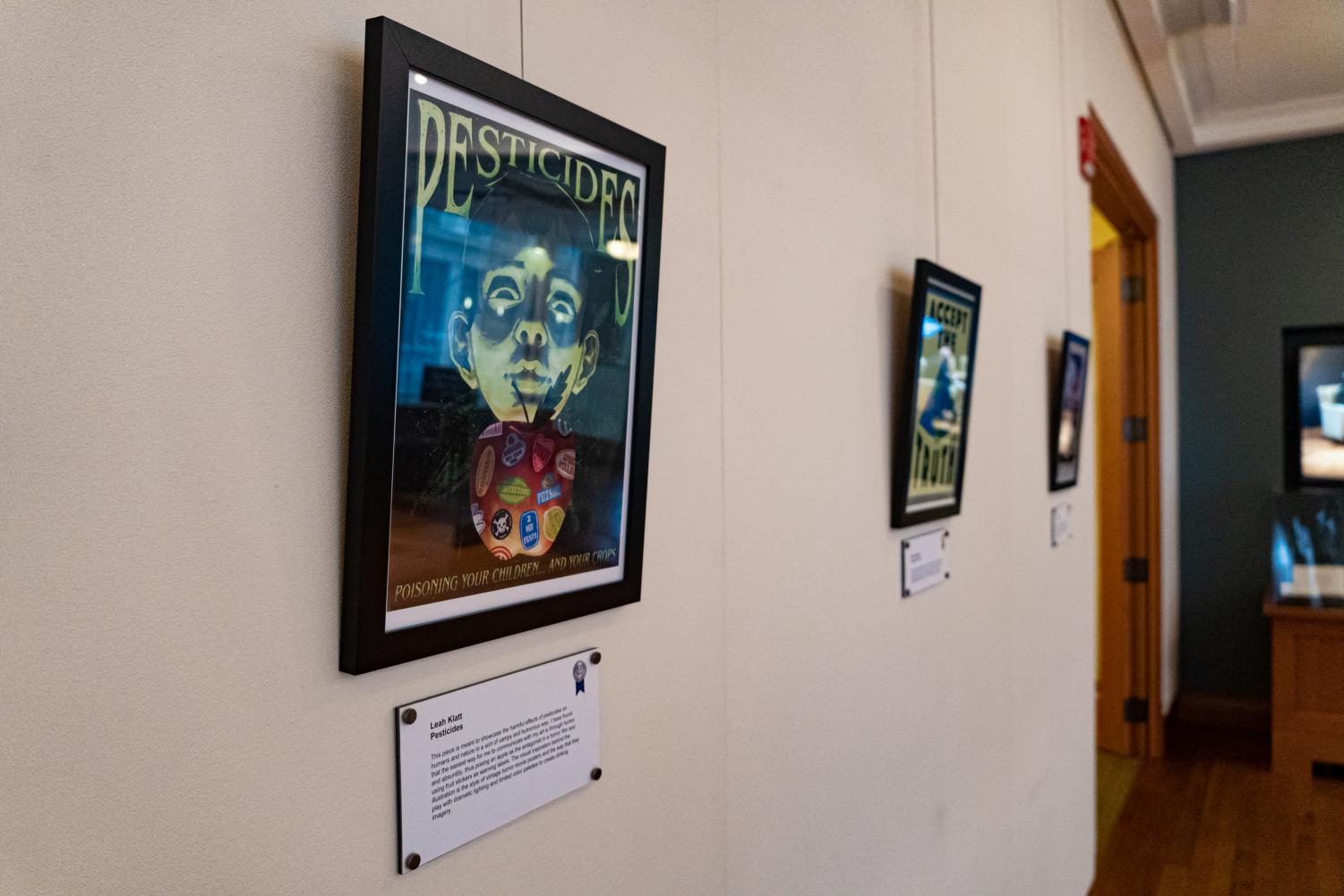 The panel of Pritzker Museum employees and Columbia faculty chose the top submissions based on how well the posters embodied the spirit of military propaganda posters, said Rosie Waniak, Pritzker Military Museum and Library public programs coordinator.
"We were looking for pieces that really grab your attention and make you think about a subject and really kind of convince you to agree with them or believe in them," Waniak said.
The top three winners, Van Espinoza, Leah Klatt and Brody Langdon were granted cash prizes: $75 for third place, $150 for second place and $300 for first place. All three spoke on a panel at the opening night event.
Many artworks channeled famous historic posters like Rosie the Riveter and Uncle Sam's "I Want You" with demanding and emotion-stirring phrases. Third-place winner Espinoza, sophomore illustration major, chose to highlight the hypocrisy of Evangelical Christians with the phrase "God's love is the strongest hate."
Espinoza's poster is titled "American Supper" and depicts a Black transgender Jesus surrounded by a burning American flag and angry Americans.
"I was really inspired by all the anti-trans laws that have recently been passed so I want to really capture how this loving church has destroyed children and especially people of color," Espinoza said.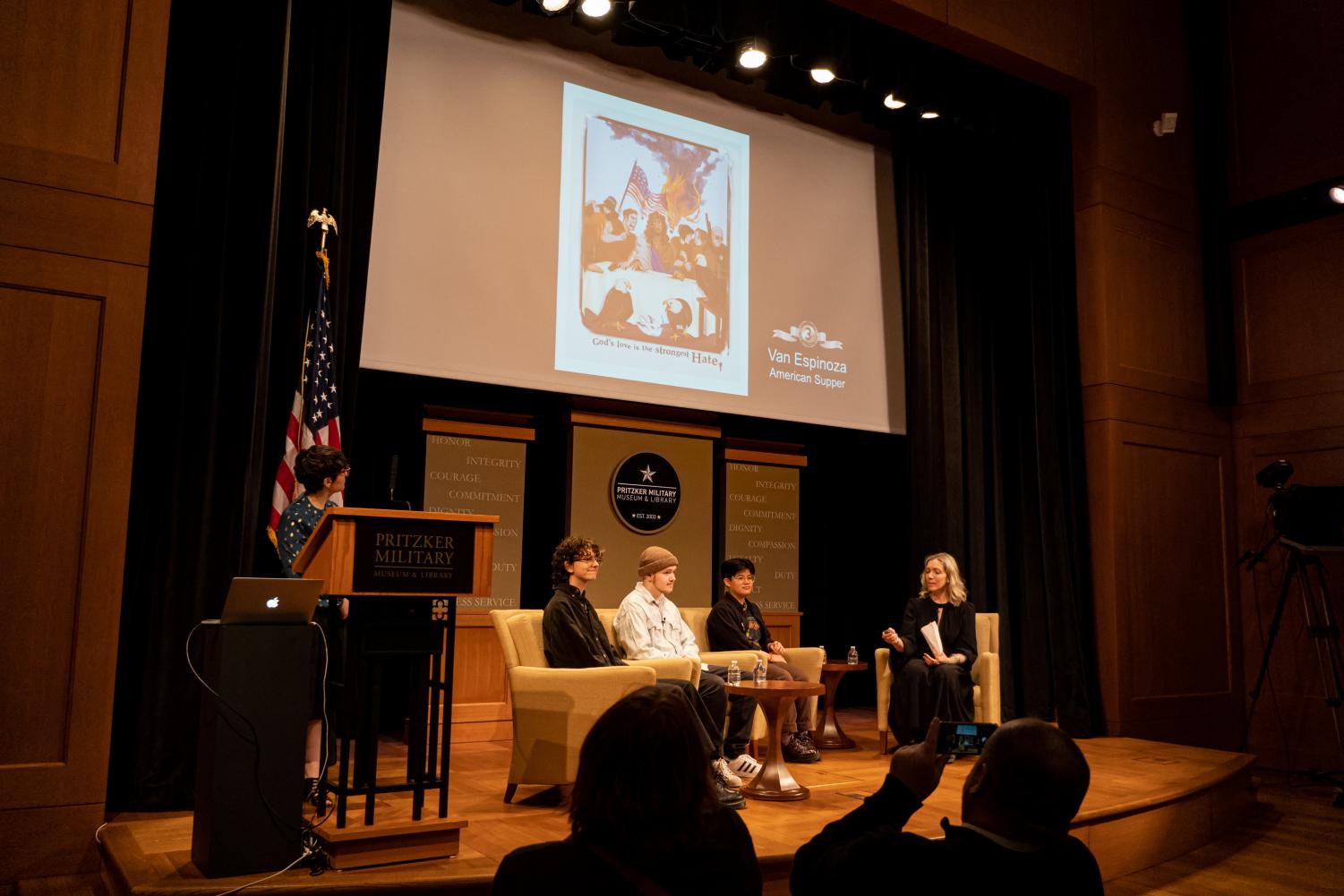 Second-place winner Klatt, senior fine arts major, took inspiration from retro horror posters for their topic titled "Pesticides," which shows a dramatically lit and horrified child's face staring at an apple covered in hazardous stickers. They said they wanted to have a humorous take on the topic of the harmful effects of pesticides in food.
"I think it makes it more palatable. Sometimes people are uncomfortable talking about serious things, myself included," Klatt said.
Junior animation major Langdon was awarded first place for his satirical poster about conspiracies. Big words that say "Accept the truth," also the title of the piece, surround a pyramid-shaped globe to poke fun at the flat earth conspiracy.
"The inspiration for mine was conspiracy theories and misinformation in general," Langdon said. "It can be kind-of a vague title because I thought it can be interpreted differently in your own conspiracies."
This is the second year that the Pritzker Military Museum and Library partnered with Columbia to display student work. Last year, students created political cartoons based on the work of World War II cartoonist Bill Mauldin.
Waniak said that submissions nearly doubled from last year and hopes Columbia will grow its partnership with the museum to create annual exhibits.
"We want to encourage that education. We want to involve local students," Waniak said. "We also want to give these students a platform. We want to empower them, to present their work and really get themselves out there."