Columbia senior wins $10,000 Live Nation and Music Forward scholarship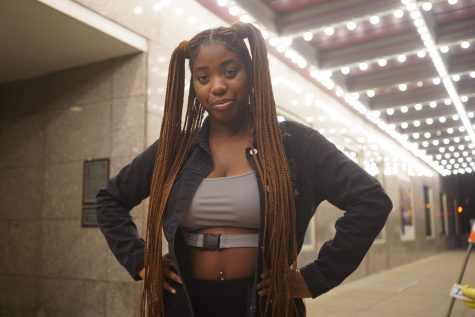 For senior music business major Tandrea Hawkins, music was something she knew would be a part of her life forever. Minoring in hip hop studies, Hawkins said before coming to Columbia, she wanted to involve herself in the music industry—be it through the business side or as an artist.
"When deciding on what I wanted to do as my major when coming to Columbia, I was very confused on what to pick, because I like doing a lot of things," Hawkins said.
Going by the stage name "T Star Verse," Hawkins said after some thought she decided that learning the business side of the music industry as a rapper would be fascinating.
In high school, Hawkins discovered Music Forward, a nonprofit organization under House of Blues. Striving to educate and help young artists, Music Forward allows creatives a chance to network with workshops and showcases.
Through Music Forward, Hawkins worked as an intern focusing on artist relations and program development in Fall 2020, scouting artists to participate in the organization's programs as well as making sure performances went smoothly. Hawkins also had the opportunity to perform at the Governor's Ball in 2019, where she met various celebrities including Charli XCX.
Hawkins said she felt confident she would win the $10,000 Tiffany Green Operator Scholarship, as she had been manifesting multiple recent successes.
"I was super excited and proud—it was cool to see that other people believe in what I can do to the point where they will back me up financially," Hawkins said.
Monika Jaiswal-Oliver, academic manager and part-time faculty member in the Business and Entrepreneurship Department, said Hawkins is determined, strong, kind and focused.
"She has a lot to offer, [and] … she's a very bright student," Jaiswal-Oliver said. "She's a very good role model for a lot of students and especially women on our campus. I strongly support her. I would ask other students to follow her and see what she's doing."
Jerry Brindisi, associate professor in the Business and Entrepreneurship Department, first met Hawkins through his J-Term course "Music Industry Immersion: Music Business Workshop." He said she is a leader—intelligent, adaptable and involved.
"What stands out is her ability to connect with the people around her," Brindisi said. "She's a pretty positive person with a very bright demeanor about her. As part of the class, students [were] working really intensive, long days, and I remember she was very much a leader in her group that she was working with and did very well."
In August 2020, Hawkins released her first album, "Balance." Available to stream on YouTube, Spotify and other platforms, T Star Verse's debut album features 10 tracks that she said were made during a time when she was trying to find balance in her life.
"It's pretty much about my journey with trying to literally just balance and figure out the highs and the lows of life in general," Hawkins said. "It's about different things that happen within life: relationships, your own personal life, wanting to win in general at whatever it is that you do."
Apart from releasing an album last year, Hawkins and junior music business major Jordan Blair worked together and founded Fusion of Light Entertainment,  an entertainment company which aims to give underground artists a platform to be seen through both virtual and in-person events.
During the beginning of the pandemic, Blair said she and Hawkins realized the artists in their circle had nowhere to perform.
"We realized that … they weren't really sharing their emotions, and they were just locking themselves in, and they were blocked," Blair said. "You can't really write anything when you don't know how you feel or what's going on, and so we decided to create a space for artists to share how they feel and share their creativity. … We just both together came up with Fusion of Light—and she had this wonderful idea of calling it Fusion of Light to help lead artists along this journey."
In the future, Hawkins said she hopes the company can host a festival to help creatives in any form of art get the chance to share their work.
Those interested in getting involved with Fusion of Light can follow their Instagram, Twitter and Facebook, and keep up with Hawkins' music via her Instagram, Twitter and YouTube channel.