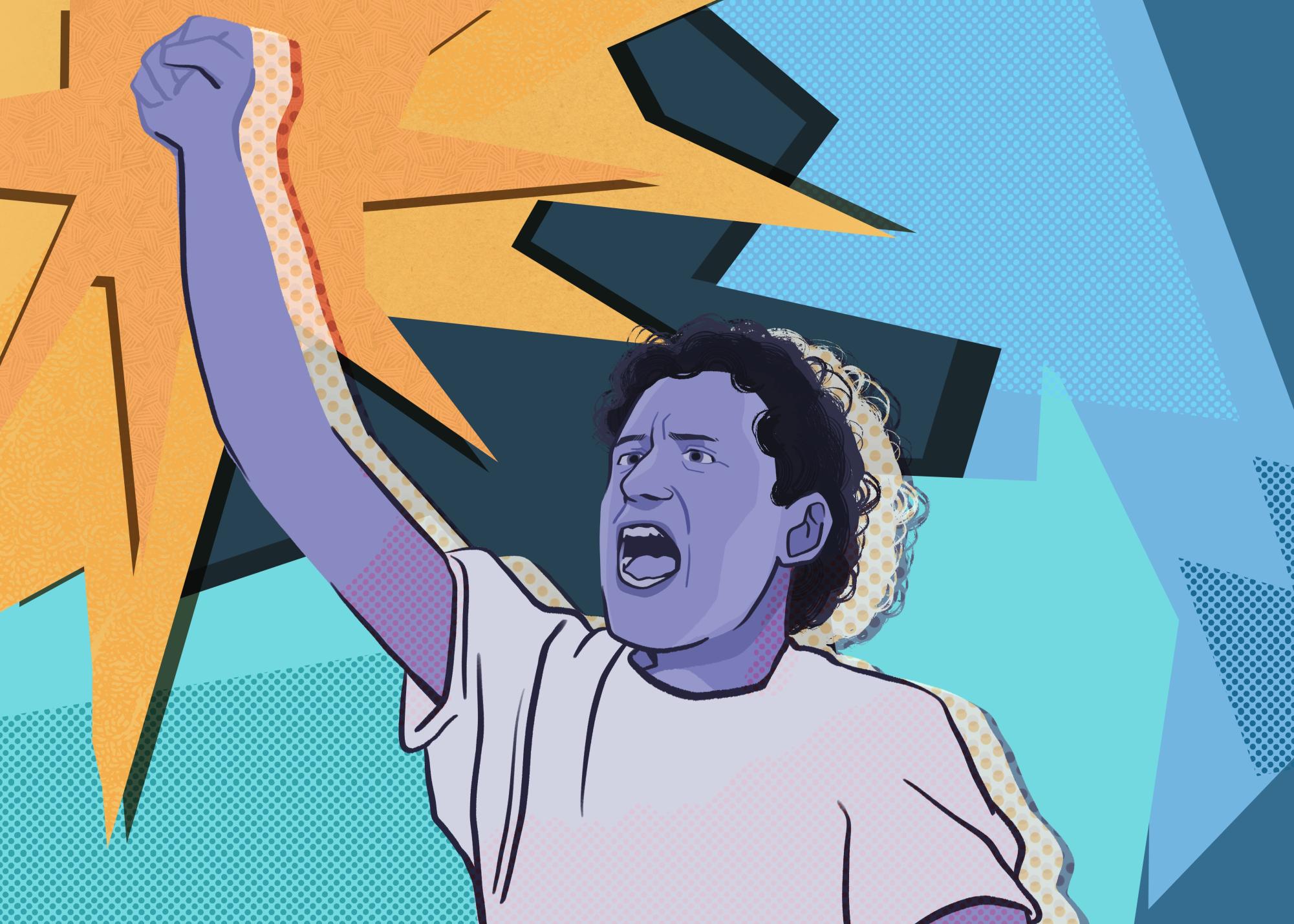 An in-depth documentary about Danny Sotomayor, a Chicago-born AIDS activist, syndicated cartoonist and Columbia College alum, will air as part of WTTW's eight-part documentary series, "Chicago Stories," this Friday, Nov. 3.
The film, "The Outrage of Danny Sotomayor," details his legacy and activism, living with the shadow of his own personal struggle with AIDS.
Sotomayor, who grew up in Humboldt Park and graduated from Columbia with a degree in graphic arts, pursued acting and graphic design until he was diagnosed with AIDS in 1988, causing a personal sea-change that led him to a vaunted career in AIDS activism.
Dan Andries, a senior producer at WTTW, produced the film.
Andries first heard of Sotomayor in 2008, when he was a co-producer, co-writer and director of his own film, "Out and Proud in Chicago."
"I think he was sincerely thinking very broadly about the impacts of what social policy was on LGBTQ people across the spectrum," Andries said. "He was a Puerto Rican-Mexican kid. He knew that representation was an issue … and it mattered to him. It was one of the things he battled for…, make something that addresses the fact that [people with AIDS] aren't all white people, they aren't all straight people afraid of getting AIDS."
In 1989, Sotomayor joined ACT UP/Chicago. ACT/UP was the local chapter of the national organization, AIDS Coalition to Unleash Power whose goal was to use direct action and civil disobedience to fight AIDS and homophobic discrimination.
His face-offs with Mayor Richard M. Daley in the 1990s are legendary, involving, among other public protests, the unfurling of a gargantuan banner that read "WE DEMAND HEALTHCARE NOW" from the downtown Chicago Cook County building during the three-day National Aids Action for Healthcare program of events.
Andries realized Sotomayor's personality and strong will was a movie-in-the-making and his vision for the film was born.
"Danny knew how to bring media attention and make something super clear in a way where you wished you were up there with him," Andries said. "I hopefully brought forward his vulnerability and community and the challenges he faced, interpersonally at times, the loves [that] he lost to AIDS."
A previous film, "Short Fuse: the Story of an AIDS Activist" shot and directed by then Columbia student Rick Delaup, who graduated in 1990, depicted some of Sotomayor's life two years before his passing.
The film, comprising 11 interviews conducted over 12 ½ hours with Sotomayor, was provided to WTTW, Delaup said.
During the interviewing process, Sotomayor spoke to Delaup about the importance of his sexuality and cultural identity.
"When I'm in a group full of other Hispanics, I'm a gay man first. But when I'm in a room full of gay men, white gay men especially, I'm Puerto Rican first. So, it changes depending on the situation. That's the way I feel. And what I identify myself as changes," said Sotomayor in an excerpt provided by Delaup.
One quote that stood out to the director involved the activist speaking to his evolution as a Puerto Rican and Latin man and how his culture equates with what he brought to the AIDS movement and his artwork in their entirety.
While he didn't work with Sotomayor, part-time faculty instructor for the Theatre Department, Columbia graduate and long-time gay activist Albert Williams knew of Sotomayor via his position as a former editor for the Windy City Times.
"Danny was part of the first movement of people to say, look at us, pay attention to us, give us more support, stop being bigots and stop being bullies," Williams said.
Sotomayor was the first political cartoonist at the Windy City Times and his cartoons ran on the editorial page beside the weekly paper's editorials, he said.
To Williams, Sotomayor's impact was outsized, combining artistic creativity with activism, marrying the two in a way that influenced the way advocacy is practiced today.
"Because his activism on the street was so intertwined with his artwork, his political cartoonist work, it's hard to say where one began and the other ended," he said.
For this reason, Sotomayor's influence is foundational and should be studied by generations that followed, Williams said.
"We keep Danny's legacy alive because he did represent a strong, independent voice," said Williams. "I don't want younger people today, people who are Danny's age now, in their 20s and early 30s, to be complacent, even though there is indeed better management of AIDS and HIV. We should never forget the amount of activism, anger, effort and activist action it took to get things moving forward."
"The Outrage of Danny Sotomayor" will air on WTTW on Friday, Nov. 3 at 8 p.m.