Columbia community shares memories after fire destroys beloved Loop camera shop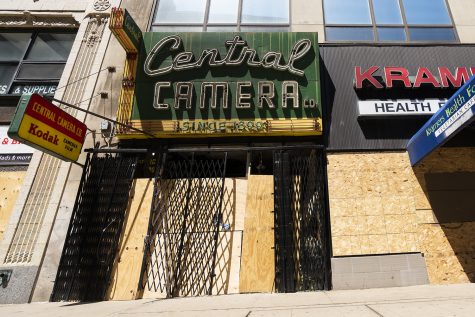 Before its destruction, more than 1,000 film and digital cameras lined the walls of Central Camera, offering mere elbow space to walk through. Lenses, filters and tripods could be seen on shelves atop display cases.
But on Saturday, May 30 during an escalation of violence after protests fighting for justice over the death of George Floyd—who was killed while in police custody—and other black citizens due to police brutality, the store was destroyed by fire.
"Some billowing black smoke came out of the fire. It was coming out of the front door—covering the sign—and our sign was still there. That was the magic of it," said Don Flesch, the third-generation owner of Central Camera, 230 S. Wabash Ave.
Flesch said Columbia students and faculty have been going to his store for as long as he has worked there as it is about a block away from campus buildings. He said he has met "some wonderful people" from the college.
Sarah Thurman, a senior television major, interviewed Flesch during her freshman year for a "Production and Editing II" class after "falling in love" with the store when she became interested in film photography and visited.
"I shot my first roll … and found Central Camera and thought that would be a great place to start developing film and was immediately just welcomed," Thurman said. "You walk in the door, and they're there for you."
One of the last times she went into the store it was cold outside, and Thurman said she forgot to wear a pair of gloves. When Flesch saw her hands were red, he pulled out a box of hats and gloves for her to chose from.
"That's just the kind of man he is," Thurman said. "I'm excited to see what they do when they rebuild."
After assessing the damages, Flesch said around eight cameras out of the 1,000 in the shop are salvageable. He said he was able to save the first camera ever sold by his grandfather—who founded the store in 1899. The buyer returned it to the store 35 years later and it sat in the store until the fire.
It was displayed on a shelf near the front windows, and Flesch said he grabbed the camera through one window that was broken because it was a priority for him.
He estimated around $600,000-$800,000 in building and merchandise damage but said he was glad no one was hurt. The Chronicle has contacted the Chicago Fire Department and FBI for an official cause of the fire and damage estimate and is awaiting a response.
In the past few days, Flesch said he has seen between 12 to 15 of the stolen items being sold online, including a Cambo 4×5 with a lens worth $1,300 on sale for $500.
Despite the total damage done to the store, though, Flesch said he plans to rebuild and does not hold a grudge toward those who damaged his shop, which has been in the Loop since its founding.
"Black lives matter," Flesch said. "This poor young man [George Floyd] was killed for no reason at all."
Paul D'Amato, a professor in the Photography Department, said students have been regularly directed to Central Camera for required photography equipment because of its location and discount. He said damages to the 121-year-old shop are tragic.
"There's a certain kind of nostalgia attached to that store, and the owner has always been super nice," D'Amato said.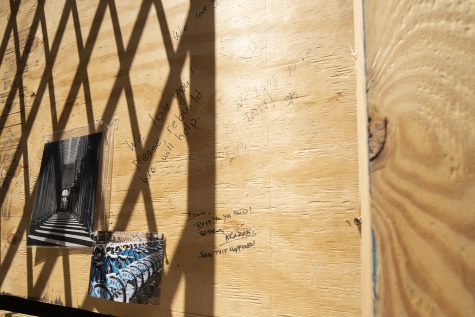 D'Amato said he will always remember venturing into the camera shop and starting a conversation with Flesch, who offered to share the chocolate chip cookie he was eating.
"I love meeting new people, working and making a living and helping people solve their [camera] issues," Flesch said. "I look forward to rebuilding and helping people."
Rita Dennin, a senior interdisciplinary documentary major, was devastated to learn the shop was destroyed because it is an important resource to Columbia's Photography Department and the Chicago community—but said it was part of a social change that needs to happen.
"Property can be replaced and lives cannot," she said. "If it has to take some of these businesses being destroyed in the process, I think that's ultimately going to help the cause in trying to bring attention to a larger issue."
Flesch started a GoFundMe page to rebuild the day after the fire and has raised $200,095 of its $250,095 goal as of press time.
"It's been unbelievable … the response from people and I don't care how much money it made, but there are [4,000] to 5,000 people who are in love with the store," he said. "I didn't know I had such a big family and it's wonderful to know that."
Correction 06/13/2020 at 12:31 p.m.: A previous version of this article stated the incorrect camera brand sold online. It has now been corrected. The Chronicle regrets this error.