College selects four faculty for Excellence in Teaching Awards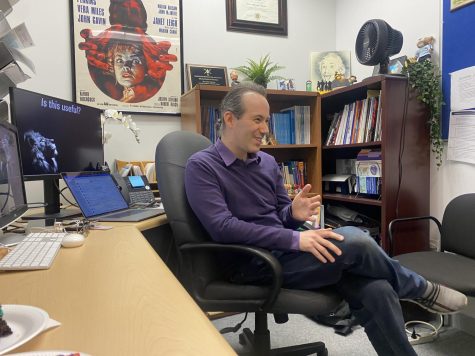 Four Columbia professors received the prestigious Excellence in Teaching Award for the 2022-2023 school year. 
The winners include the Communications Department's Yonty Freisman, Audio Arts and Acoustics Department's Florian Hollerweger, Art & Art History Department's Ann Marie Toebbe and Gabriela Díaz de Sabatés from the Humanities, History and Social Sciences Department. 
The award goes to faculty that have shown innovation, inclusivity, and guidance to students in and outside of the classroom. Students and faculty can nominate full-time and part-time professors.
Susan Kerns, associate provost for Faculty Research and Development and associate professor in the Cinema and Television Arts Department, helped coordinate the efforts. 
"The Excellence in Teaching Awards candidates this year were exceptional, making final decisions incredibly difficult," Kerns said. "Winning an award like this is an incredible achievement, and the winners clearly demonstrated that they go above and beyond in their teaching."
Kerns said as an educator herself, the recipients inspire her. 
"Columbia is incredibly lucky to have them all guiding the next generation of creatives and intellectuals," Kerns said. As a teacher myself, they inspire me to continue leveling up my own teaching skills and approaches." 
Yonty Friesem
---
Friesem, an associate professor in the Communication Department said winning the award is an honor. 
In their own words: "It's a great honor to be nominated," Friesem said.
In the background: Friesem has worked in increasing media literacy for over 20 years and is the associate director of the Media Education Lab, where they have worked since 2012, holding various roles. 
Digging Deeper: They hold a bachelor's degree from both the Camera Obscura School of Art and The Open University. Friesem holds a master's degree from Tel-Aviv University and a doctoral degree in Education from the University of Rhode Island. 
Florian Hollerweger
---
Hollerweger, an associate professor in the Department of Audio Arts and Acoustics summarizes his feelings about winning this award.
In his own words: "Even when we do our best as educators, it can be challenging to give every student exactly what they need at all times," Hollerweger said. "What feels nice about receiving an award like this is that it suggests that you did something right for someone. To me, that summarizes the beauty of teaching: to have a chance to contribute to the growth and learning of individuals, all with their respective personal backgrounds, interests, and needs."
Hollerweger added that the diversity of Columbia's students makes the award particularly rewarding, saying it is a "privilege" to work and learn from them. 
In the background: He has been teaching at Columbia since 2018, but has been a lecturer for more than a decade at schools such as Massachusetts Institute of Technology and Victoria University of Wellington, New Zealand. Hollerweger also received tenure in 2022, which can be read about here.
Digging deeper: Hollerweger earned his bachelor's and master's degree for sound engineering from the Graz University of Technology in Austria, then went on to receive his doctoral degree in 2011 from Sonic Arts Research Center at Queens University Belfast in Northern Ireland.
Gabriela Díaz de Sabatés
---
Díaz de Sabatés, an assistant professor in the Humanities, History and Social Sciences Department said this recognition highlights the important ways social justice, gender identity, racial and ethnic equity and intersectionality have in the lives of students and their development. 
In her own words: "Receiving this award reaffirms my belief that pedagogical approaches that pivot around the intellectual, mental and physical well-being of our students as a whole are the way to go in higher education," Díaz de Sabatés said. "The "art" of my teaching centers on fostering inclusive and engaging spaces where students participate as members of a community of learners. Caring about students means having high academic expectations of them while being attentive to each student's ability and circumstances. This approach has proven to be the golden key to support and encourage my students, so they can become socially conscious, successful adults and professionals."
In the background: Díaz de Sabatés' instructional areas include women, gender studies, and sexuality studies; Latino and Latin American studies, women's life stories, oral stories and narratives, gender and immigration, state violence and gender. She co-developed the Columbia Experience umbrella course "People, Power and Narrative in Chicago" and created the course "Unsung Heroines."
Digging Deeper: She holds a doctoral degree in Curriculum and Instruction from Kansas State University and a master's degree from Harvard University. 
Ann Marie Toebbe
---
Toebbe is a part-time faculty member working in the Art and Art History Department. In her own artistic work, Toebbe has focused on predicting domestic life through freehand happening, flat geometry, geometric abstraction and intricate patterning. 
In her own words: "I have been on and off adjunct teaching since 2006. I was just hired back to Columbia this fall after almost a decade and was honored that one of my students nominated me for the award. As a part-time faculty member, at any institution, you can feel like you are not seen," Toebbe said to the Chronicle on May 9. "This award recognizes the effort and time I put forth to teach a rigorous studio art class and my commitment to my students."
Digging Deeper: Toebbe received a bachelor's of fine arts from the Cleveland Institute of Art and earned a master's in Fine Arts from Yale University, studying painting. 
This story has been updated.