Newly tenured faculty celebrate achievements and share plans for the future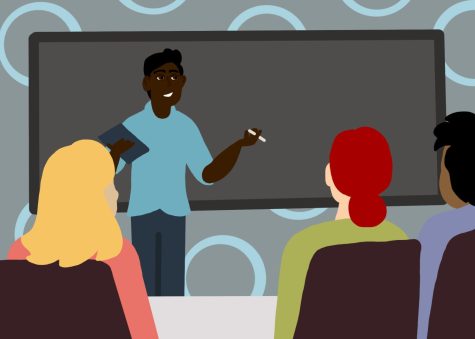 After more than half a decade of hard work in teaching, developing curriculum and publishing work, these five faculty have been awarded tenure.
From traveling the world on a container ship to developing training for teachers and publishing books, Columbia's newly tenured faculty are ready to take on new adventures.
Carolina Posse (she/her)
Carolina Posse, associate professor in the Cinema and Television Arts Department, worked for 10 years in a non-profit and was a programming director of the Chicago Latino Film Festival.
Posse also started a production company with her husband called Wright Brothers Photoplay before coming to Columbia.
"I started as a lecturer … and it was only a one-year contract. [After] my contract was renewed, the opportunity to apply for tenure popped up," Posse said. "I thought, 'Well, let me give it a shot and see if I'm a candidate for it,' and I received great support from faculty [in] my department who helped me, in a way, decide that that would be a good journey for me."
Posse teaches various courses and oversees many students' work over their time at Columbia as well as takes on a leadership role in the Bachelor's of Fine Arts program within the CTVA Department.
"Now that we have a BFA degree I also serve much more as an advisor, specifically with BFA students, it's a smaller program but I have students who are graduating this semester and next semester who I met when they were freshmen."
David Krause (he/him)
David "Big" Krause, is an associate professor in the Cinema and Television Arts Department who owns his own company, but he never thought he would be a professor.
Krause went to school to be a mechanical engineer, then an animator, but decided to combine the two passions and became a production designer. In 2004 he started his own company, Big Works Industries, and joined Columbia in 2005 to share his knowledge.
Krause, known as "Big" to most students and faculty, earned his master's degree from Columbia in 2015, but started his track to tenure in 2009.
"It is great to have the college acknowledge that I bring value and that I have a unique perspective that is useful to both them and to the students," Krause said.
As a creative, Krause has many projects he continues to work on while he actively participates in college life, but the thing he looks forward to the most is getting a sabbatical to travel the world in a container ship, so he can go abroad for the first time in his 52 years.
Ellen Yeh (she/her)
Ellen Yeh is an associate professor in the English and Creative Writing Department and the director of the English as an additional language program. She was born in the U.S. but grew up in Taiwan and has been a teacher since 2008.
Her expertise is in applied linguistics and found her passion for teaching though her own experience with multiculturalism. Yeh lived in Taiwan until she returned to the U.S for her higher education where she pursued her master's degree in Language and Instruction and then went to Ohio University to specialize in language education.
Yeh was an assistant teacher back in Taiwan, but officially began teaching in second language programs during her graduate program. The passion for teaching she had in 2008 hasn't stopped.
"[By getting a tenure] you ask your equal colleagues [for approval] going into the community, in a way," Yeh said. "I think that's definitely a privilege that I get to experience this journey."
After receiving tenure, Yeh said she plans to work on more large-scale and long-term projects, like a social and emotional learning framework that uses culturally responsive teaching to create training for teachers in higher education.
Yonty Friesem (they/them)
Yonty Friesem is an associate professor in the Communication Department and the graduate director of the Communication Department. They grew up in Israel and graduated from the University of Rhode Island with a doctorate in education and joined Columbia in 2018.
After pursuing their education degree, Friesem looked for jobs in civic media and communication, which brought them to Columbia where they helped build the new Civic Media master's program and the Communication bachelor's program.
"It's really touching to know that colleagues in the institution [and] the administration appreciated [you] and grant you a promotion, and tenure for all the hard work that you've been doing," Friesem said.
Friesem has been the associate director of the Media Education Lab since 2015. There they oversee and conduct research in digital and media literacy education and digital empathy. They have published 11 peer-reviewed academic articles, two encyclopedia entries, and four book chapters, according to their biography on Columbia's website.
Receiving their tenure has not been the only exciting thing in Friesem's life. Recently, they became a publisher for Youth Media Reporter. They also plan to continue putting finishing work on a 57-chapter book they are editing: "The Routledge Handbook of Media Education Futures Post-Pandemic," which is to be published in September. They are also working on a podcast which will debut in January highlighting the 20-year history of the Media Education Lab.
Florian Hollerweger (he/him)
Florian Hollerweger is an associate professor in the Audio Arts and Acoustics Department. Prior to joining the faculty at Columbia, he taught music technology around the globe.
Hollerweger earned a bachelor's and master's degree in sound engineering from the Graz University of Technology in Austria. He then continued his educational endeavors at the Sonic Arts Research Center at Queens University Belfast in Northern Ireland, where he completed his doctorate degree in 2011.
He has been a full time teacher for about 11 years, including stints as a lecturer in music technology at the Massachusetts Institute of Technology and at Victoria University of Wellington, New Zealand. He accepted his position at Columbia in 2018.
Receiving tenure wasn't on Hollerweger's mind until teaching in the U.S. but is excited to receive it.
"The reason for that is because I've been teaching in countries where the concept of tenure doesn't even exist," Hollerweger said. "I knew that if I was going to stay in the U.S that it made sense to think about it that way because it's a pretty important part of a career."
Hollerweger expressed excitement when talking about his passion for teaching college students and willingness to see the potential in each student.
"I enjoy teaching because the four years it takes to complete an undergraduate degree, it's an interesting time in a person's life," Hollerweger said. "You really see people grow and be part of that process and … I couldn't think about anything more fun and more fulfilling than that. You're working with people that see the results of their work so that's something that's very satisfying."