College keeps masking requirements for classroom, instructional settings for fall semester amid current 'medium' risk level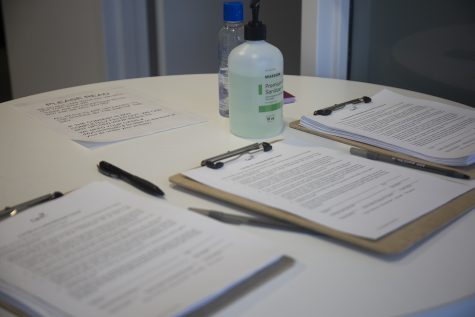 Masks on campus will be optional outside of classrooms and instructional settings, as part of a move to the "medium" level of COVID-19 restrictions, the college announced Friday. The guideline will be in effect Tuesday, the first day of the semester. 
An "instructional setting" is defined as classrooms and spaces where formal interaction between college employees and students take place.
This announcement from Columbia is based on the city's COVID-19 data, along with the college's own number of weekly reported cases.
The umbrella term "instructional setting" would also include, in addition to classrooms, studios, fabrication spaces, faculty office hours and off-campus indoor locations where instruction could take place, such as a class field trip. 
"I think what's been in place for the last two years and remains in place is that [the COVID-19] rules travel with us," Chief of Staff Laurent Pernot said during  the Incident Assessment Task Force Zoom meeting on Thursday. "So if we're all together as a class, and it's [a] mask required in class, and we're going somewhere together, we should be masked as part of that."
Masks for students and employees will continue to be required in classes, except where an official exception is approved by the Office of the Provost. Masks will also be required while visiting the Student Health Center, the campus COVID-19 testing facility or CareATC, as well as anywhere "students meet for appointments or where students drop in for support services."
The statement noted that masking guidelines apply to indoor spaces only, and masking outside is up to the individual.
"We are adhering to the CDC levels and associated recommendations with those levels," Pernot said. "I should say that right now, we are at medium; that's because the city is at medium."
Despite the current threat level being at medium, Columbia's administration said if the level were to change between Friday's announcement and the first day of classes, a new announcement will be sent out.
The school also announced updated details on vaccination and vaccine booster requirements for students and employees. 
Similarly to before, students are required to be vaccinated, and those who are not will need a college-approved exemption and be tested for COVID-19 on-campus once per week.
In contrast, boosters will not be required for students during the Fall 2022 semester, despite being strongly encouraged by the school. This includes students who are living off-campus or in residence halls.
Employees will no longer have to be vaccinated or boosted, although it is strongly encouraged. Employees who are not vaccinated and previously had to test on-campus weekly will no longer be required to do so.
Voluntary testing will remain available to everyone in the Columbia community at the CareATC testing facility, located at 600 S. Michigan Ave.
As for eating on-campus, food will be allowed; however, the school is continuing with its existing COVID-19 guidelines regarding food at this time. 
Under medium level precautions, Columbia recommends that meetings and events include boxed to-go meals or plated meals that people can eat isolated from others. The college recommended field trips be planned in a way that avoids communal eating when possible.
During the task force meeting, President and CEO Kwang-Wu Kim said the school has an obligation to find the most protective policies for the community while keeping the college functioning.
"I think it's really important for me to say that at the core of all of this work, constantly developing protocols, is the belief that COVID is very serious," Kim said. "I think I want us to take that to heart, because I think a lot of what drives the pushback against vaccinations and masks and other kinds of mitigation in this country is the belief that it's really just nothing more than a bad cold. That's not true."
Kim and the task force will be hosting two additional forums to answer more COVID-19-related questions. Both forums will be held on Thursday. The first will be held in-person at 1 p.m., located at 754 S. Wabash Ave., on the 5th floor, and the second forum will be held via Zoom starting at 4 p.m. 
The task force is requesting attendants to register and submit questions in advance. Registration information can be found here.