Close-knit queer DIY music scene serves as experimental space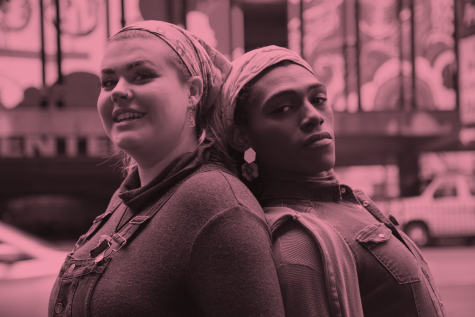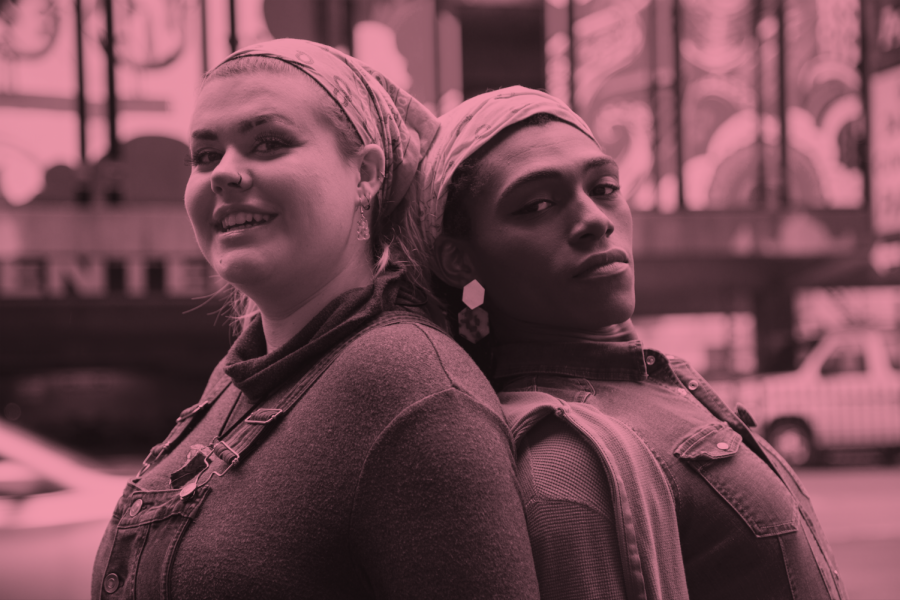 Manae Hammond softly kissed Indigo Finamore's shoulder, sitting inches away, gazing and smiling as she intently listened to Finamore describe the couple's dynamic, not only in their relationship but as bandmates—the essence of the Chicago-based power duo Oux.
Hammond and Finamore are but two members of Chicago's niche queer DIY music scene.
The DIY music community is made up of different factions, said Finamore, a senior music composition major. Within the overarching DIY sector, queer artists often get their start in the music realm by taking the dive into "doing it themselves," Finamore said.
Characterized by house shows, self-produced music and creative freedom mixed with the ability to reach listeners on a more personal level, the queer DIY music community is an experimental artist's haven, yet it is often overlooked.
In short, DIY music is any work made independent of a record label. A DIY band or musician produces, manages and promotes themselves. As for the queer DIY community, it is a space for artists and musicians who identify as queer to create and perform in their own way. In the music industry, if an artist belongs to a label, they often have to abide by the guidelines and vision of their financial backers. And that especially goes for queer artists, who often feel pressured to embody a certain image.
Oux's appearance is important to the duo. Finamore said they do not want to appear heterosexual and make sure to convey a "queer energy," without overdoing it because it can get exhausting to have to uphold the image of queer artists.
"Being queer is either very loud or very quiet," Finamore said.
For Oux, the DIY scene is where the band was born, and it is the home where they remain.
After meeting at Whittier College near Los Angeles and connecting instantly over their love of music, it was natural for Finamore and Hammond, a guitarist and sophomore music composition major at Columbia, to make music together and transition into a romantic relationship, Hammond said.
While some might think working closely with their partner would make creating music difficult, for Oux, it makes them stronger. That close-knit connection bleeds into every inch of their sound, aesthetic and energy.
"Our arguments are usually normal couple arguments," Finamore said. "But sometimes it'll just be about music, like 'Did you mix that track?'"
Finamore said while DIY bands often lean toward a more pop-punk sound, recently they have noticed a celebration of experimental music, which Oux sees as progress within the community because it is catering to more artists. Finamore and Hammond said they started out as punk musicians but are now creating more experimental pop and electronic synth-infused hip-hop.
On top of everything else, the DIY community is defined by two leading factors: safety and having fun. House shows in the DIY community are often dedicated to being sober-friendly because many fans are underaged, Finamore said. It is also so everyone in attendance can enjoy themselves freely without worrying about their well-being.
DIY house shows often sound more raw and uncut due to the lack of professional sound equipment. Although not as polished as Oux would like their performance to sound, they never stray from performing house shows due to how close it brings them to the audience—which is oftentimes right up in peoples' faces, cramped in a small living room packed from wall-to-wall.
Finamore said one cannot know the essence of a queer DIY show without experiencing it.
Being an artist immersed in the world of DIY is not all glitz and glamour. Just like any other music scene, there is infighting among other artists, which can include arguments about what DIY means, Finamore said. It is also taxing to do all of the work without the help of labels, unlike signed artists.
Despite this, Hammond said they enjoy producing their own work and being in control. Even when artists who got their start in the DIY scene are signed to a label that allows them to be themselves, she said those artists are often still seen as DIY because the community is so close-knit.
"You can take the musician out of the DIY, but you can't take the DIY out of the musician," Hammond said.