Clean up crew clears the way for two endangered birds to get down and dirty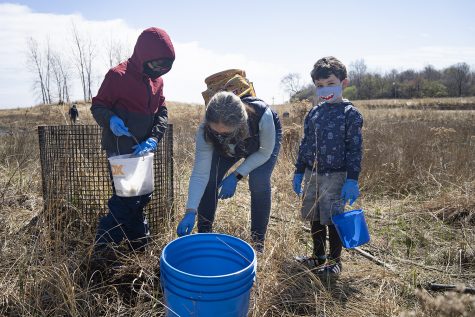 When most of us "get freaky" with our significant others, we do not get a dedicated cleaning crew of gloved and masked super fan volunteers to make our intimate space safe.
But for resilient lovers Monty and Rose, two federally endangered piping plover birds expected to arrive soon, this service is crucial for the species' survival and could become a new annual occurrence.
The piping plovers are one of about 70 breeding pairs of the species left in the world. In 2019, the two birds landed for the first time at Montrose Beach, 4400 N. Lake Shore Drive, and returned again last year.
"Plovers are very faithful to sites where they are successful," said Edward Warden, conservation stewardship coordinator at the Shedd Aquarium and president of the Chicago Ornithological Society. "It is sort of like an 'If it ain't broke, don't fix it' kind of thing."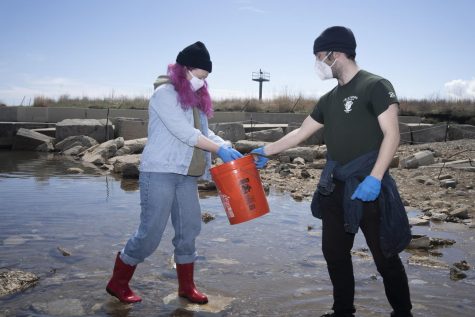 This year, to prepare for the birds' expected arrival, Shedd Aquarium Action Days, a conservation effort by the Shedd Aquarium, included its first plover-centric cleanup April 11.
The goal was to remove harmful litter and debris from the beach—an action that Warden, one of the lead organizers of the event, hopes to see turned into an annual event. The aquarium wanted to host a cleanup in 2020 but was unable to do so due to COVID-19 gathering restrictions.
"Conserving wildlife isn't just a problem for big national forests or far away large tracts of land," Warden said. "It really can be just a handful of acres on a local beach."
Warden said he expects the pair of love birds to land on the beach around the first week of May. In fall and winter, the birds migrate south to warmer climates.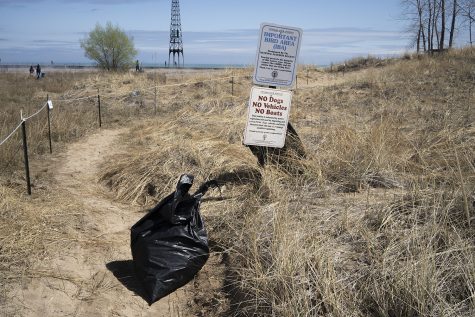 The conservation activity was hosted by Shedd Aquarium and the Alliance for the Great Lakes with help from the Chicago Ornithological Society, Illinois Ornithological Society and Chicago Audubon Society.
The groups worked with the Chicago Park District, which manages the beach area, for the cleanup, along with the Illinois Department of Natural Resources and U.S. Fish and Wildlife Service due to the involvement of an endangered species.
More than 100 volunteers signed up for the event, and the Shedd Aquarium had to close registration to the public to keep cleanup crews small and socially distanced, turning away "hundreds more," Warden said.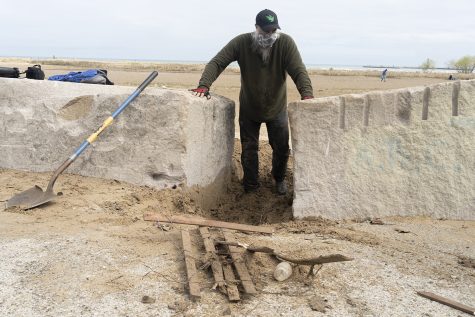 Organizers at the event gave out buckets and PPE to volunteers to aid with the cleanup of small plastic items and other trash.
Aquarium workers taught volunteers how to look for small, harmful microplastics and litter that would threaten the two endangered birds looking for food on the beach. One of the specific types of debris volunteers were instructed to look for were nurdles, which are small plastic resin pellets that wash up on beach shores from ocean and coastal pollution.
"It is easy," said Maggie Cooper, conservation stewardship facilitator with Shedd Aquarium. "Anyone can do it. You go to the beach, you bring a bag and you pick up anything that you find."
The beach is home to several other wildlife species that benefit from the conservation effort including shorebirds and nesting birds, all of which could be seen on the beach April 11.
A section of the beach has been roped off as a protected area for these species.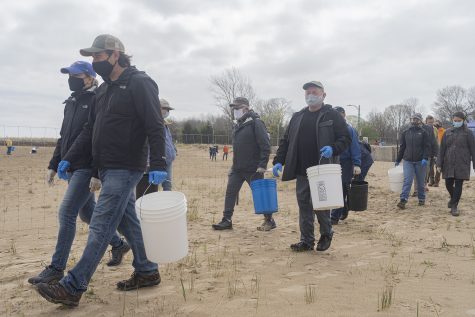 "We impact the earth, and we need to give back and help when we have an impact on the earth," said Naomi Carroll, a volunteer and kindergarten teacher.
Carroll came with her colleague Liza Merriott to prepare a presentation for their kindergarteners on the importance of environmental conservation.
"I think that this really highlights for all of the people that showed up today that these spaces are important for people and wildlife," Warden said.
Shedd Aquarium Action Days currently include a number of future cleanup events, including cleanups in Bob Mann Woods, Skokie Lagoons and 63rd Street Beach as well as a Chicago River Day cleanup in collaboration with Friends of the Chicago River. The times of future cleanup events can be found on the Aquarium's website.