Chicago photographers celebrate family caregivers across the city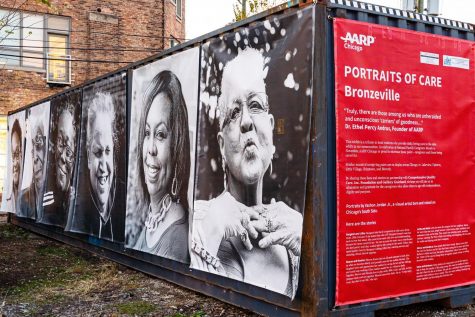 Kris Taylor, portrait photographer and development and marketing manager at the Beverly Arts Center, said being a caretaker requires love.
Having taken care of her late mother who died of ovarian cancer in 2015, Taylor said shooting portraits of caregivers was a way for her to honor and show appreciation to those who may not feel recognized or appreciated in the community.
"Being a caregiver [takes] dedication," Taylor said. "Even if you're working or taking care of kids and then you have another person to take care of, sometimes it will take a toll on you, but you do it because this is [someone] that you either love or you're passionate about."
According to the AARP, there are an estimated 1.5 million caregivers in Illinois, ranging from family members to neighbors, who provide daily care and support to older adults in their community.
As part of National Family Caregivers Month in November, Taylor and five other neighborhood photographers—including one Columbia student—worked with AARP Chicago and community partners to photograph caregivers and older adults in their communities.
Unveiled on Nov. 13, the photo mural project titled "Portraits of Care" celebrates family caregivers across six neighborhoods, including Beverly, Bronzeville, Chinatown, Lakeview, Little Village and Uptown.
Taylor said she met with a range of caregivers from Beverly—two different daughters who take care of their mothers; a certified nursing assistant from Smith Village Senior Living Community; two wives—one of which is Taylor'saunt, Gwendolyn—who look after their husbands; and a neighbor duo, Kelly and Tim.
"[Caregivers] are absolutely critical when it comes to caring for older adults, and a lot of times it can really be a thankless job," said Monika Wnuk, portrait photographer and associate state director of communications for AARP Illinois. "This was really our way to say thank you from us [and] their communities for the work they're doing on a daily basis."
In photographing caregivers from Lakeview, Wnuk said she worked with the Chinese Mutual Aid Association—a community-based social services agency helping low-income immigrant and refugee communities—to connect with older Laotian and Cambodian refugees being cared for by their children or grandchildren.
Wnuk said home care aides usually become like a member of the familybecause they spend much of their time with the older adults they care for and provide another level of comfort.
"I think this project also made me learn more about caregivers and their relationships with their clients," said Linghua Qi, a Chicago-based multimedia journalist. "It made me reflect on my relationship with my parents as they are growing older. One day they will be like those people who I photographed, and they may need to be taken care of."
Qi, who photographed caregivers from Uptown, said she saw the project as an important opportunity to bring attention to caregivers and the older adults they take care of and also as a way to shine a light on immigrants growing old in a country in which they weren't born.
Connected with people from the Chinese Mutual Aid Association, Qi said she talked primarily with older Chinese immigrants who came to this country nearly 30 years ago and caregivers who help these individuals in other ways like practicing English or taking strolls outside with them.
After publishing his new photo book, "Chicago Protests: A Joyful Revolution,"senior television major Vashon Jordan Jr. said the mural project was an opportunity for him to show love and raise awareness for the elderly and caregivers who are at risk of contracting the coronavirus.
Photographing mothers, daughters and neighbors from Bronzeville, Jordan said it was a great experience to be around a different project and individuals since he photographed protests over the summer.
"Even if you don't want to wear the mask, or [think] it's okay because you're healthy or you think you're fine—wear your mask, social distance and practice all of the proper protocols," Jordan said. "One of the messages we're trying to convey to people is [to] do it for others."
"Portraits of Care" will be up for display in each neighborhood until the end of the year. To find the location of a portrait series nearby, click here.