Chicago Inspector General report questions ShotSpotter's value; ACLU concerned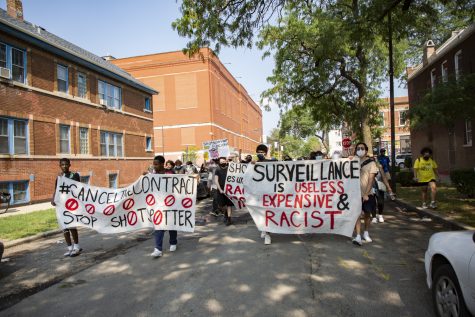 After two months of Chicago community organizers campaigning against the use of ShotSpotter in Chicago, the city's Office of Inspector General released a report in response to their concerns.
That report questions the value of ShotSpotter and indicates its use can "substantively" change police behavior by impacting officers' general impression of areas with a high frequency of alerts.
ShotSpotter is a gunshot detection audio system the Chicago Police Department has been using since 2018.
According to ShotSpotter's website, ShotSpotter technology helps reduce shootings by enabling police to collect evidence, seize firearms and solve cases.
Deborah Witzburg, the deputy inspector general for public safety, said the reviewed data by OIG suggests ShotSpotter rarely leads to the recovery of evidence of a gun-related crime.
Based on the Office of Emergency Management and CPD's data, OIG reported there were a total of 50,176 ShotSpotter alerts CPD responded to from Jan. 1, 2020, to May 31, 2021.
Based on that same report, out of the 50,176 ShotSpotter alerts CPD responded to, 4,556, or 9.1%, indicated evidence of a gun-related offense was found, and 1,056, or 2.1%, led to investigatory stops as a direct result of an alert.
"The takeaway here is that the CPD data we reviewed does not demonstrate a significant operational value to the use of ShotSpotter," Witzburg said.
American Civil Liberties Union senior policy analyst Jay Stanley said he has had concerns about the use of ShotSpotter technology since 2012.
Initially, Stanley questioned ShotSpotter from an oral privacy standpoint, worrying it could lead to an illegal audio recording trend. Now, he argues ShotSpotter is creating unnecessary tension and fear in police officers.
"It's a problem for affected communities to have officers on high alert, worrying that they might be running into a gunshot situation all the time based on false alarms," Stanley said.
Stanley said he has seen several "disturbing" reports of ShotSpotter data being modified to be used in court.
"If you're going to use [ShotSpotter] data in court against people who have been accused of crimes, then there has to be some independent objectivity to the analysis, not tainted by close relationships with police departments," Stanley said.
In an email to the Chronicle, CPD spokesperson Thomas J. Ahern said, "ShotSpotter is among a host of tools used by the Chicago Police Department to keep the public safe and ultimately save lives."
In a July 29 interview with the Chronicle for a related story, Defund CPD community organizer Alyx Goodwin said ShotSpotter does not reduce violence, but rather justifies over-policing in Chicago.
In the same interview, Goodwin questioned whether 13-year-old Adam Toledo would still be alive if the ShotSpotter alert that directed police to Toledo's location was never sent.
In addition to the Office of Inspector General's report, the Associated Press, Vice News and the MacArthur Justice Center have also published stories or studies about the use of ShotSpotter in Chicago and other cities in the United States.
The MacArthur Justice Center in May reported 89% of ShotSpotter deployments in Chicago turned up no gun-related crime and 86% led to no crime at all.
Not long after the MacArthur study was released, the AP and Vice News published stories that raised questions about the effectiveness of the use of ShotSpotter and highlighted its targeting of communities of color and the modification of evidence used against offenders in court.
Now, the OIG concluded alerts from certain areas may lead to changing police behavior. The conclusion of the Inspector General report notes the "risk that CPD members dispatched as a result of a ShotSpotter alert may respond to incidents with little contextual information about what they will find there — raising the specter of poorly informed decision-making by responding members."
According to the report, CPD responses to ShotSpotter alerts are rarely producing evidence of a gun-related crime or leading to investigatory stops and even less frequently leading to the recovery of gun crime-related evidence during a stop. The OIG report said if this is "attributable in part to missing or nonmatched records" of police stops resulting from ShotSpotter alerts, then "CPD's record-keeping practices are obstructing a meaningful analysis of the effectiveness of the technology."
Witzburg said the OIG is not making any recommendations as to what the city should do about the renewed ShotSpotter contract.
"The purpose of the report is really to ensure that decision-makers in the city and in the police department are well equipped with good information about the costs and benefits of ShotSpotter in order to make those decisions," Witzburg said.
The city's previous three-year, $33 million ShotSpotter contract was in place from Aug. 20, 2018, through Aug. 19, 2021.
In December 2020, to the surprise of several community organizers protesting against the use of this technology, the contract was renewed through Aug. 19, 2023.
Stanley said ShotSpotter is a waste of money that could be redirected into helping communities in other ways.
"I think that based on all these problems, Chicago should reject this technology, at least until these problems are addressed, including full transparency into its operation and how effective it is," Stanley said.