Chicago health commissioner takes vaccination outreach directly to young people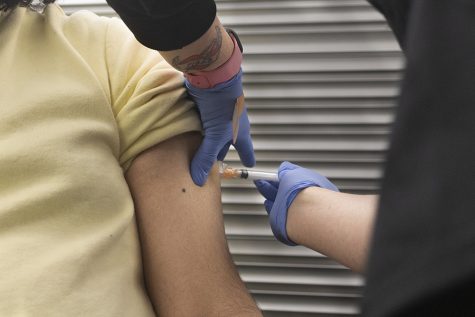 At the beginning of May, 45% of all Chicagoans had received at least one dose of the COVID-19 vaccine, with those in the 18-29 age group having the lowest rate of vaccination, according to Allison Arwady, commissioner of the Chicago Department of Public Health.
"More than half of both white and Asian Chicagoans in that 18-29 year old group have gotten at least their first dose, but only 39% of Latinx and 15% of Black Chicagoans have gotten their first dose," Arwady told a select group of student journalists from Chicago's colleges and universities on May 12.
"We are concerned that the youngest Chicagoans that have been eligible for the vaccine are the least likely to have taken the vaccine," Arwady said.
The CDPH is creating incentives for young people to get vaccinated through initiating events such as concerts and music festivals. The Protect Chicago Music Series, announced May 5, is a series of monthly music events for fully COVID-19 vaccinated Chicagoans where attendees must provide their CDC vaccination card upon entry.
Additionally, as of May 14, all Chicago businesses have the option to institute vaccine exemption, which exempts fully vaccinated individuals from an establishment's COVID-19 capacity guidelines.
Arwady said Chicago has the highest vaccination rates among the nine largest cities by population in the country and the highest Latinx and Black vaccination rates for the first dose, but she added that there is still a long way to go locally and nationally.
The city's Protect Chicago initiative was the city's way to ensure vaccination equity in neighborhoods that were disproportionately impacted by COVID-19 and encountered numerous vaccination barriers such as a lack of primary care providers.
On April 27, Mayor Lori Lightfoot and the CDPH announced a $10 million request for proposals from the CDC to establish Healthy Chicago Equity Zones, dividing the entire city into six geographic areas to ensure racial equity in healthcare and health-related resources. The community-led efforts will begin with vaccine outreach in the neighborhoods most impacted by COVID-19.
Arwady said the equity zones are a way to connect with trusted community based organizations such a faith groups, food pantries and violence prevention programs.
"It starts with COVID … the goal is that this becomes something that we build on as additional funding becomes available," Arwardy said.
Arwady said 85% of people trust their physician's recommendation to get vaccinated followed by recommendations from family and friends. Public health officials are least trusted among the three, emphasizing the importance of community involvement in the vaccination process.
Arwady cited a vaccine ambassador course launched by the City Colleges of Chicago and the CDPH on May 13 as a way to include members of the community without a health background in vaccine education and advocacy.
The free two-hour online course is in partnership with Rush University and Partners In Health and will cover the history of vaccines, myth busting and tips on how to have conversations about the COVID-19 vaccines. Ambassadors will receive a certificate upon completion of the course and will be connected to multiple vaccine outreach efforts to increase vaccination across the city.
"Folks who are interested in being a part of this community of Chicagoans, who are really interested in getting their friends and neighbors vaccinated, … have a certificate that shows they have some basic training in it. [It] lets us feel confident about having them going out knocking on doors and being part of our outreach work," Arwady said.