Can't Swim paddles back for a return performance at Riot Fest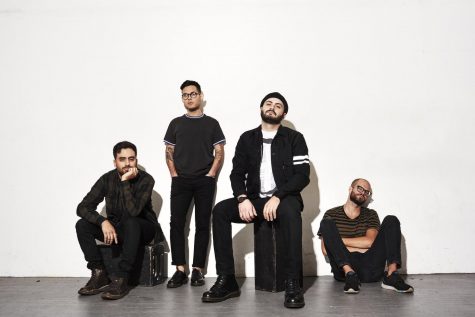 After a pre-show game of Tetris backstage, Can't Swim woke up its crowd with an early, but energetic, performance to kick off the first day of Riot Fest.
"Thanks for waking up and being here," Chris LoPorto, lead vocalist and guitarist, said, before jumping into the first song.
Since 2015, the New Jersey punk collective has been giving a piece of themselves to its fans. With two albums in its discography, "Fail You Again" and "This Too Won't Pass," each song has a direct tie to personal experiences from other band members— Mike "Chez" Sanchez, rhythm guitar; Greg McDevitt, bass and vocals; Danny Rico, lead guitar and vocals; and Michael Sichel, drums.
As the frontman, LoPorto writes most of the lyrics and said the main reason he wanted to form the band was to address his life experiences, including a breakup with his now ex-girlfriend, who is the face of the band'sfirst studio album. LoPorto said after their split they became close friends and his former girlfriend was excited to help the band both lyrically and visually.
"I think all the music I grew up loving was very personal and very honest," LoPorto said. "I wanted Can't Swim to follow that motif."
Much of Can't Swim's discography emulates LoPorto's vulnerability around topics close to him. The band's lyrics hit home for listeners as they are emotionally relatable on a number of levels.
The band's first festival was Riot Fest in 2016. Three years later, LoPorto was able to step back from the mic to hear his lyrics shouted at him crystal clear from the crowd, even from a fan who was in between chews from a whole pizza, supported fatally by a thin piece of cardboard.
The only thing missing from the set was a surprise appearance from either Drake or Kanye West, the band's dream collaboration, LoPorto said. Can't Swim did not need back up, though, being one of the most attended shows that day.
The band's dynamic for trying new things goes back to its inception. Prior to its first performance and even its first recording as a group, hardly any of the bandmates were practiced in their concentrations—LoPorto was not a singer, McDevitt had not played bass for ten years and Rico started on drums, but then later moved to guitar. As for the future of the band, LoPorto said where they are feels "incredible."
"Everyone is as hungry as ever to put out new material and tour and do this band full-time," LoPorto said. "We have so much trust in each other's abilities and opinions. The songwriting process … comes so much … easier than it ever has before. [It] really feels like a team now."
Although the set was early, the audience was ready to start the weekend, moshing and jumping to their favorite Can't Swim songs; "Stranger," from the band's first studio album, was an obvious favorite. For a band that was not headlining, they received some of the best audience reactions.
Although the song is written about his ex-girlfriend, when LoPorto sings, "could this be a lesson learned or all for nothing," people can relate it to any difficult situation in their life.
He gives it his all through each note he sings, the expression on his face and passion in his movements create an experience anyone can feel comfortable, vulnerable and hopeful in all at the same time.
Not only was the band able to captivate the audience through its high-energy, unapologetic punk sound, but also through its emotional connection to what they were playing.
With the songs being personal to LoPorto, he gave insight into his world with brief explanations and introductions to each song before the band played it, giving each fan in attendance something to reach out and hold onto.
After its appearance at Riot Fest, Can't Swim heads out on a nationwide tour until the end of November, with its first stop in Austin, Texas on Friday, Sept. 20.