Chicago Black Restaurant Week brings bucks to black businesses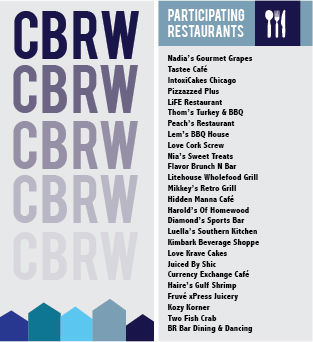 Black restaurant owners are gearing up for the third annual Chicago Black Restaurant Week, a celebration of black-owned restaurants.
The celebration runs Feb. 11–18—the second week of Black History Month—and features 26 black-owned restaurants across the city. The event  week falls on what was once known as "Negro History Week" founded by Dr. Carter G. Woodson in 1936, according to CBRW's website.
Lauran Smith, CBRW's designer and creative director, said she wanted to promote African-American food and drink businesses and provide a week to encourage people to support them. 
"The goal is to increase revenue in the African-American community, to make sure these businesses are able to stay open, that people will patronize them even after the week is over," Smith said. "I've even had businesses say to me that they've had to hire additional employees due to the influx of business coming in from the week." 
Each of the 26 restaurants partnered with CBRW will be offering exclusive deals for that week including  discounts on specific food or drink Items. 
"It sounded like music to my ears," said Erik Nance, owner of Mikkey's Retro Grill in Hyde Park, a CBRW participant. "Many of my restaurants came from no loans [and] from hard-earned money and taking chances. Every dollar really counts; it counts in every restaurant. We appreciate the momentum." 
Smith said the event helps lesser-known establishments gain recognition and could also promote spending within their communities. 
"Some of the newer restaurants that have just opened up, or some of the young and budding restaurants that have only been in business for a small time, don't necessarily get a lot of business," Smith said. "They really don't have a lot of revenue to play around with. They may or may not be able to afford the registration fee for the regular [Chicago] Restaurant Week." 
The exposure Chicago Black Restaurant Week gives to smaller businesses has attracted people like Tamara Brown, owner of Nadia's Gourmet Grapes in Evergreen Park, who said she has seen a noticeable spike in traffic.  
This will be its second year participating in the event and Brown, who started Nadia's Gourmet Grapes out of her event-planning business, said the attention is well worth it, and is confident in her ability to use that attention well. 
CBRW restaurants served more than 900 dinners in 2017 and generated more than $12,000 in revenue, according to their website.
 The support from the public was also growing, and  public opinion was positive, Smith added. 
"People are finding out about food that they would travel all the way up north, or all the way out west [for]." Smith said "Now they can get that cuisine right in their neighborhood."