High on threads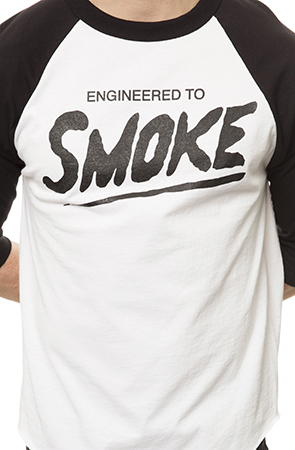 As I sat down in my first class of the spring semester, I noticed a pair of gray socks with yellow marijuana leaves printed all over them sprouting from a pair of gray Vans across the room. 
With an eye roll, I looked up to see who was sporting the socks. To my surprise, it was none other than my professor. 
It just got real. Marijuana has not only invaded my social life and commute to class, but it also found its way into fashion and the classroom. As disappointed and outraged as I was, I realized that nearly everyone I love adores weed culture. 
As legalization causes weed to become a highly practiced recreation, I tried to change my point of view. Instead of seeing a drug that irritated me, I started to see people who embrace a trend that brings their culture and cause closer together. 
Weed-inspired clothing has blown through the fashion world, with budding retailers showcasing their unique weed wear—AKA "huff gear"—to a generation of kush-crazed kids. 
Although huff gear is more common now than it was in past decades, millenials are not the only ones buzzing from Mary Jane, said Corey Smith, media marketing manager of BeWild.com, an online clothing retailer tailored to the pot leaf. 
"You will always have the generation that grew up in the hippie age," Smith said. "Then you have the new generation with the legalization going on, but you also have some people who just kind of want to look cool. It's a wide range of people purchasing these types of [clothing items]."
Celebrities are also rolling with the trend. From Miley Cyrus to ScHoolboy Q, performers are donning iconic cannabis prints now more than ever, which put the pot leaf on top of trend charts.
Greg Manganas created the "Piffsburgh" movement after his designs bannered across black hats were spotted on artists such as Wiz Khalifa in music videos and on magazine covers. The exposure led to his collaboration with New York designer Solomon Reese, and the two went on to open Smokers Only Worldwide, an online retailer for weed admirers and fashion enthusiasts. 
Manganas said there are 2.5 billion tokers in the world, most of whom are unable to express their passion for cannabis because marijuana is largely illegal. However, just like "Piffsburgh's" place in hip-hop, artists from all genres have contributed to the ubiquity of the cannabis culture. 
"Every [artist] in music is smoking pot throughout the centuries," Manganas said. "They all influence the marijuana culture, and that's what gives the people more power."