Artists illustrate creative ways to display work during campus panel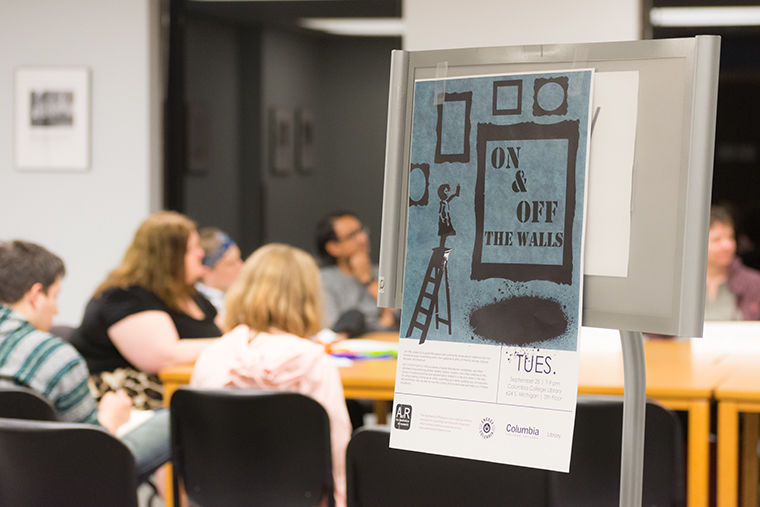 Stickers of a Buddha character with punk-rock features can be found scattered across the Chicagoland area.
Junior cinema art and science major Xzavier Weed created this character, which has gained attention from  artists worldwide, he said, during a "On & Off the Walls" artist panel held at the Library, 624 S. Michigan Ave.
"Other artists from around the world are seeing it, and they're like, 'This dude's stickers are really cool.' They hit me up. We do a sticker trade. I put their stickers up in my city, and they put their stickers up in their city," Weed said.
The panel, held Sept. 25, consisted of local artists who discussed creative ways to display artwork. Other artists included Jimmy Buloson, an art show curator; Heather Phillips, another art show curator; Erin Cramer, a paper sculptor; JJ McLuckie, a 2017 illustration alumnus who primarily works with comics and books; also Zach Bartz, an artist who uses repurposed items.
Artists accept opportunities and continue to put work out, Bartz said.
"If someone says, 'Hey, will you make a puzzle?' If you don't know how to make a puzzle, you find a way to start," Bartz said.
Another important way to showcase work is through social media, Bartz said, adding that It's also crucial to keep creating and putting art out into the world.
"Be willing to fail," Bartz said."Something I wish someone would have told me when I started. It's all forward motion if you don't give up, as long as you continue to make work."
Displaying art on the CTA for three years in a row proved to be an interesting and challenging project, Cramer said.
"Each car had a team of artists who were assigned to transform the space into the world's largest moving art gallery," Cramer said. "People are going to be jumping in and out. You can't do anything dangerous, and you can't permanently affix anything because it has to change back into a normal L train at the end of the night."
Junior Illustration majors Caleb Joaquin and Sophia Quillec junior illustration majors attended the panel.
"I was a little skeptical about it because I am not particularly planning on doing any big exposé stuff," Joaquin said. "My main interest is comics, but they had some really good advice about getting your work out there and how to promote yourself."
Quillec learned about the event because of Columbia's app, and she was happy she attended, she said.
"I liked the unconventional ways of getting your work out there,"Quillec said. "There's always applying for jobs and social media, but they said to trade art with people when you go to places—give them a little comic that you made, or stickers."
In November, there will be another panel discussion for literary works and how to get your work out there, according to Access Services Assistant Kristy Bowen.
"[The artist panels are for] building relationships with other artists," Bowen said."I know sometimes people will friend each other on social media and become another person in your creative network out in the city."