Students learn about eco-friendly fashion solutions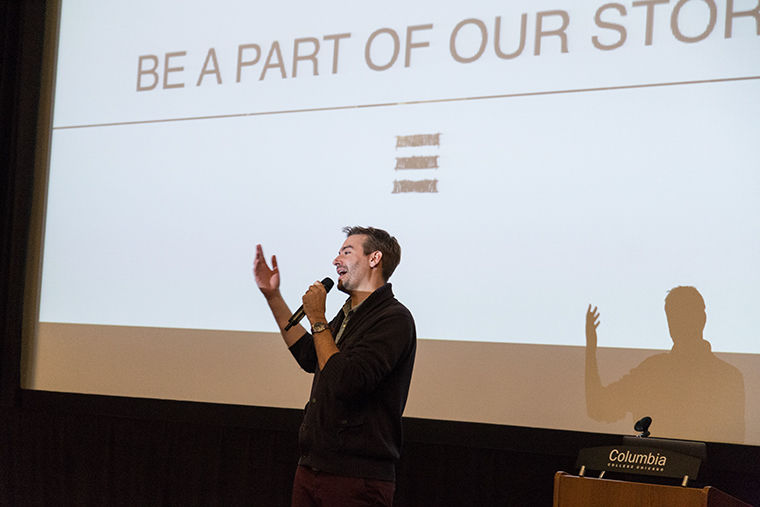 The fashion industry is all about beauty, but its effect on the environment is anything but, according to fashion industry experts.
Eco Fabric Seminar, held by the Fashion Studies Department on Nov. 28, featured industry professionals speaking about the importance of using recyclable materials to minimize the environmental impact from the industry.
Students listened and asked panelists from three companies—Thread International, Brentano Fabrics and Repreve—about all their eco-fabric solutions.
Organized by Allison Leahy, practitioner-in-residence in the Fashion Studies Department, the event was held in the 1104 S. Wabash Ave. Building. Leahy said she organized the event because there was a lot of passion and interest from students in her classes about sustainability in the fashion industry.
"If you're gonna go out into the world, make money, get a career and get into fashion, you realize there's a really ugly side of our industry," Leahy said. "Students want to be a part of the side that makes the world better."
Jimmy Barnhardt, brand sales manager for Repreve, said his company turns plastic bottles into eco-friendly fabric ingredients for designers. Only 32 percent of plastic bottles in the U.S. are recycled, he said, a pale comparison to countries such as Japan, which recycles about 83 percent.
Iris Wang, founder and design director of Brentano Fabrics, said she released the company's first eco-friendly product in 2008.
"We advocate to bring consciousness to our customer, or anybody who [comes into] contact with us, [for them] to know that it's important to protect the environment," Wang said.
Ian Rosenberger, founder and CEO of Thread International, said he started his company in 2010 when an earthquake struck and destroyed industries in Haiti.
Thread International employs people in Haiti to clean up plastic garbage for their fabrics, which then provides job opportunities. It is important for fashion designers and students to know where their products are coming from, he added.
"If you can figure out how to give that product soul—and soul comes from trust and authenticity with the person that's wearing it—you're going to make something worth something for people," Rosenberger said. "If you can help someone along the way, then it's a double win."
Leahy said students left with a greater understanding about where materials and fabrics come from and what companies can do to make a change.
"It isn't just about the price of the product in the store, but where it originates from," Leahy said. "I think it's an awakening to see three great examples of companies that really care about [sustainability]."
Leahy said she hopes students have an increased awareness of the importance of eco-friendly materials and the fashion industry's environmental impact.
"We can't turn a blind eye," Leahy said. "We have to be aware of and help make [a] difference the best we can."