Bureau Pizza Co. takes over beloved Pauly's Pizza spot, finds their footing in the South Loop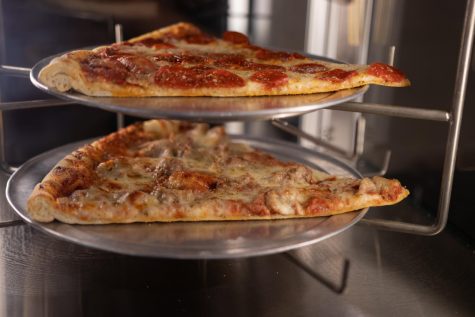 With midterm stress comes the need for a place to relax—maybe with a slice— during study breaks, luckily, there's a new pizza place to try.
Bureau Pizza Company, located at 719 S. State St., the former Pauly's Pizza, has been long-awaited by students and other South Loop residents, as evidenced by the steady stream of business since its opening day this summer.
"We get a good amount of foot traffic from people just walking by and seeing the re-open and coming in and trying [the restaurant]," said Lakeisha Stephens, one of the managers of Bureau Pizza Co. "We've seen an uptick since school is open and when people are coming back on campus, so we're really excited."
Since Bureau Pizza Co.'s Aug. 14 opening, employees have already served many regulars coming through their doors and enjoying their food. Some of the restaurant's primary customers have been students from the various schools within South Loop, Chicago locals and tourists. 
Despite the disappointing departure of Pauly's earlier this year, Columbia students still plan to support the new business in the old location.
"I very much enjoyed Pauly's Pizza, I went there as much as I could," said Dani Hofstetter, a sophomore photojournalism major. "As much as I did love Pauly's, I won't hang it over [Bureau Pizza Co.'s] heads just because Pauly's left."
Kenny Johnson, the owner of Bureau Pizza Co., said he looks forward to filling a void in the South Loop's late after-hours scene.
"Columbia, Roosevelt, the [mixture] of schools that are right in the neighborhood that obviously want something to eat and drink, and being able to stay open late [would also be ideal]," Johnson said. "That's our goal … to be a late-night spot for people that have no other options."
In addition to newer and different food options, Bureau Pizza Co. redecorated the restaurant in hopes of appealing to a younger age demographic and making the space look more aesthetically pleasing.
Students can get a variety of special meals or a 15% discount if they show their IDs to the staff.
To connect with college students, Bureau Pizza Co. is also promoting its business through its Instagram account and advertisements around Chicago.
Bureau Pizza Co. is open from noon to 11 on Sunday, Tuesday, Wednesday and Thursday, according to its latest Instagram posting. It is open until 4 a.m. on Friday and Saturday and closed on Monday. The restaurant is currently working on hiring more employees so it can extend its hours.