Bring your birthday hat, Riot Fest is turning 15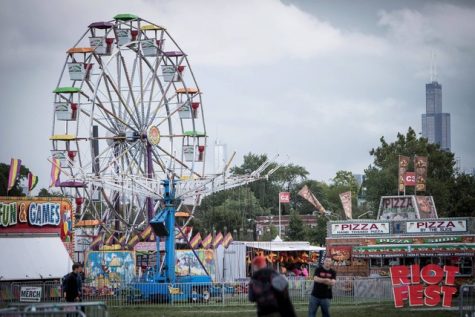 Alternative punk, rock and hip-hop fans will celebrate the 15th birthday of Chicago's very own Riot Fest the only way they know how: live music, carnival rides, funnel cake and beer.
The festival will feature a packed lineup, including headliners such as blink-182, Slayer, Bikini Kill, JAWBREAKER, Bloc Party and Taking Back Sunday.
Prior to taking part in the festivities, here are seven things you need to know before the three-day weekend hits Douglas Park Sept. 13–15.
On top of the list of killer bands, 11 will perform a full album from their discography.
Blink-182 will take it back to 1999 with their album "Enema of the State" for its 20-year anniversary, and no, unfortunately former band member Tom DeLonge will not be making a guest appearance.
In further appreciation of the celebratory theme, Bloc Party will perform their full album "Silent Alarm" for the band's 15-year anniversary.
Become an emo kid again with Dashboard Confessional's "The Places You Have Come To Fear The Most" and Taking Back Sunday's double performance of "Tell All Your Friends" and "Louder Now."
Experience The Flaming Lips's "Yoshimi Battles the Pink Robots," the album that pushed them into commercial success, for the first time with the introduction of more electronic instruments.
You can also double-up on your favorite band from middle school with Senses Fail's "From the Depths of Dreams" and "Let It Enfold You."
This year, a special edition pale ale will be on the beer menu—exclusively at the fest—in partnership with Goose Island. The drink, called "Riot Fest Sucks," will taste just like home with a smooth citrus and toasted malt flavor.
The orange-labeled can will also feature a peel-off sticker that shows the full weekend's hourly performance schedule.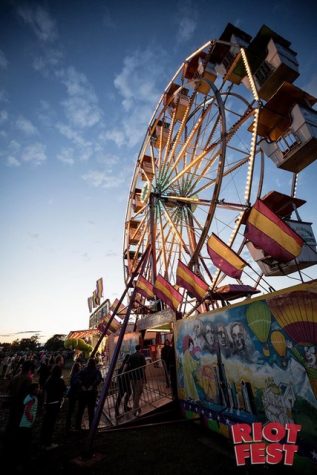 No. 3: Birthday cake of trash
Riot Fest has been known to promote trash pick-up and park rehabilitation for years with a number of programs. This year's festival will further those efforts with "Trash to Treasure for Charity," where there will be a Riot Fest collage made entirely out of trash. People are encouraged to pick up any trash they find while at the fest and turn it in to be morphed into a "trashterpiece" that embodies the festival itself.
No. 4: Sing "The Party Song" with blink-182
After a sudden, and very disappointing, cancellation of blink-182's appearance at the festival last year, the band vowed to appear for the 15th birthday festival. Chicago-native Matt Skiba, who performs co-lead vocals and guitar for the band, will make his homecoming to the fest for the second year in a row after performing last year with Alkaline Trio.
No. 5: Welcome to the carnival
The festival will continue its carnival-esque tradition by featuring mouth-watering, greasy food that can only be found at your local carnival. Riot Fest is one of the few places someone can head bang to their favorite band, ride a ferris wheel, watch a live cirque show and eat a corndog all in the matter of an hour.
No. 6: Back together again
Throughout its many years, Riot Fest has been known to put on some of the most groundbreaking reunions in music, and it continues this year with Washington-based band Bikini Kill. Having not toured as a band since 1997, the all-female punk pioneers set out for a number of reunion shows around the U.S.— just in time for the festival dates.
Like other Chicago festivals, Riot Fest ensures fans are fully satisfied with a number of additional "late night shows" at five different venues across the city: Metro, Bottom Lounge, Reggie's Chicago, Cobra Lounge and Concord Music Hall. Featured shows include: The Aquabats, Koo Koo Kanga Roo, PVRIS, Dashboard Confessional, Descendents, Hot Snakes, Taking Back Sunday, The Get Up Kids, Against Me!, Avail and more.