Blogapalooza: MAX & Olivia O'Brien preshow, fans weigh in on performances and the festival ahead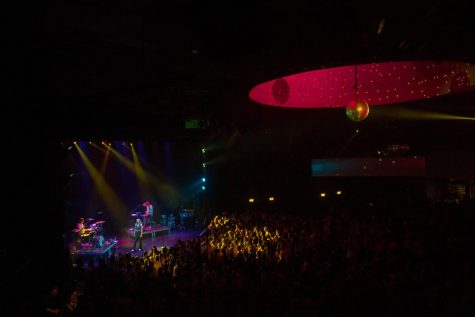 Fans showed up to the MAX and Olivia O'Brien preshow to indulge in an experience they have missed during both artists' year and a half break from live performances due to COVID-19.
The show took place at Park West, 322 W. Armitage Ave., a unique venue with lounging booths lining the outside of the pit and a disco ball hovering over the crowd. 
Some fans—like Kalia Robinson—showed up to see MAX and Olivia O'Brien's prequel sets to the concerts they will perform at Lollapalooza today.
Kaila Robinson, fan of Olivia O'Brien, has a 4-day pass to the festival and is most excited to see Tyler the Creator, Post Malone and Omar Apollo.
Other fans decided to populate the indoor after shows at some of Chicago's best music venues, instead of the festival itself.  
Lauren Golembiewski, 2018 Columbia journalism alum, said she is a big fan of Olivia O'Brien, but preferred seeing her at the preshow. She did not want to attend Lollapalooza this summer because she does not enjoy large crowds in the heat. 
Mary Kate Healy, a fan of Olivia O'Brien, also preferred the indoor O'Brien concert.
"I feel like when you can go to an indoor concert like this it's so much more worth it, and it's more intimate, too; you get closer to the stage," Healy said
Both Healy and Golembiewski advised festival goers to drink water and wear comfortable shoes that they don't mind getting dirty.
"You're not going to go home in the same shoes you left with," Golembiewski said.
Both MAX and Olivia O'Brien fans in the space together energized the atmosphere.
MAX kicked off the show with his dynamic sound that uplifted the crowd all in one piece, incorporating some saxophone and snappy bass riffs with his amazing vocals. Picture MAX doing a cartwheel on stage to "Milkshake" by Kelis​​—he brought the energy. 
The pop artist debuted with his 2016 hit, "Lights Down Low," featuring gnash, however at the pre-show fans got to hear many songs from his 2021 album "Colour Vision," including songs "Blueberry Eyes," "Acid Dreams" and "Love Me Less." 
"I've seen a lot of concerts, and he was probably one of the best performers I've seen," said Fatima Salgado, a MAX fan who saw him perform live for the first time. "His set was very full of life."
Transition to pop star Olivia O'Brien's emotional lyrics about love and relationships paired with a beat fans can dance to. She spoke to the audience saying how much she has missed performing live. 
O'Brien performed her new EP, "Episodes: Season 1" that carries the theme of self-love, confidence and prioritizing yourself over all else, in songs like "Keep It Movin" and "Sociopath" as well as songs like "Love Myself" from her 2019 album "Was It Even Real?"
Fans sang passionately to "i hate you, i love you" by gnash featuring O'Brien toward the end of the performance.
MAX performed at Lollapalooza today at 1:45 p.m. and O'Brien at 3 p.m. 
Lollapalooza has officially begun, and Chicago is ready!