Black National Convention endorses Black agenda during virtual broadcast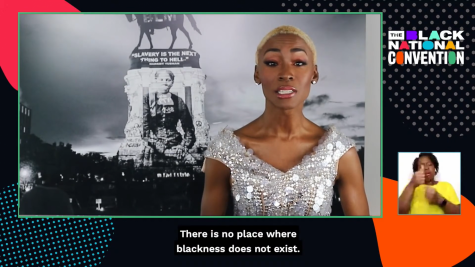 The topic of racial unrest for Black Americans was a recurring theme during the Democratic and Republican online national conventions.
Rather than letting elected officials decide what political actions best serve to combat the unrest, the 2020 Black National Convention broadcast a live event on its YouTube channel and organization website detailing its own agenda to put an end to violence against Black people.
Black community leaders from around the country discussed policies on abolition, reparations, defunding the police, land ownership, racial capitalism and inter-communal violence at the convention in prerecorded panels on Friday, Aug. 28.
The Black National Convention was hosted by the Electoral Justice Project of the Movement for Black Lives, an organization focusing on organizing and debating political policies for Black people, according to its website.
Phillip Agnew, a host at the convention and co-founder of Dream Defenders, said the convention was influenced by the 1972 Black National Convention held in Gary, Indiana.
"We honor that spirit by forging our own principal debates tonight, and we're gonna tell our story on our own terms," Agnew said during this year's convention.
The convention was hosted on the same day as the 2020 March on Washington in response to the death of Black people at the hands of police and in the wake of the shooting of Jacob Blake by a Kenosha, Wisconsin, police officer.
Abolition
The "Free the Land" panel discussed what abolition, defunding the police and criminal justice reform would mean for people with disabilities, as well as trans and incarcerated members of the Black community.
Andrea James, founder and executive director of the National Council for Incarcerated and Formerly Incarcerated Women and Girls, said abolition is centered around community-led processes outside of police, jails and prisons to figure out different solutions to community problems like police abuse of force.
One example of this is the Solutions Not Punishment Collaborative, an Atlanta-area-based Black trans and queer-led organization whose mission is to end mass criminalization and gender-based violence.
James said when talking about policy, Black people should not be brought in for the sole purpose of talking about the Black experience only to be excluded from the discussion about finding solutions.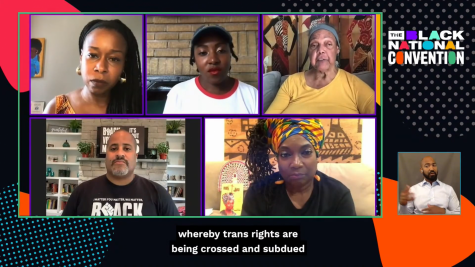 Land Ownership
Land ownership is an essential component in bringing power back for Black people to reclaim. Building Black power can be achieved through the decommodification of land and buying back Black-owned property, said Dara Cooper, a national organizer with the National Black Food and Justice Alliance.
The decommodification of land views property as more than something to be bought and sold for financial gain.
Mariah Moore, co-director of House of Tulips, a non-profit housing community for trans and gender-nonconforming people, said the organization is creating inheritances for Black communities through education and buying back properties that used to be Black-owned and built.
Trans United Leading Intersectional Progress or TULIP hopes to build 20 shelters for Black trans women in Louisiana, as reported by NBC July 12.
Ron Finley, a community partner with Destination Crenshaw, a Los Angeles-based Black community organization, said Black people should stop selling their houses because its price will eventually rise above the value it was sold for.
"We have to value the land and we don't," he said. "[White developers] see the value in where we're at; … we see it in the money. The value is in the land."
Electoral Justice
For years, Black voters have been disenfranchised, which is why the panel discussed creating avenues to encourage Black people to vote. It emphasized the power of votes from the Black community and encouraged people not to settle for "catch-all" solutions to racial injustice.
Bree Newsome, an artist and activist who is known for taking down a public Confederate flag in 2015, said there is a lack of autonomous democratic organizations in Black communities.
Newsome said elected officials cannot be trusted to put forward promised Black agendas due to the current structure of the electoral system.
Racial Capitalism
Dr. Barbara Ransby, a history, gender and women's studies and African American studies professor at the University of Illinois at Chicago, said the link between the theft of Indigenous land and Black bodies and white supremacy are the pillars upon which modern capitalism was built.
"Our ancestors' labor fueled the formation of capitalism, so it's really inseparable," she said.
Renee Hatcher, assistant professor of law at the University of Illinois at Chicago, said those committed to Black liberation have to realize capitalism will "never work for Black people."
"When we think about things like abolition or getting rid of restraints, that is fundamentally a question about how do we not only get rid of the police, but how do we redo the economy in ways that actually support a better way and actual safety for our people," she said.
Inter-communal Violence
Black-on-Black crime is a phrase weaponized to not only turn white people against the Black community but to turn the community against itself, according to Tarana Burke, founder of the Me Too Movement.
Inter-communal violence is preferable to Black-on-Black crime because the latter phrase is used to assign blame to Black people for harm that is caused to them within their community, she said.
Burke said community conversations about inter-communal violence need to occur in order to strategize what assault and liberation look like without other people defining it.
Burke said a challenge she comes across in her work is not having the space to talk about sexual violence in Black communities without automatically implicating a Black man. This makes Black women feel unseen and unheard, and excludes those who identify across the gender spectrum by making them feel invisible rather than part of the solution.
Accountability does not start with the criminal justice system, she said.
To end the convention, Agnew asked viewers to get involved with their local organizations to create a political home in their community.
"From Juneteenth to Black August and beyond, never settle for less than freedom with us," he said. "Our ancestors and our children demand it."
For more information, visit the convention's website, blacknovember.org, which provides links to resources and organizations.