'Black Lives Matter' counter-protest causes friction with 'Blue Lives Matter' demonstration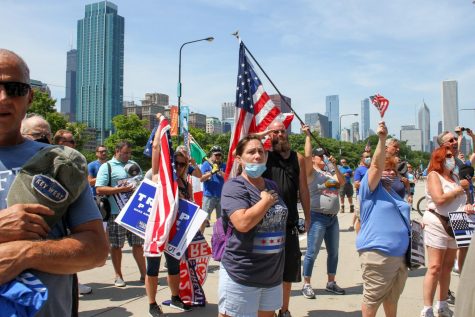 Separated by a metal fence and a line of police officers with bikes, Blue Lives Matter and Black Lives Matter demonstrators came to a standstill in the South Loop Saturday.
Blue Lives protesters—many of whom were not wearing masks—proudly waved American, Thin Blue Line and Trump 2020 flags and carried signs reading, "God Bless our Police" and "John Catanzara for Mayor 2020," referencing the Fraternal Order of Police president.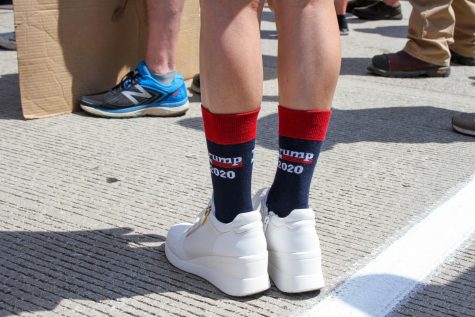 On the other side of the sidewalk, separated only by on-duty police on bikes, were Black Lives Matter counter-protesters banging metal pots and pans to drown out pro-police speakers.
The "Support our Police Chicago" rally, organized by Back the Blue, a pro-police officer non-profit organization, was held in front of the former site of the Christopher Columbus Memorial near the south end of Grant Park, following a volatile July 17 protest and later the removal of the statue.
Both the Grant Park statue and another in Arrigo Park, 801 S. Loomis, were taken down Friday, July 24, at the request of Mayor Lori Lightfoot, who tweeted they were "temporarily removed … until further notice" due to safety concerns.
Brian Mitchell, a retired street racer who attended the rally, said officers put their "lives on the line" every day and people should defend the police rather than defund them.
"Folks, this is what tyranny looks like," Mitchell said, pointing to the former site of the statue. "Nobody voted on taking that down. There was no hearing about this. It was Heinrich Lightfoot, who decided under Adolph Pritzker that we were going to take down this statue and if you people didn't like it, well then too bad."
A subcommittee of the Grant Park Advisory Council in Chicago was created to review existing statues and monuments in the park as a response to protesters demanding to take down the Columbus memorial, as reported by the Chronicle July 15.
Tina McVuke, one of the rally's three organizers, said Saturday's rally was peaceful in comparison to the "organized terrorist attack against our law enforcement community," referencing conflict between protesters and police officers during the July 17 protest, as reported by Block Club Chicago.
She said people supporting police have been intimidated for too long and asked community members to come forward and not be afraid to wear their red Make America Great Again hats in public.
Protesters in support of police stood at the dividing mental fence waving flags and shouting profanities at the other side, and with each jeer, the metal clanking from Black Lives Matter protesters on their pots and pans and cowbells became louder.
One Back the Blue speaker said, "Where are you and the cowbells when the gangbangers are shooting each other?"
Some Black Live Matter supporters clashed with police while walking across the street toward the Back the Blue rally, before being pushed back to the sidewalk.
Rabbi Michael Ben Yosef, president and founder of Tikkun Chai Inter-National, a humanitarian organization advocating for human rights for all people, organized "Denounce: Support Rally for 'Blue' Chicago PD," a separate counter-protest that intentionally did not go near the pro-police rally.
Yosef said he and his organization planned to meet at the former Columbus statue site in Grant Park, but as soon as he heard there would be a pro-police rally there, he moved it to the intersection of East Jackson Drive and South Columbus Drive.
"Coming off a weekend of violence, we felt it was best to move our protest down the street …" Yosef said. "We wanted to make sure that no way possible [would there be] any agitation or any bit of confrontation between those supporters."
Supporters on both sides denounced Lightfoot's lack of support for different causes.
Yosef said he condemns the city's $1.8 billion budget for the Chicago Police Department, which could be put toward community services.
Ashley Ramos, another organizer for Back the Blue, said she has family members in law enforcement who give their all to protect American citizens.
Ramos said she is asking people with opposing viewpoints to be as "open as possible" and look at the facts from what each side is saying.
"We need to look at those things and say, 'Ok, here's where the mistakes are made on both sides, here's how we correct them so we can get back to being one united nation because this—what's happening here— it's not just affecting our city, it's affecting cities all over the United States," Ramos said.