Biden calls for better access to college for middle class in State of the Union speech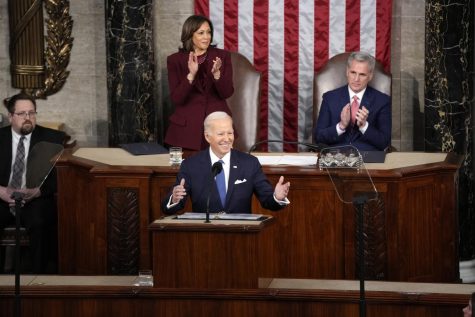 In his first State of the Union address to the newly GOP-controlled House of Representatives, President Joe Biden said everyone should have a chance at a "good career," regardless if they go to college or not.
He called for providing access to two years of community college, universal preschool and increasing the pay of public school teachers.
"Restoring the dignity of work means making education an affordable ticket to the middle class," he said, noting that his administration has moved to reduce student debt and has increased Pell grants.
During the Feb. 7 speech, Biden gave a nod to First Lady Jill Biden, citing her experience as an educator, saying "any country that out-educates us, will out-compete us."
Biden's education remarks come as more than 40 Republican senators filed an amicus brief to the Supreme Court arguing against Biden's current loan relief plan, saying that the debt would fall to Americans who chose not to go to college or had already paid off their loans.
Some lawmakers have called the loan relief plan overreach and unconstitutional.
On Jan. 23, the Biden administration released new student loan forgiveness data for all 50 states, showing 26 million people applied or were automatically eligible for student debt relief.
In Illinois, nearly 1.5 million people either applied or were deemed "automatically eligible" for relief, while the number of fully approved applicants sent for discharge was just under 680,000.
"We're making progress by reducing student debt, increasing Pell grants for working- and middle-class families," Biden said.
Pell Grants are a type of federal financial aid that is distributed to students with greater financial needs, who have not earned their bachelor's degree. Last year, Pell Grants for lower-income students going to college increased by $500, the largest increase in more than a decade.
At Columbia, students can apply for both federal and private loans, along with a slew of other loans, scholarships and financial aid.
Columbia's most recent round of internal scholarship applications closed on Feb.1. The college offered a "Scholarships 101" workshop in the fall to help students prepare to apply and to ensure they meet the scholarship deadlines.
Biden also demanded Congress must restore Roe versus Wade, promising a veto if there is a national ban, holding police officers accountable if they violate the public trust and reminding them that "our children have a right to come home," referring to recent acts of gun violence.
Prior to diving into the anticipated topics of the night, Biden introduced newly elected Speaker of the House Kevin McCarthy (R-Calif.) and newly elected minority leader of the House Hakeem Jeffries (D-N.Y.).
According to a NBC poll, Biden's approval rating sits at 45% with the American public, as of Jan. 24.
The president primarily covered infrastructure, with promises to keep jobs and manufacturing in America, rather than overseas, while announcing new standards for infrastructure projects.
"Tonight, I'm also announcing new standards to require all construction materials used in federal infrastructure projects to be made in America," Biden said. "And on my watch, American roads, American bridges, and American highways will be made with American products."