Suburb 'Parties On' for 'Wayne's World' celebration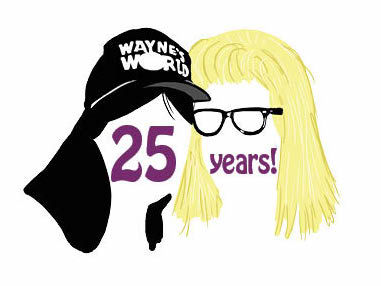 "Schwing!" 
In honor of the "Saturday Night Live" sketch-turned-movie "Wayne's World's" 25th anniversary, Chicagoland suburb and Wayne's hometown Aurora, Illinois is throwing a six-month long celebration. 
The celebration titled, "Party On! 25 Years of Wayne's World," begins Feb. 3 with a poster contest at If These Walls Could Talk, a framing shop at 32 S. Stolp Ave. in Aurora, and ends July 4 with head banging to Bohemian Rhapsody in an attempt to break a world record.  
The idea for the celebration  came about last summer when Jennifer Rauch, owner of If These Walls Could Talk, said she realized the movie was having its milestone anniversary the following February.
"As a small business owner downtown, I thought I should probably do something," Rauch said. "I brought it up to the Downtown Aurora Board, and after that, it took off."
Ten major events are scattered throughout the six-month celebration, including a look-alike contest and a doughnut taste-off. Photo booths, replicas of Wayne's basement and the Pacer car from the movie are also available to attendees throughout the series of events. Fans can use #partyonaurora to share the celebration on social media.
The current weather would have made it difficult for the anniversary events to reach their full potential, Rauch added, explaining the decision to make the celebration six months long. 
"We thought we could do several events throughout the season, that way everyone can get a little piece of the pie," Rauch said. "We wanted to space it all out so everything wasn't all on one weekend." 
 Rauch said she has received dozens of calls and emails from "Wayne's World" fanatics from across the nation and has already received entries for the first event—the poster contest. The contest winner will have their artwork displayed throughout the event. 
Ric Walker, a lecturer in the Theatre Department who teaches in the Comedy Writing and Performance program, said it is an "awesome" idea to have a six-month long celebration for Wayne.
"It helped put Aurora on the map in a national way and in a positive light," Walker said. "So why not celebrate it?" 
 The events will be suited for all ages to ensure everyone interested can get involved and explore the town, said Marissa Amoni, an events and community outreach coordinator with Aurora Downtown Organization who helped make the celebration a reality.
"It is great to see the community participation," Amoni said. "The first meeting was great; it was a lot of brainstorming ideas."
Although the movie was filmed 25 years ago, Walker said that the movie still holds up very well, considering the contemporary commercial references that are used.
For fans like Rauch, who was 20 when it first came out, "Wayne's World" will continue to be a classic comedy movie.
"My generation will always love the movie—it is our cult thing," Rauch said. "It's one of those beloved things."