Approval of Enbridge Pipeline brings protestors to the Army Corps of Engineers' Chicago front door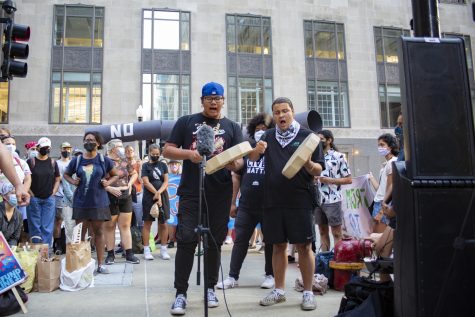 "We stand with Indigenous nations, f— the Enbridge corporation" was one of the chants heard down Jackson Boulevard last week as Chicago protesters marched to "Stop Line 3."
The Enbridge Pipeline, also referred to as Line 3, is an oil pipeline project led by Enbridge Energy, a Canadian-based company. The pipeline runs 1,097 miles from Edmonton, Alberta, Canada, to Superior, Wisconsin, crossing 227 bodies of water, including the Mississippi River.
According to Enbridge's website, the project's goal is to replace the deteriorating crude oil pipeline originally built in the 1960s to "maintain high safety standards, reduce future maintenance activities and create fewer disruptions to landowners and the environment, and restore the historical operating capabilities of Line 3." The Enbridge website also touts the number of jobs to be created during the life of the project.
Chicago protestors began their rally in front of the U.S. Army Corps of Engineers, Chicago District office, 231 S. LaSalle St., Aug. 26 to demand they revoke the regional permit. The USACE Chicago District is responsible for the development of water resources in the Chicago metropolitan area.
Protesters also called on President Joe Biden to revoke the federal permit for the Enbridge Pipeline because they say it raises the threat of oil-infected waterways and climate damage, harms Indigenous livelihoods and directly violates a treaty from 1855.
The 1855 treaty is the Minnesota treaty protecting the Anishnaabe land and people, which activists say Line 3 directly violates by endangering critical cultural resources.
The new replacement project is 90% complete, including a widening of the pipeline's diameter to 36 inches. The U.S. portion of construction, which covers a 13-mile stretch in North Dakota, 13 miles in Wisconsin and 337 miles in Minnesota, will cost an estimated $2.9 billion.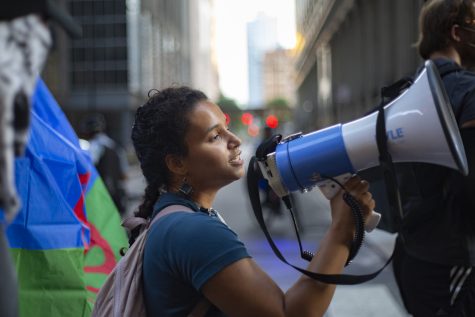 Troi Strong Spirit Vallis, leader of the Stop Line 3 protest, led chants and shared her experience on the front lines of the Line 3 construction in Minnesota. Vallis said it comes down to putting one's body directly in front of construction, which often ends in arrest.
"I'm facing charges for the action that I've taken in Minnesota, and I think that can be really scary to a lot of people," Vallis said. "I'm facing possibly up to a year in prison, but there's something about love that makes you able to do anything and also makes it able for you to do what it will take to defend people."
Vallis urged Chicagoans to donate money to people on the front lines, support local organizations involved in direct action and pressure Biden to remove the permit for Line 3 "with the swipe of a pen."
The construction in Minnesota began in December 2020, but not without a fight. According to the Associated Press, the Minnesota Supreme Court denied an appeal from the Anishnaabe people and environmental organizations Aug. 24, allowing construction to continue.
The Enbridge Pipeline has received the Environmental Protection Agency's Clean Water Act Section 401 certification from the Minnesota Pollution Control Agency.
Organizers submitted a public comment to the Public Utilities Commission in Minnesota to stop Line 3. Despite opposition from 86% of people who gave a public comment, Line 3 construction was approved.
Anthony Tamez-Pochel, a member of Chi-Nations Youth Council, an Indigenous Native council "formed to create a safe space for Native youth through arts, activism, and education," was a speaker at the protest.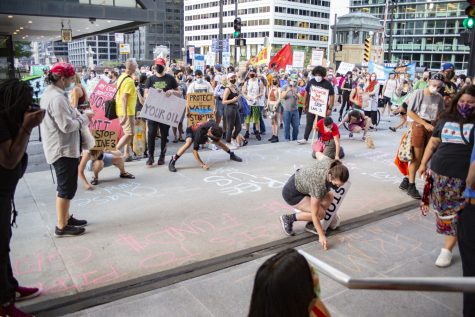 Tamez-Pochel said members of the Chi-Nations Youth Council will visit the camps in Minnesota this fall because it is Manoomin harvest season, which is a wild rice native to the Anishinaabe people.
"The Enbridge pipeline, that's cutting through hundreds of communities, and many of those communities are Native communities, and so as Native people, it's really important that we go to these lines, and we assert our treaty rights," Tamez-Pochel said. "It is our [treaty] right as Anishinaabe people to go into those forests and harvest the maple syrup like our ancestors."
The Sierra Club Chicago, the Sunrise Movement and the International League of Peoples' Struggle were among other Chicago environmental organizations present at the protest.
Cailie Kafura, a protester and member of Rising Tide Chicago, shared her experience on the front lines in the northern Minnesota camps.
"It's a very different world doing solidarity stuff versus being on the front line," Kafura said. "So I think seeing the land get ripped up and the water get poisoned actively — people come home with trauma, and there's no real way to process that because it's happening everywhere. But I think it really emboldened people; I think people who do land defense never stop."
Kafura said putting pressure on banks, like JP Morgan Chase, that are funding the pipeline is crucial because without the massive loans they grant, the pipeline would not be funded.
"The biggest thing for me is having people realize it's not an Indigenous-only issue, this is absolutely — as white folks, as settlers — our ancestors made this country the way it is now," Kafura said. "And so we, as almost a form of reparations, we need to be going to the front lines, putting our body on the line, taking that risk, because our ancestors are really the reason that this is happening today."