Amorphous and Koh, young artists on the rise redefining the industry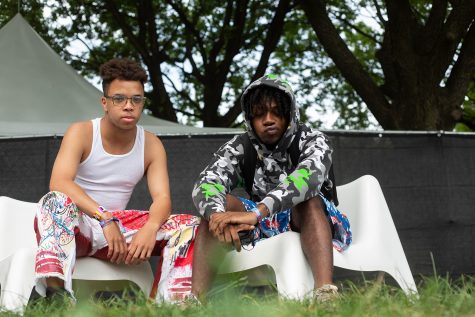 Jimir Reese Davis, also known as Amorphous, said eight months ago he was producing beats in his bedroom and eating ramen noodles. Fast forward to last week, and he was suddenly performing at Lollapalooza as an independent artist.
Amorphous, a DJ and producer, said right before the start of the COVID-19 pandemic his mom was on life support and he was kicked out of his home, leading him into a solo cross-country road trip from Los Angeles to Orlando with little money, saying it was an "eye opening" experience.
"I just said, 'You know what? Whatever is meant to be will be, if I'm meant to be in L.A., if I'm meant to be an artist, that's what's going to happen," Amorphous said. "If not, I will find something else to live for. Life is too short to be upset when life brings you another way."
The artist performed at Lollapalooza on July 29 on the Bonus Track Stage, and he said many of his friends and family came to show their support.
Amorphous has been beatboxing since he was four years old and spent most of his quarantine editing film, writing scripts and making mashups until Nov. 26, 2020, when his life changed.
On that day, rapper Fat Joe became the first person who asked the 23-year-old to collaborate on a song via Instagram direct message. Fat Joe told Amorphous he listened to his Rihanna "Kiss it Better" and Luther Vandross "Never Too Much" mashup and started rapping over it, which is how the song "Sunshine (The Light)" was born with Amorphous, Fat Joe and DJ Khaled.
Shortly after, singer Kehlani contacted Amorphous to create something together for her project, but when they got to the studio, Kehlani decided she wanted to be on Amorphous' project instead, resulting in the single "Back Together," featuring Kehlani.
"Ever since then, it was just a snowball effect of working with so many people that I look up to," Amorphous said.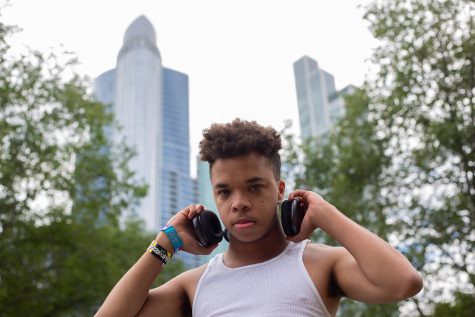 Amorphous said his artist name means "undefined" and "shapeless," which is embodied throughout everything he creates.
In Amorphous' debut EP, "Things Take Shape," released July 7, the artist incorporates some R&B, house, rap and alternative music.
"I think life inspires and motivates my music," Amorphous said. "I think that's the most universal truth; we all have to live it, but definitely my experiences, the things that I've been through, even my traumatic experiences, I've been able to put that all into my creativity, and that's what keeps me going."
Amorphous has gone viral in the past for other remixes and received recognition from Rihanna for a documentary he made about the singer, producing the sound, narration and editing by himself. The documentary has more than 1.4 million views.
Manifesting dreams into reality is something the multifaceted artist does regularly, and he is currently manifesting a collaboration with Rihanna in the future.
"It's kind of just about putting that energy out there and speaking it into existence and believing in yourself," Amorphous said.
Amorphous is releasing another EP in the coming months and eventually a full length album, which he said he will take his time on. The artist also said he plans to establish himself separately in the film industry, showcasing his different talents.
During Amorphous's Lollapalooza performance, Koh, a Chicago-based rapper, joined him on stage to perform the song "The Flow" together.
The two 23-year-olds were introduced by Amorphous' managers.
Everett Birk, also known as Koh, was raised in Calumet Park and later moved to Homewood and then Chicago Heights. The artist described his first live performance and first festival performance in his hometown as "life changing."
"It helped me see a lot of things that I meditated on," Koh said. "It's my life now, and I love music in this whole soul."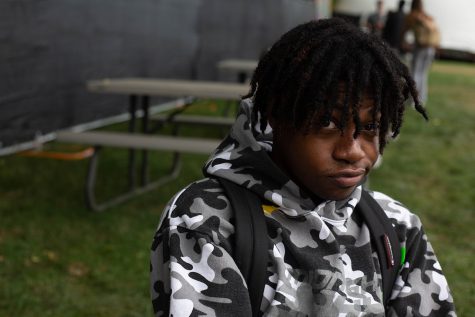 Koh formed a relationship with Jarad Higgins, a rapper better known as Juice WRLD, who was a mentor for Koh before he died on December 8, 2019, at the age of 21.
Koh said he used to play upright bass, which spurred his musical talent, but Juice WRLD helped him channel his passion for freestyling.
"Jarad taught me how to freestyle, how to rap, how to song scheme … gave me a schematic, and he was such a counselor, a teacher," Koh said. "We weren't really close, close, but it was a bond that meant a lot to me."
Koh said it took quitting jobs and college to fully dedicate his energy to his craft. He said independent artists in the digital age should maximize every social media outlet, which is how the rising artist was first put in the limelight.
Koh went viral in a Twitch freestyle clip, racking up more than 700,000 views on TikTok, more than 200,000 on YouTube and gaining recognition from Twitch streamer Aiden Ross and music videographer Cole Bennett.
"Three, four months ago, I was in my room freestyling on Twitch to 20 viewers," Koh said. "Everyone was like, 'That was fire, you're going to make it.' I didn't think so, and then I did. This journey has been amazing, but I wouldn't have been here If not for people who believed in me."
Koh said his goal is to keep up his drive and become the successor of Juice WRLD.
"I know [Juice WRLD is] looking down on me right now proud because he was a motivational person [for me]," Koh said.
Amorphous and Koh plan to work on more songs together in the future.
"It was just a beautiful experience, [Koh] flew into L.A. and it was actually the night that I had to turn in my EP, so we had to get that track done," Amorphous said. "And I felt like ['The Flow' featuring Koh] is a perfect introduction for him since he comes from that freestyle world, he has so much talent that he's going to be able to show over the years."