'Am I on camera?': Biden campaign grapples with virtual campaigning in the coronavirus era
Standing between an American and Illinois state flag holding a cell phone, Joe Biden asked "Am I on camera?" as he proceeded to wander out of view during his first-ever virtual town hall.
The former vice president was forced to cancel a rally set for Friday, March 13 due to the ongoing spread of the coronavirus. Following Biden's decision, Illinois Gov. J.B. Pritzker on Thursday announced a ban on all gatherings of 1,000 people or more, and recommended postponing gatherings of 250 people or more. This ban will be in effect through May 1, as reported by the Associated Press.
A week prior, Sen. Bernie Sanders (I-Vt.) held a rally in Chicago's Grant Park, attended by thousands of supporters, some of whom wore masks or, in one case, a hazmat suit, as protection from the coronavirus.
But the national emergency has caused 2020 presidential candidates to re-think how they campaign.
The Biden campaign decided to host a virtual town hall that became 38 minutes of garbled audio and muted callers.
At the beginning of the town hall, U.S. Senators Dick Durbin and Tammy Duckworth were seen on-screen. But only Durbin spoke.
"In the last two weeks, [Biden has] made history in presidential politics in America," Durbin said. "And you are going to make it again come this St. Patrick's Day in the city of Chicago and the state of Illinois. … When St. Patrick's Day comes around, I will be casting my vote for President Joe Biden."
When Biden stepped on-screen, his audio was barely audible. When the audio did come back on, it was someone from the campaign testing the audio levels. Apologizing for the technical difficulties, Biden thanked the senators for stopping in before welcoming people tuned into the broadcast. He soon began talking about the coronavirus and its effect on events like this town hall.
"We need to take action now," he said. "We need to be ready to take additional action as health and economic crises develop and get worse. We need to lead with science, we need to listen to public health officials."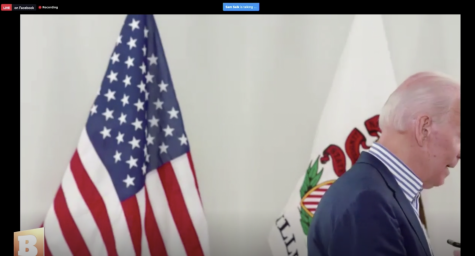 It is unclear how looming the effect of the coronavirus will be on voter turnout in the Illinois primary, just three days away.
During the town hall, Biden introduced Dr. Vivek Murthy, a former U.S. surgeon general and vice admiral in the Public Health Service Commissioned Corps, who advised people on how to stay healthy during voting.
"As you think about going out to vote, if you are going to a polling station, to get in and out quickly," Murthy said. "Make sure you wash your hands when you come back, and make sure that if you are sick you do not go out because you could expose other people."
Murthy also recommended those over the age of 60 and who have preexisting health conditions look for alternatives to going to the polls to vote. Those 60 and older or who have health conditions are the most at risk of contracting the coronavirus.
During the question and answer portion, a participant called in to point out what was happening.
"Mr. Biden's speech was garbled the entire time," the person said.
After fielding a handful of questions on animal rights and Sanders, Biden then apologized for all the difficulties that occurred.
"I'm sorry this is such a disjointed effort here because of the connections," Biden said to one town hall participant on the live feed.
Biden's campaign plans to try their hand at another virtual town hall Monday ahead of the Florida primary as a replacement to a canceled Miami rally that had been scheduled for Thursday. In addition to Illinois and Florida, Arizona and Ohio will also hold primaries on Tuesday, March 17.