First in Cannes, now in Chicago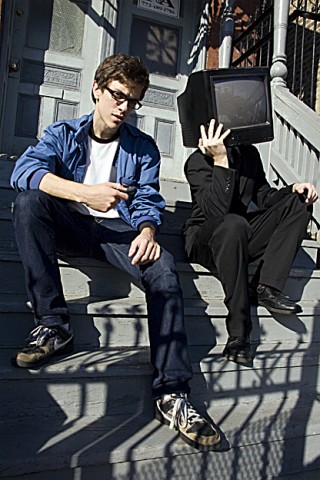 In the videos documenting his filmmaking, Brad Bischoff, a senior film major at Columbia, can transform from an overly-excited goof somersaulting through the streets to a dedicated director so obsessed with his work that sleep becomes obsolete.
He will be showing his short film, Eyelids, at the 4th Annual Chicago International Film Festival on Oct. 20 and 27.  He made the film with five friends who collaborate on projects for their production and design group, Look at Rubbish, which has a video on YouTube with more than two million views. The group, though its members live thousands of miles apart, still meets to collaborate when they can. Bischoff, who is the brains behind this short film, is a source of inspiration for others within and outside the group.
The five members in the production group are Jason O'Malley, Bob Zegler, Jake Zalutsky, Nick Santore and Bischoff. Both O'Malley and Zegler agreed that just being around Bischoff inspires them to be more creative.
"If you go into [Bischoff's] bedroom, he has a wall of Post-it notes; anything that will come into his head, he'll write down and put it up there," Zegler said. "It's not even Post-it notes. It's scribbled on napkins; it's torn-out pieces of loose leaf [paper]. Every second, he's just constantly coming up with ideas that would be great in a film. [He is] very successful in making them and getting them out there."
The film started out as a 2007 Valentine's Day poem Bischoff wrote for a girlfriend and a drawing on a Post-it note. It morphed into a collaborative project that gathered more success than anyone in the group had first imagined.
In September, when Bischoff found out he would be showing his film in the Chicago International Film Festival, he said it made the whole process worthwhile.
"To be acknowledged in the city that means the most to me [means] more than anything [to me]," he said.
The film is a five-minute poetic piece about a boy who wishes he lived on the edge of a girl's eyelids. After realizing he is too small to be noticed, he paints the backs of her eyelids, creating her dreams.
The film was shot on 16 mm black and white film, and the voiceover was done by Bischoff's grandfather and recorded on a cassette tape.  These aspects give it a certain antiqued aesthetic. But the production of the film wasn't easy to pull off with a budget of less than $1,000.
"We were trying to do it for as cheap as we could and still get the story across," Bischoff said. "For example, the eyelid was made out of pink foam panel from Home Depot.  We were trying to use these home-school aesthetics to try and get it done, and [we used] a lot of duct tape.  Duct tape is the answer for everything."
After the film was finished, Bischoff said they submitted it to 15 to 20 film festivals at $20 to $70 each submission. Bischoff said they probably wouldn't have been able to do it without the pressure and support of Miguel Silveira, an adjunct film production instructor at Columbia who was also credited as an associate producer of the film.
About six months after the film was completed, it was shown at the 2008 Festival de Cannes in France.
"This film is so fantastic, so developed, so mature," Silveira said. "It confirmed that Brad was in fact a very good filmmaker from an early age."
Other members of the production team agreed.
Zegler, a senior cinema major at the University of Iowa, has known Bischoff since they were in sixth grade. He has worked on films with Bischoff since their sophomore year in high school, and he traveled to Chicago to help with the production of Eyelids.
"It's sort of a deep effect on me just seeing the film as is-not even thinking that I had a part in making it," Zegler said. "I love it. I'm so proud of it. I'm happy that more people are having the opportunity to see it, as well."
O'Malley, a Columbia alumnus who now works for Current TV, also helped with the film.
"When I impressed my ex-girlfriend [with the film], I kind of knew at that point I had done something good by making her jealous," O'Malley said. "That's the point of my whole career-to spite my ex-girlfriend."
Bischoff plans to stay in Chicago and expose the aesthetics of the city that he said needs to be shown.
"There's a lot of post-production houses and in-studio shoots," he said. "But I don't know too many production companies based out of Chicago. Our main goal is to set up Look at Rubbish as this music video and feature film company based out of Chicago."
Bischoff predicted that Chicago's film  scene will take off in the next couple of years and said he wanted to be in Chicago for the birth of it.
As for Bischoff's chances of making it big, Silveria said it is not a matter of if, but when.
"It's just a matter of time until he directs a feature film with finance," he said.
For more info on Bischoff and the group, visit LookAtRubbish.com.
FILM BITS
Playing at: AMC River East, 322 E. Illinois St.
Showtimes: Oct. 20 at 6:20 p.m. and Oct. 27 at 6:15 p.m.
Tickets: $9 for members/$12 for non-members. Visit ChicagoFilmFestival.org for more information.