'Abortion is just one piece of the puzzle': Poets highlight reproductive justice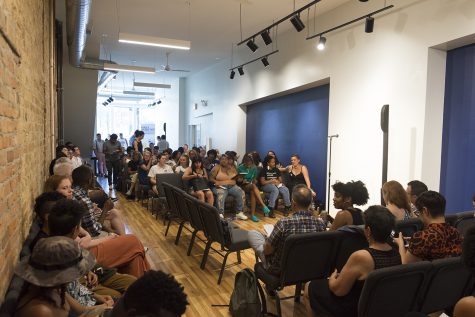 In a tiny, packed room in Wicker Park, a woman stands on stage and has to pause her performance. It is not stage fright that stops her, though, it is laughter—hard laughter. And the audience is laughing right along with her.
"I bit down [on my husband] and savored what I cooked so long from love," she read aloud in between laughs.
Jennifer Steele, who received her master's degree from Columbia in 2008, was one of more than 20 poets—of all gender identities and ages—who participated in Women & Children First's sold-out Poets for Reproductive Justice event July 15, held at Young Chicago Authors, 1180 N. Milwaukee Ave.
Not all the spoken word performances were playful remarks on what would happen if someone ate their husband, though. And the focus of the night was not solely on abortion rights, either.
Instead, the performers looked at reproductive justice to mean no restrictions on what people can and cannot do with their bodies.
"Having an ungovernable body … it is not [apolitical]. [Reproductive justice means] having the freedom of choice," Steele said on stage. "Beyond that, what it means for health in general, everyone having access to healthcare and being able to live as they want … that should be a choice that no one decides is good [or] bad."
In the wake of bans on reproductive rights in some states such as Alabama and Georgia, and increased protections on the right to an abortion in states such as Illinois and California, poets are doing their part by bringing voice to reproductive issues through spoken word.
Part of being a poet is using voice to talk about important topics in order to shift the culture surrounding them, said H. Melt, one of the event coordinators and a performer at the event. Melt wanted to participate because they believe poets play an essential role in community organizing.
The event was ticketed, and all proceeds were donated to The National Network of Abortion Funds, which has 76 member organizations across 41 states. NNAF helps provide intersectional financial and logistical assistance to people across the country in need of an abortion.
"[The fund] sees reproductive justice as broader than simply abortion or the right to abortion," Melt said. "They also have really inclusive focus that includes racial and economic justice and not just healthcare."
The Chicago Abortion Fund, part of the National Network of Abortion Funds, helped organize the event. As an abortion fund, it provides financial, emotional and logistical support for people seeking abortion care.
"It is really important to note the title of this event is 'Poets for Reproductive Justice,' not reproductive rights or healthcare," said Megan Jeyifo, executive director of the Chicago Abortion Fund. "We believe in the right to parent, to not parent; and to parent the children you have in healthy, safe, thriving and beautiful environments."
Jeyifo said the event's purpose was not only to talk about the importance of abortion access, but also the importance of support needed for parents, communities and families. She said the people the Chicago Abortion Fund serves need more than just access to abortion to live full lives, including education on reproductive rights and someone to talk to.
"Abortion is just one piece of the puzzle," Jeyifo said. "People are energized about abortion right now because of the bans we are seeing in the news … and the very real threat of post-Roe [v. Wade] reality."
Frustrations over the increasing nationwide restrictions on reproductive rights combined with Missouri's requirement of pelvic exams for women seeking an abortion helped inspire the event, according to Melt.
Eve L. Ewing, an organizer and host of the event and assistant professor in the School of Social Service Administration at the University of Chicago, was inspired by other poetry events such as Poets for Puerto Rico and Black Poets Speak Out. Ewing read her poem "Appletree" from her book "Electric Arches," a collection of poems, short stories and visuals.
Ewing said it is important people keep in mind that although Illinois has more flexible reproductive laws than other states, freedom is a constant struggle and people have to continue to fight for what they feel strongly about.