President and CEO Kwang-Wu Kim's contract extended despite C-Fac allegations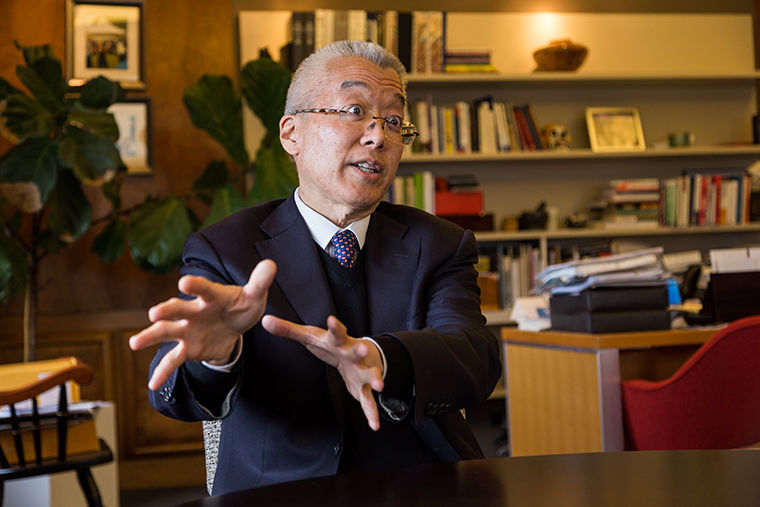 In a unanimous decision, the Board of Trustees extended President and CEO Kwang-Wu Kim's contract to the end of the 2023-2024 academic year, more than a year earlier than expected and a week after C-Fac and OurColumbia called for his resignation.  
Kim's previous contract was scheduled to expire in 2020, as reported Oct. 25 by The Chronicle.
Kim said the extension of his contract is exciting, and he is happy the Board of Trustees has faith in his ability to continue to run the institution.
He is looking forward to continuing his presidency and implementing the Strategic Plan, tackling new technology at Columbia and expanding the college's work in diversity, equity and inclusion, Kim said.
"The advantage to having this long time frame ahead of me now is [that] I can keep thinking longer-term without worrying about an interruption," Kim said.
Board of Trustees Chairman Bill Wolf said the decision to renew  Kim's contract came from needing a new senior vice president and provost, and the need to familiarize that person with leadership at the college.
"Stan Wearden is leaving, and we're in the market now to hire a new provost," Wolf said. "The board said, as we considered the potential that we were going to be in the market for a new provost, 'We really need to have our president on board for some period of time that would be long enough that the provost who comes here is going to be comfortable that he or she is not going to have a change in presidents.'"
The contract extension came shortly after C-Fac held a press conference Oct. 17 calling for Kim's removal, alleging Kim and his administration were cultivating racism and sexism on campus, as reported Oct. 22 by The Chronicle.
Prexy Nesbitt, adjunct professor in the Humanities, History and Social Sciences Department and C-Fac's director of diversity, declined to comment on the contract renewal.
Kim said there is no legitimate allegation against him, therefore it is not a valid claim.
"There's people saying things and there's posters with words plastered over my face," Kim said. "An allegation is a claim made on the basis of something, so I've never seen any basis for anything, and I think it's a tactic to rile people up."
Matt Coyle, Student Athletic Association president and senior live performing arts management and live and installed sound double major, said he supports the contract extension.
"I feel pretty great about Dr. Kim's contract being extended," Coyle said. "I know I'm in the minority when it comes to students and Dr. Kim, but I've had nothing but respect and admiration and kindness from his staff and his cabinet."
Wolf said he believes Kim is a good fit for Columbia and will continue to do great things at the college now that his term has been extended.
"He's done a wonderful job in helping the school move itself into the next level, to advance the cause of what we want this school to be, and he's halfway through his effort," Wolf said.