Student Diversity and Inclusion opens new office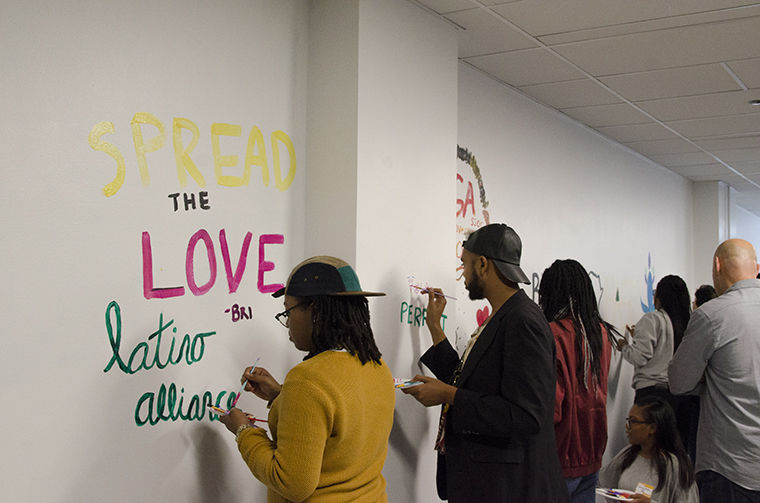 Student Diversity and Inclusion, formerly Multicultural Affairs, opened a newly renovated, multipurpose space with a Sept. 7 housewarming party.
The Student Diversity and Inclusion office, 618 S. Michigan Ave. on the fourth floor, includes student lounge spaces and areas to read and study.
Sharon Wilson-Taylor, vice president of Student Affairs, said although there was nothing wrong with the office's previous name, it did not fully fit its mission and what it wanted to represent for Columbia's diverse and welcoming community.
"It's missing the part [of] inclusion, so Diversity and Inclusion is a little bit more holistic, and it ties in better with the Strategic Plan," Wilson-Taylor said.
The housewarming party, which included free food and live music, provided students with the opportunity to tour the new space.
After the ribbon-cutting ceremony by various student organization leaders, students painted on the blank wall in the office's main room. Many students took the opportunity to paint names of organizations of which they are members, such as Student Government Association and Black Student Union.
Kari Sommers, associate dean of Student Life, helped develop the new space over the past month with help from other faculty and students. The new space offers a student lounge, a computer lab, a meeting and meditation room and a resource room called the Reading Rainbow.
"Our goal is to create a canvas that students can imprint on and spaces for students to show their work but in an informal setting," Sommers said.
Andrew Gercak, a senior music major, said he helped with the renovation process as an Orientation leader during the summer. Gercak said he and other student leaders worked extremely hard on moving out old furniture, painting walls and putting up new shelving to create a cleaner space for students to use.
"It was a different space before, and it was extremely messy," Gercak said. "[Now] it's more open than it was."
Sommers said because of the tumultuous political environment, she wanted a toned down design with softer colors to help create a comfortable environment for students.
"In our current political climate, many of our students feel very vulnerable right now, so we tried to make simple choices," Sommers said.
Muralist Jeff Maldonado will come to the space on Sept. 28 to create customized art that will incorporate imagery from cultural organizations on campus that students are welcome to participate in, added Sommers.
Matthew Shenoda, dean of Academic Diversity, Equity and Inclusion and special advisor to the president, said that while DEI focuses more on curriculum and faculty diversity issues, the two organizations collaborate when needed.
"This new office allows for a lot more fluidity in terms of students being able to work across various points of their own identity without feeling like they have to get plugged into a single box," Shenoda said.
Another goal for the new space is to invite students from all walks of life—regardless of their ethnic background—to be a part of the conversations regarding diversity and inclusion, Wilson-Taylor said.
Sommers said she is excited to see how students are using and making the space their own.
"People are responding really well to [the new space] and that makes me feel good," Sommers said. "I just want students to have a place that feels like their living room."