A 'Wicked Week' encourages students to team up in a new, spooky way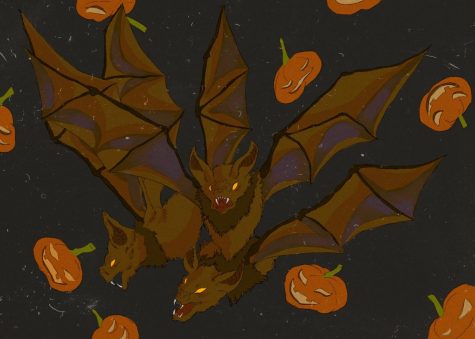 This week, Columbia hosts its annual Wicked Week programming marathon, featuring a tournament, a drag show and a murder mystery improv show.
Carlos Diaz, the coordinator of Student Activities, said this week gives organizations a chance to flex their creative muscles.
"Since Columbia is full of creatives, event organizing and practicing your skills is something that's really, really important to us," Diaz said.
While Wicked Week makes its return to in-person programming, some events have been changed to keep the student body safe during the ongoing COVID-19 pandemic.
This year, the Wicked Ball, a former Wicked Week staple event, will be replaced by a new event called the Wicked Tournament.
Everyone who registers for the tournament through Columbia Engage will be divided into two teams. The team that collects the most points wins. Points can be collected by completing various Wicked Week events.
"We want to go ahead and incentivize individual participation as much as team camaraderie," Diaz said.
Along with a little friendly competition, Wicked Week gives student groups more visibility. Zachary Bernstein, president of the Student Programming Board, said word of mouth is how the organization draws a big crowd for its events.
SPB will also host its annual Drag Show this week. The event usually takes place during Columbia Weekend, but did not this year due to the annual weekend being mostly virtual.
"Parents of art students are surprised by these big, extravagant events," Bernstein said. "Doing it during Wicked Week still makes [the Drag Show] into this big event tied into the rest of the campus community."
This year's theme for the fifth annual Drag Show is "The Haunted Court."
The SPB Drag Show will be held in the Conaway Center at the 1104 S. Wabash Ave. building Friday, Oct. 29 from 7 to 9 p.m.
The Asian Student Organization will also host a "Murder Mystery Party at the Circus" improv show.
"The goal behind [the show] is to have students get to know us and our organization, as well as just have a really fun event for the 'awesomest' week of October at Columbia," ASO Vice President Kaitlyn Venturina said.
Their event will be located in the Student Diversity and Inclusion offices in the 618 S. Michigan Ave. building on the 4th floor. It will be held Tuesday, Oct. 26 from 5:30 to 7 p.m.
Body Haven, a Columbia club dedicated to body positivity, aims to have an open discussion about dieting during its Wicked Week event, "The Horror of the Diet Industry."
"A lot of people don't want to have a lot of hard conversations, and so we're providing the space where they can," said Bri Ramirez, Body Haven's director of communications and social media.
Since Body Haven discussions cover potentially triggering topics, they offer professional resources and plan to collaborate with Student Relations in the near future.
Body Haven's event will be held at the Student Center at 754 S. Wabash Ave. in room 314 from 4 to 5:30 p.m. on Saturday, Oct. 30. Ramirez encourages attendees to come dressed up in costumes for Halloween.
Wicked Week commences Monday, Oct. 25 and wraps up Saturday, Oct. 30. Students can find information about all the events being held this week on the Columbia Student Activities' Facebook page