'A president can do it all by herself': Warren talks big structural changes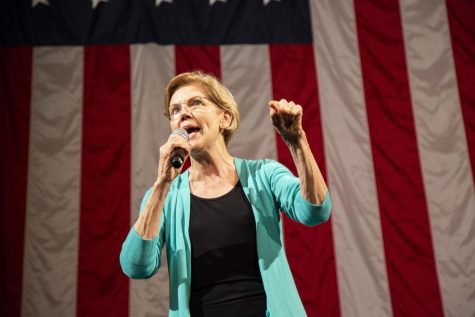 Still hot off the debate stage, Sen. Elizabeth Warren, D-Mass., made a campaign pit stop in Chicago for a town hall Friday night where she outlined many of her policy plans. But Warren also provided a method to her sweeping "big structural change"—two cents. And for those wondering whether two cents is enough to put her ideas to work, she said it is. Because she did the math.
In a crowded Democratic field of more than 20 candidates vying for the nomination, Warren was the first to release detailed policy proposals on issues ranging from immigration to climate change. Her campaign slogan has become, "I have a plan." And audience members at Warren's town hall which took place at Roosevelt University's Auditorium Theatre, 50 E. Ida B. Wells Drive, held a sea of signs with the four-word slogan printed on the backs.
To keep her campaign promises of universal healthcare, affordable higher education and raising minimum wage, to name a few, Warren proposed a two-cent tax on every dollar the uber rich make after their first $50 million in the bank. That, combined with real estate and stock taxes on the wealthy, is enough, she said.
"Just restructuring the economy a little bit, just two cents worth. And think what that means in America," she said. "If you're still sitting there thinking, 'Two cents? Is she right on that?' The answer is yes. I did the math. Two cents is enough to invest all across this nation."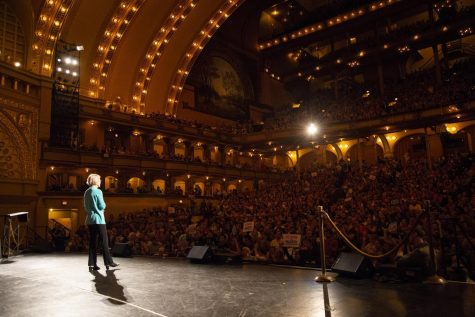 However, the constitutionality and feasibility of such a proposal is still being questioned.
This proposal is part two of a three-step overarching anti-corruption plan Warren discussed at the town hall.
"Let's start by hitting corruption head on, straight down the middle. How do we do it? I've got some good news and bad news," she said. "The good news, I have the biggest anti-corruption plan since Watergate. The bad news is, we need the biggest anti-corruption plan."
Warren plans to hit corruption head on by ending lobbying, cutting Wall Street off from Washington and holding the Supreme Court to more ethical standards. Even when it comes to the climate crisis, an issue many candidates have spent plenty of time campaigning and debating on, Warren blamed corruption in Washington.
Enter: part two. After attacking corruption, Warren plans on making structural change in the American economy through wealth taxes, and investing that income in the working class to make education more affordable.
Warren herself emphasized the ridiculousness of the fact that she was able to go to a commuter college to become a special needs teacher for a mere $50 a semester and then later was able to go to law school for $450 a semester. The average cost of law school for the 2017–2018 school year was $49,095, almost 110 times the cost Warren paid in 1976 at Rutgers Law School in New Jersey.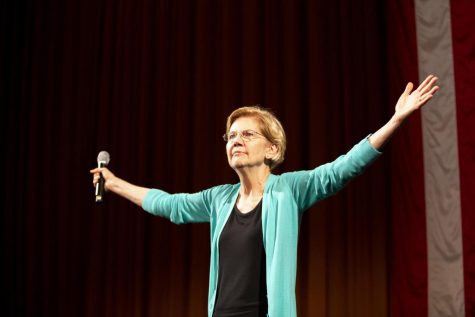 The third part of Warren's anti-corruption plan is an overhaul of the democratic system by overturning Citizens United, the 2010 U.S. Supreme Court ruling that allowed corporations unlimited spending on political campaigns, the eradication of "shameful" gerrymandering and a commitment to other key issues such as immigration and the climate crisis.
"No great country locks up children. No great country separates children from their families. No great country lets profiteers make money off locking up desperate people," Warren said. "That was a year ago. Two days ago, I was in Homestead, Florida. And it's getting worse."
When it comes to the climate crisis, Warren has a plan for that, too. It involves eliminating single-use plastics, taking a coal lobbyist out of power in the Environmental Protection Agency, funding research to stop climate change, ending the practice of drilling and the use of fossil fuels, getting to a carbon net neutrality by 2030 and making a global effort to end pollution.
"[The government] works for giant drug companies. It just doesn't work for anyone trying to get a prescription filled," she said. "It works great for giant oil companies … it just doesn't work for the rest of us who see climate change barring down upon us. … A president can do it all by herself."
Warren is scheduled to appear at a Rainbow PUSH Coalition Convention event Saturday, alongside some other Democratic presidential hopefuls.