Student with powerful, political message to perform at dance festival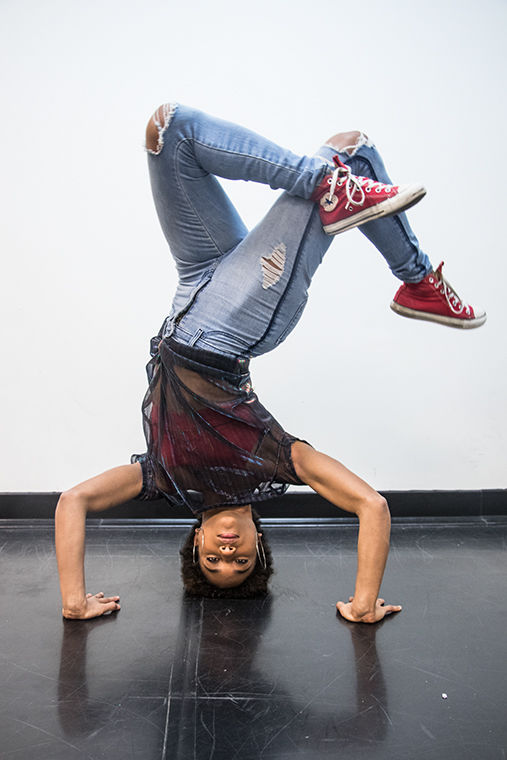 Senior dance major Stephanie Banes' performance piece "Who R U?" has been selected for a performance at the American College Dance Association's National College Dance Festival after she performed at ACDA's 2018 North-Central Conference in March.
Banes said her hip-hop piece highlights issues that are important to her such as the Charlottesville, Virginia, riots and the Black Lives Matter movement.
She has performed this piece across the country, including at Chicago Black Lives Matter fundraiser and for the Marjory Stoneman Douglas High School shooting community in her home state of Florida. Banes will travel to Washington, D.C., in June to perform her piece at the John F. Kennedy Center.
The Chronicle spoke with Banes about the political message behind "Who R U?," dance as a way to highlight current issues and her excitement at representing her culture at the Kennedy Center.
THE CHRONICLE: What was your reaction to being chosen for the ACDA's National College Dance Festival?
STEPHANIE BANES: I was super stoked. My family is beyond enthusiastic right now. I'm the only college student in my family so they're blown away. Everyone's buying their ticket to go to Washington, D.C., it's just so crazy. They're freaking out about it, which is really cool.
What is the message of your dance?
I drove here from Florida and I never really paid attention to racism problems because it never was apparent to me. My family is so mixed and diverse I never realized there was any problems going on. When I had to do the drive, my family was so panicked because at the time there were things going on in Charlottesville, [Virginia]. Because of that experience, I said, "I'm going to create a piece based off of that feeling I had having to drive here."
I created my piece because of those current events and my piece hones in on my personal feelings. I did a lot of imagery from the protests and protesters. I feel like media undermines them sometimes because they're standing for something. Media will find a way to crush what they're doing or make them look like the bad people or only show the bad situations or the outcome of something.
What was it like performing for people from Marjory Stoneman Douglas? 
I cried for a week after. It was intense. I was with a lot of the individuals backstage, and it was super stressful because some of them were students that were actually at Stoneman Douglas. You can see the disconnection they had from reality. It was overwhelming to see and be in the room.
After the performance, it was empowering because everyone was grateful for the piece, and I received a lot of positive feedback. I received a lot of hugs, a lot of parents who were crying, a lot of people who were hurt, but I was super touched because I felt like my work meant something. It's one thing to do work just for the performance of it, but it's another thing to do a piece because you know someone out there needs it. Someone out there needs to know that someone's acknowledging what happened to them or what happened to their family.
Why is dance a good form to highlight some of these issues?
I feel like from the audience's perspective, I would say it's entertaining to watch dance. You can actually let go of the heaviness and hear a message because it's entertainment, but from my perspective, dance is a way to speak.
As a dancer, I have to put my values in order and I can't accept work that takes me out of my values or makes me have to change who I am because I want to get paid. I wouldn't do work because of that. I will only create work that's for a reason, that's going to benefit society or benefit the community that I'm in.
What are you most excited about for the festival?
I don't even want to think about it because it kind of overwhelms me. I want to be able to stand on the stage for the tech rehearsal and soak in that I got this far. I'm also stoked to know that freestyle hip-hop is going to be on the Kennedy Center Stage because usually it's a ballet, opera [or] something in the European aesthetic. It's nice to know that something from my community, something from my culture is going to be presented in an equal level.