Four years in the making: staff says 'yes' to new contract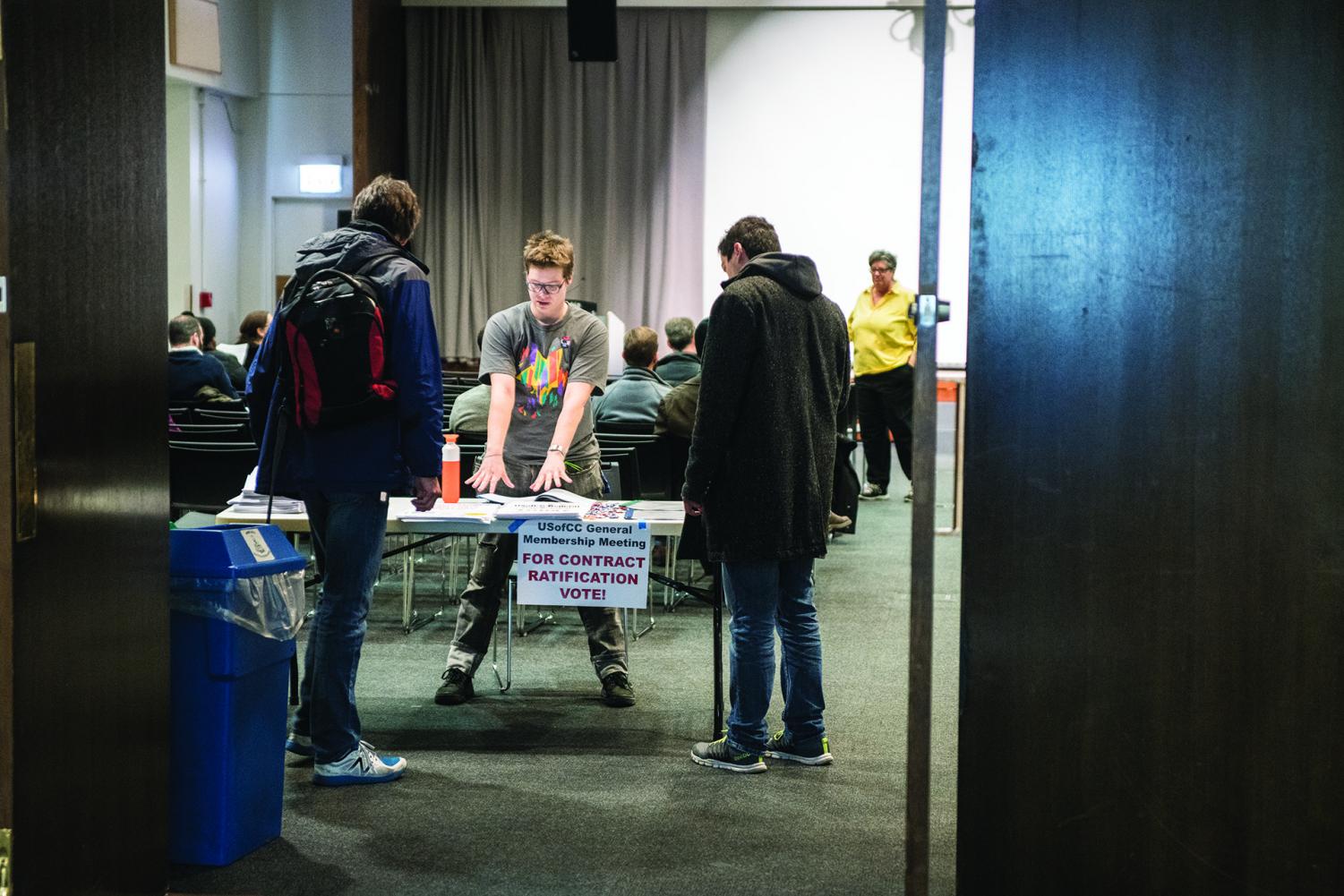 After nearly four years of negotiations that left Columbia's union feeling underappreciated, the college and United Staff of Columbia College have come to a contract agreement, which will now take effect following its Nov. 22 ratification vote.
 US of CC, the college's staff union, met Nov. 21 at Stage Two auditorium in the 618 S. Michigan Ave. Building to cast their ratification votes on the recent collective bargaining agreement between the staff union and the college. Additional polling places were available Nov. 22 in the 623 S. Wabash Ave. Building and the 916 S. Wabash Ave. Building for members who could not attend the ratification vote meeting.
Of the 70 percent on campus full-time members who voted, 98 percent of them voted in favor of the contract ratification, according to Mary Badger, US of CC's negotiations committee chair and director of theatre facilities in the Theatre Department.
At the meeting, Badger led a discussion about the agreements expressed in the contract.
US of CC Vice President Tanya Harasym, operations coordinator for the Learning Studio and adjunct professor in the Humanities, History & Social Sciences Department, said the agreement could not have come at a better time.
"It will do nothing but boost morale at a time where [morale] is very low, when there's been layoffs and things of that nature," Harasym said. "This is going to give people some renewed hope in the administration and renewed dedication to their jobs."
More than 15 staff members lost their positions at the college because of budgetary constraints, as reported June 6 by The Chronicle.
Cat Bromels, member of US of CC's bargaining team and contract support team and print services manager in the Design Department, said the amount of time these negotiations have taken place and the process of reaching an agreement was "incredibly frustrating."
"The amount of time it took was disgusting," Bromels said. "It really made a lot of people feel like their jobs weren't seen as worthwhile, seeing how the administration views the school and views our efforts toward education."
Bromels added that one aspect that made reaching a contract agreement so difficult was having three different heads of Human Resources throughout the four-year negotiation process, because each new head would change the previous tentative agreements.
Emily Sperl, digital archives assistant for the Library's college archives who attended the Nov. 22 ratification voting, said this is a step in the right direction after the union going so long without a contract.
"A lot of people were starting to feel underappreciated without getting a cost of living adjustment," Sperl said. "[The contract] is a really positive thing. We're really making steps and the college is really demonstrating that they care about the well-being of their staff."
The contract defines terms that were previously unclear, such as the job elimination process, the disciplinary process and what it means to be a staff member at Columbia, Badger said.
"We all know what our obligation is [now]," Badger said. "The staff has an obligation. Human Resources and the school has an obligation to us, so that is all well-defined at this point with a clock on it; a clock that we all agree to."
Other highlights from the contract include two separate salary increases of 2 percent; a signing bonus of $500 for full-time members and $250 for part-time members; and retroactive payment increases of 2 percent from Feb. 1 to Aug. 31, as reported Nov. 21 by The Chronicle.
Active employees will receive these payments within 30 days of contract ratification, according to US of CC's contract summary provided to members.
According to Badger, this is US of CC's second contract with the college. She added that although she is pleased with the outcome, there is still a long way to go.
The union is interested in consistent salary increases and general respect and recognition, Harasym said. She added that recognition can be seen by the college providing staff fixed holiday breaks and "Summer Fridays," which allows them Fridays off during the summer.
Bromels said the return of "Summer Fridays" would be a perk that will make working overtime less of a burden.
Penny Rajczyk, admissions counselor for the Undergraduate Admissions Office, said it is important for staff members to come together.
"Unions are only as strong as their membership. The more membership support we have, the more voices we have [and] the stronger we are as a college as well as a group of staff and faculty," Rajczyk said.
Although the contract negotiation spanned four years, Harasym said this all feels very sudden, and US of CC is pleased the negotiation is complete.
"We're happy to be at this point and we're happy for our members," Harasym said. "We hope everyone takes a collective sigh of relief and happiness from this."