Alumnus illuminates Wabash el tracks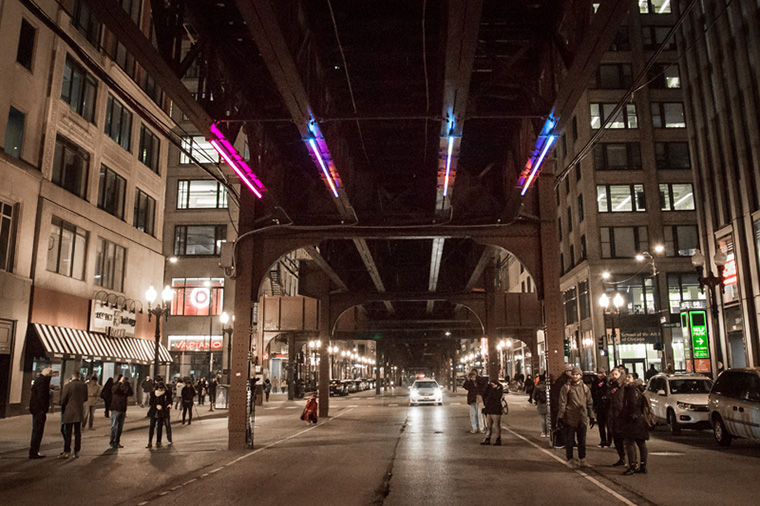 By Arts & Culture Reporter
February 8, 2016
Wabash Avenue is home to a plethora of restaurants, shops and, not least, Columbia's campus. Very little sunshine pierces through the gloomy elevated tracks that span the street, but they have just brightened up considerably with the addition of bands of colorful, interactive LED lights, thanks to a crowdsourced public art project.
The first phase of "The Wabash Lights" installation project, a beta test, was completed Feb. 4. The project consists of four 12-foot-long LED light sections mounted beneath the tracks between Monroe and Adams streets. 
Creators Jack Newell, a 2004 Columbia film + video alumnus, and Seth Unger hope to eventually extend the lighting along Wabash.
Newell and Unger said their project's mission is to encourage public interaction by having people from all over—students, residents and tourists—participate in the display's funding.
"Usually in public art, there aren't members of the public invited into the funding, the art side or any part of it," Newell said. We're trying to think of a different way to approach public art."
Newell and Unger met in 2004 at a Second City improv class and soon became close friends because of their artistic backgrounds. As their friendship grew, they hatched the idea of the lighting and began collaborating.
"We are both people who, when we want to do something, don't just say we want to do it—we try to make it happen," Unger said. "Once we got this idea stuck in our brains, it was tough for us to shake it."
Through Kickstarter, Newell and Unger raised more than $59,000 for the project, exceeding their goal of $55,000.
"[We want to] engage as many people in the process as possible," Unger said. "We want to try and make it feel like the people of Chicago, the people of the U.S. [and] the people of the world, are interested and feel ownership."
Unger and Newell said the attention from their Kickstarter campaign made people take their project more seriously.
"We went from being these like weirdos with a crazy idea to like, 'Oh, this actually has some legs,'" Unger said. 
Unger said he and Newell will partner with BucketFeet, a Chicago company that customizes sneakers with designs inspired by local artists, to showcase some of the artists' work on the Wabash Lights.
The creators are also talking to teachers who plan to use the lights in their art education curriculum. They will discuss concepts relating to public art to expose students to telling stories with a digital canvas.
Alderman Brendan Reilly (42nd Ward) recently expressed support for the Wabash Lights project in Unger and Newell's press release on Feb. 1.
"The Wabash Lights is a collision of cutting-edge LED technology and public art for the purpose of enhancing the aesthetic and cultural experience on Wabash," Reilly said.
Now, Unger and Newell have to raise $5 million in five years to complete the project.
"Many have Many have voiced their support," Unger said. "Many have pledged their support with their dollars. Now it's scaling  up to get some of these bigger players in the door and help us reach our goal."