Ex-DNAinfo reporters discuss closure, future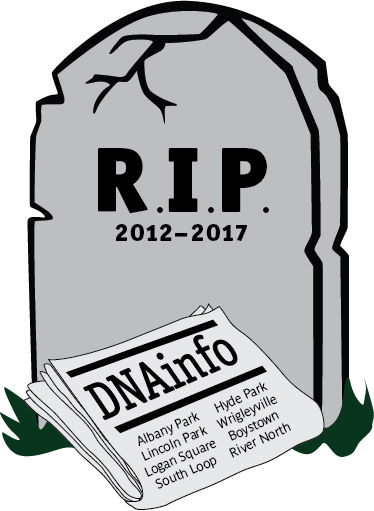 Jessica Cabe moved across the country from Aspen, Colorado to Chicago in September to take her dream job. Just two months later, she and all her coworkers found themselves unemployed when the beloved hyperlocal news site DNAinfo shuttered without warning. Cabe was a Lakeview beat reporter. 
The news site's billionaire founder and CEO Joe Ricketts "made the difficult decision" to shut down both DNAinfo and the recently acquired Gothamist websites in a Nov. 2 announcement that replaced all of the sites' content—homepage and articles alike—for the day.
DNAinfo's revenue failed to offset its expenses, Ricketts wrote in the announcement. The nationwide closure put 115 people out of work.
DNAinfo had been part of Chicago's media landscape since 2012 and New York's since 2009. Gothamist was a network of city-focused blogs with branches in New York, Chicago, Washington, D.C., San Francisco and Los Angeles. It had been in Chicago since 2004. DNAinfo acquired Gothamist in March. 
The DNAinfo staff is not being completely thrown to the wolves: They will be paid their normal salaries until Feb. 2, 2018, and then get a four-week severance payment and unused vacation time payout after that, according to former Wicker Park and Bucktown reporter Alisa Hauser. 
The employees were taken by surprise as much as their audience when the announcement came, Cabe said. The reporters received an email with the announcement as well as some additional information at the same time Ricketts posted the letter on the website, she said. 
"It happened out of nowhere," Cabe said. When Ricketts sent the email, she was filing a story. 
The closure drew sharp responses from the journalism community and still serves as a source of coverage. The New Yorker published an article chronicling "the unjust shutdown of Gothamist and DNAinfo" Nov. 14. Chicago Magazine got sentimental and published a list of DNAinfo's top 10 headlines of 2017. The Chicago Tribune and Sun-Times gave misty-eyed elegies. Individual journalists showed support for their peers, testifying on the ups and downs of job stability in the media. 
Former DNAinfo Chicago news editor Lisa White, who was laid off from the site in February, crowd sourced $3,000 for the shutdown's casualties. 
Despite the strong reactions, DNAinfo's closure did not come as a surprise to former senior editor Justin Breen, who left the site in June after starting his own company, BrEpic Communications. He had been with DNAinfo Chicago since it first opened in 2012 and oversaw its initial hires. 
"Am I surprised that DNAinfo is no more? Absolutely not," Breen said. "Businesses need to make a profit to function, but it was heartbreaking and shocking that it shut down so quickly." 
Even so, Breen said "Chicago is the big loser in this" because DNAinfo told stories in a way that no other news publication did. It would cover stories that other outlets would not touch; the final DNAinfo Chicago article shared on the publication's Facebook page was "Man Shoots Himself In Penis During West Pullman Robbery, Prosecutors Say."
Breen recalled applying to other news organizations with a list of unique stories, but DNAinfo was the only outlet those ideas fit. 
In the closure's immediate wake, headlines noted that DNAinfo and Gothamist's New York newsrooms voted to unionize just one week earlier. Ricketts is a notoriously anti-union conservative who threw his weight behind President Donald Trump during the 2016 presidential election; this drew harsh criticism that asserted the union vote led to the sites' shutdown.
However, Cabe said Ricketts himself showed up to debrief the newly unemployed DNAinfo Chicago staff the day after the closing announcement. As he told the staff he had believed in the operation, Ricketts was on the verge of tears, Cabe said. 
But that show of vulnerability did not redeem him in Cabe's eyes, she said. 
"It was hard for me to feel any sympathy for Joe Ricketts," Cabe said. "It was kind of insulting that he acted that way. It's like when someone breaks up with you and they cry while they're doing it." 
Susy Schultz, president of Public Narrative—an organization that connects communities with the media to ensure all voices are represented in journalism—said it was clear Ricketts closed DNAinfo to avoid dealing with a union. An institution voting to have a union means nothing financially; it is only a beginning of a conversation about workers having more, she added. 
"This was all a bullying tactic," Schultz said. "This was not to say that any experiment on hyperlocal news is a failure. It cannot speak to that at all." 
DNAinfo's demise creates a void in Chicago media, but its closing does not mean that Chicago neighborhoods do not have news outlets, Schultz said. The city has a rich news ecosystem with more than 200 online and print news outlets that serve various ethnic, religious and community members, she added. 
"The fact that we have a news ecosystem that is so robust shows that people are very hungry for stories," Schultz said. 
Losing DNAinfo has not slowed down Hauser's reporting. She has continued to cover her beats through the storytelling website Medium. Former Englewood and Chatham reporter Andrea Watson has done the same on her blog. 
"If a [musical] artist gets dropped by their label, do they stop singing?" Hauser said. "The platform went away, so that means we all have to find a new platform."