Grammy winner Alessia Cara gives advice to Columbia's aspiring artists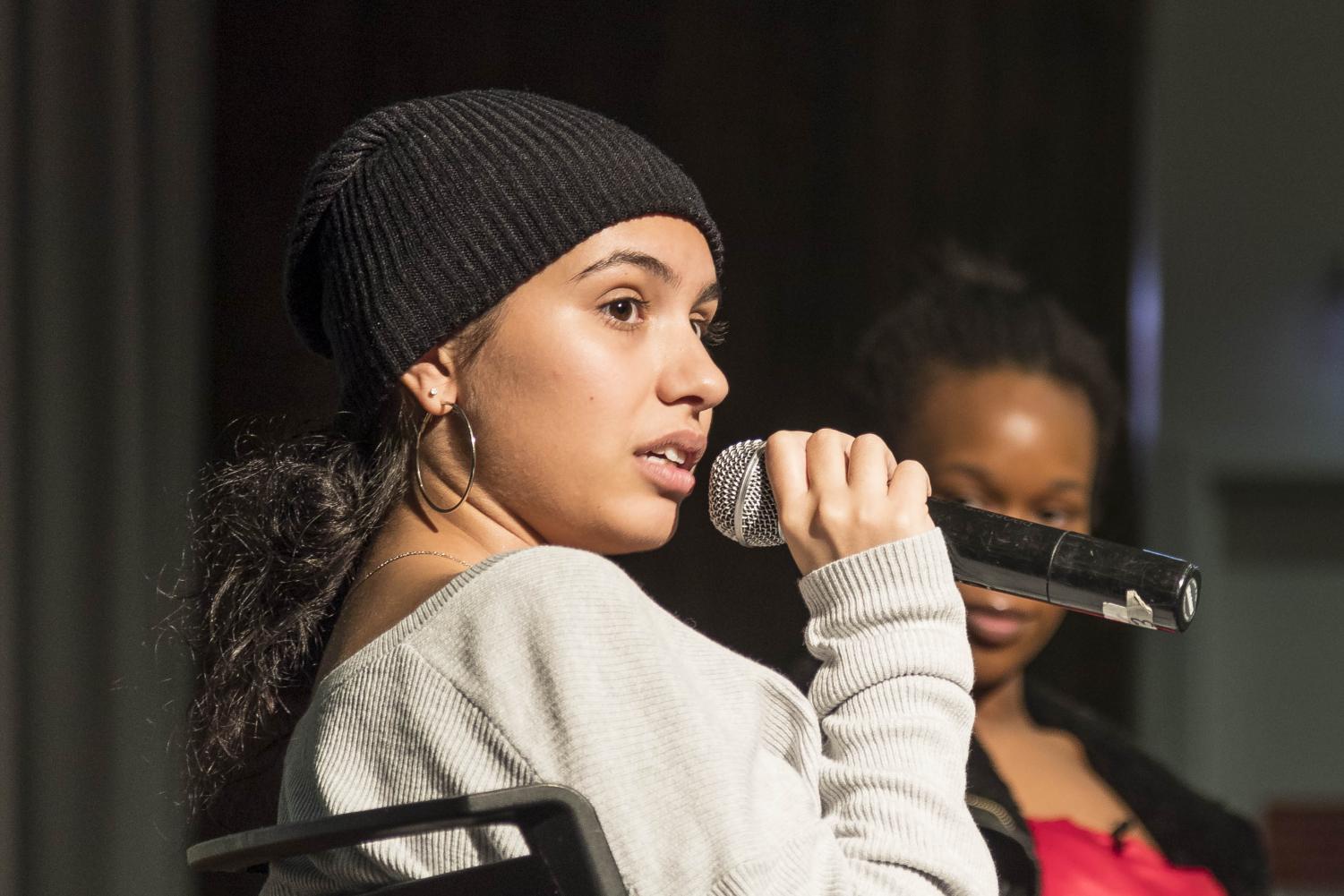 When she was 16 years old, Alessia Cara was surrounded by men in suits deciding her fate. But today,  she wears the suit in her video for "Growing Pains," the lead single from her upcoming sophomore release.
Cara participated in a discussion held at 618 S. Michigan Ave. on Oct. 15., hosted by the Business and Entrepreneurship Department. The event started with  the "Growing Pains" video and transitioned into a conversation with the Grammy winner. She spoke about her forthcoming album and gave advice to Columbia's aspiring artists.
During the talk, Cara highlighted the struggle new artists face and the pains that come with growing up. She recalled sitting in board rooms trying to prove herself.
"When I was first starting out, everything was dependent on a label," Cara said. "Now, things have shifted so you can put out music in any way you want using the resources we have, such as YouTube or SoundCloud. Get that idea out of your head that you have to rely on the go-ahead from a guy in a suit. You can do it on your own."
Associate Chair of the Business and Entrepreneurship Department Jerry Brindisi said the purpose of events like these is to allow students to hear from working professionals in the industry.
"[Students] can learn from the artists and what they have been through and navigated," Brindisi said. "An artist like this who is willing to come in and take questions directly from our students without a filter tends to be candid, which is a great opportunity for our students."
Cara said new artists should understand that what they have to say is important because it's  most likely felt by others, too. As artists, sharing those feelings through music is important, which is what Cara wants to do herself.
"We all have growing pains, no matter if you're the most wealthy, famous person on earth or the complete opposite of that," Cara said. "We all have our own pain to deal with, but we all grow from it."
The transition from childhood to adulthood is never seamless, Cara said. A theme about learning how to navigate the real world runs through the upcoming album. The lead single "Growing Pains" embodies the message of the album fully, she said.
Aspiring artists should not feel forced to fit a mold in terms of looks or age, Cara said. There is no cut off to finding  success and for some that is earlier in adulthood than others, she added.
"Just put stuff out, and don't rush yourself. There's no clock on anything. There's seven billion people on earth. Not everyone is going to become successful right away," Cara said.
Sophomore contemporary urban and popular music major Asher Jaffe said he was glad he  attended the discussion because he learned it is possible to be genuine in the industry.
"[The event is] such a cool opportunity," Jaffe said. "It makes me happy that I [go] to this school."