Featured Artist: Dan Shearer
By Assistant Campus Editor
March 31, 2014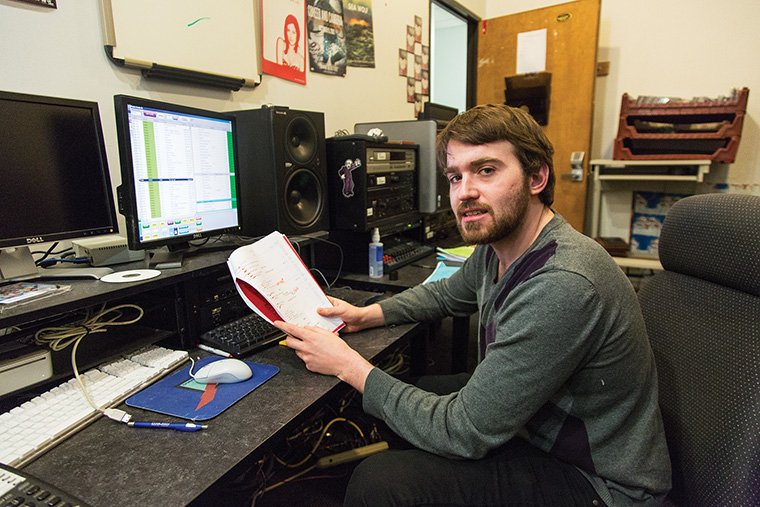 Dan Shearer, senior radio major and music director of WCRX, Columbia's student radio station, received a first place trophy for best station blog from the Intercollegiate Broadcasting System on March 14.
He won the competition for his blog about the annual Iceland Airwaves festival in Reykjavik, an annual music festival, which is one of five blogs he created while enrolled in the "Covering International Festivals: Iceland" course in fall 2013.
Shearer said this is the first competition he has ever won and he plans to continue refining his blogging skills.
Shearer began at WCRX in 2012 as the public affairs director before becoming music director in summer 2013. However, his talent is not limited to Columbia. He is also a social media intern at CBS radio station WXRT, which he said made him realize social media has a significant presence in broadcast radio and he wants to help produce it in the industry.
Shearer said he originally wanted to pursue a journalism degree but switched to radio after he discovered his interest in music.
The Chronicle spoke to Shearer about his time in Iceland, passion for blogging and plans for the future.
THE CHRONICLE: What was it like writing in Iceland?
DAN SHEARER: Each day we had to recap the entire day. We'd cover our concerts and then we'd also cover what we did throughout the day. We had taken a trip to the hot springs [called] Laugarvatn Fontana. I had gone into a lake there, which was a frigid 24 degrees, in addition to pools of water that were almost 100 degrees. The blog is a traveler's guide to the location we were in, a little cultural piece on Iceland and some music reviews, so I feel like I had a wide variety of content and I felt like it was written very well.
CC: What did you like most about the Iceland Airwaves music festival?
DS: It was incredible. The way they spread it out, it's not like Lollapalooza, where it all takes place in one park. It's spread out through various different venues [in Reykjavik]. I was familiar with Jon Hopkins, which is why I signed up to cover him, but most of the Icelandic bands were completely new to me.
CC: What did it mean to you to win first place for your blog?
DS: When I got into radio, I thought that was it for my writing. But after taking an internship at WXRT 93.1 and seeing how heavily they put an emphasis on their social media content, I realized that blogging is just another way of filling in an hour of content for a radio station. Let's say somebody is streaming your station online and there's a commercial break. They can go on your blog and they will get the same radio station experience they'd get by listening, but this time they are reading. That's what really drew me to blogging for radio stations.
CC: What intrigues you the most about broadcast radio?
DS: I've always loved radio. I have always loved the idea of sharing somebody's future favorite song, being the person to introduce a song that means the world to somebody. Public speaking wasn't really my thing, and in radio I was able to address a lot of people without having to be in front of a lot of people. I think I found a loophole in social anxiety.
CC: What do you do as the music director at WCRX?
DS: I handle all of the music that gets put on the air. I try to help keep programming as consistent as possible by working with people who are on air and also [behind the scenes] by making sure that only the best music can be found on WCRX. It's mostly the Top 40, so pop, electronica and hip-hop.
CC: What are your plans for the future?
DS: I'm definitely going to continue polishing my talents. I'd definitely like to stay in Chicago because I like our radio market. Being on air at WXRT would probably be the best thing I could do in Chicago, and that's what I'm going to work my way toward.