Moore advice for Columbia film students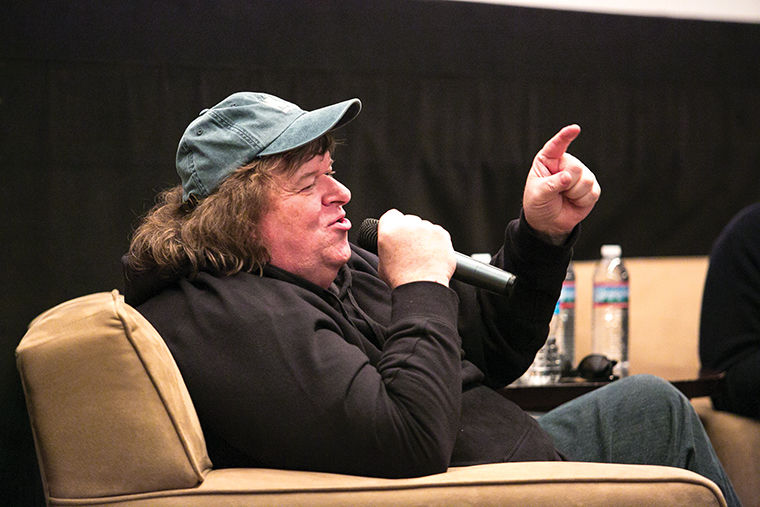 A surprise visit from Oscar-winning documentarian Michael Moore  on Oct. 22 drew hundreds of students, faculty and staff to Film Row Cinema in the 1104 S. Wabash Ave. building.
Known for his documentaries "Bowling for Columbine" and "Fahrenheit 9/11," Moore visited the college as part of the Chicago International Film Festival.
"You need to be secure in what you already believe in and your ability to communicate what you want to say in your film," Moore told students. "Why do you feel like you need to find somebody who agrees with you? You should be secure enough in your own filmmaking."
The Q-and-A with Moore gave students an opportunity to directly ask him questions regarding his experiences, how he found success and what they need to do to achieve the same.
Moore started making documentaries after he lost his job and began receiving federal unemployment benefits. He saw that General Motors was closing factories, especially around his hometown of Flint, Michigan, and made a film called "Roger and Me" in which he mocks GM's Roger Smith and focuses on economic inequality.
Moore said that besides his lifelong love of cinema, one way he got into filmmaking was through his love for music.
"If you like to listen to music, then that's a good foundation to be a filmmaker," Moore said. "It's all about the beat and rhythm of it."
Moore shared advice with the audience, telling them to satisfy their own beliefs and missions.
"Don't try to please the invisible people in your head," Moore said. "Please yourself. Put out good art. Always follow your heart. Your conscience knows where the line is."
Moore was asked how to get release forms for documentaries. Contrary to what students are taught, Moore said he does not care about getting release forms signed.
"You're in the United States of America," Moore said. "We have the First Amendment, so you have the right to ask any damn question you want and unless you go in the edit room and rearrange their words, they can answer in any damn way they want. You have to show that."
Politics are a figure prominently shown in Moore's documentaries, and his comments were aimed more toward film students, but he stressed that everyone in the arts must start a movement by putting art before politics.
"Put out good art," Moore said. "If you put out good art, the politics van will come slamming right into people and they'll leave the theater being like, 'Where are the torches and where are the pitchforks?'"
Dan Rybicky, an associate professor in the Cinema Art + Science Department, had the opportunity to interview Moore on stage and help run the event after working with Ron Falzone, associate professor in the Cinema Art + Science Department, to bring him to campus.
"Ron [Falzone] coordinates with the CIFF these sorts of events," Rybicky said. "I think by some miracle, Ron worked with the heads of the festival. Because Columbia is such a big part of the festival and helps sponsor, we have a really good relationship with them and we asked, and by some miracle, it happened."
Rybicky said he thinks bringing Moore to campus helped inspire and empower students by being in contact with such a well-known and successful filmmaker.
"Whether people agree or disagree with him, his passion, spirit and his commitment to democracy and to his citizenship does empower and inspire students," Rybicky said. "What I thought was really incredible about his conversation is how much he talked about the art of filmmaking and the importance of documentaries to be artful and be films before they are message-givers."
Rybicky said he was impressed with the turnout because the event was announced last-minute on a Wednesday. He said students were turned away from attending because the room was at capacity.
Tyler Dunne, a junior radio major, said Moore is a tremendous filmmaker and that he would not miss the opportunity to hear an Oscar winner speak.
"There's no bulls–t about him," Dunne said. "He's a very straight-forward [guy]."
William Hans, a sophomore cinema art + science major, said he agreed that Moore's candid answers and his humorous approach were refreshing.
"He's a very personable guy," Hans said. "He's approachable and he knew what he was talking about. He [seemed] excited to be here."
Kelsey McClung, a sophomore cinema art + science major, said she was a fan prior to hearing him speak. She said she thinks his films are powerful and likes his approach.
"It's interesting that he said make a movie, not a documentary," McClung said. "I never thought about it like that."