Notable Native Laura Ambriz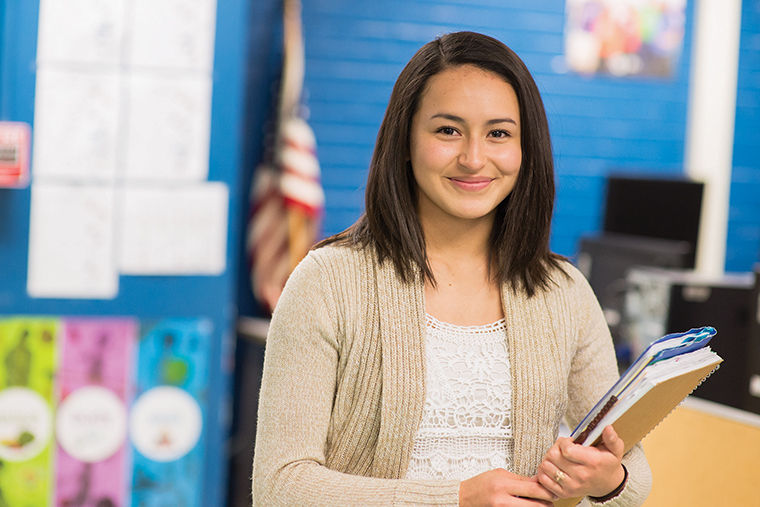 By Metro Reporter
March 30, 2015
LAURA AMBRIZ, A junior at Jones College Prep High School, won the "Youth of the Year" award from the Boys and Girls Club of Chicago on March 10, a culmination of her struggle as a young immigrant who moved to the U.S. from Mexico in 2004. She earned a $2,000 scholarship and a visit to the college of her choice. The award was given to seven young people who have become role models and leaders in their communities.
Ambriz is a member of the Boys and Girls Club of Chicago where she participates in activities like swimming boot camp and leadership programs and she also holds events at the club.
Ambriz was 6-year-old when she moved to Chicago from Mexico. She said when she first came to the U.S., she had a hard time adjusting to American culture and felt very lonely because she did not fit in anywhere
Ambriz decided to join the Boys and Girls Club when she found out that they had swimming and leadership programs and felt an immediate sense of belonging.
The Chronicle spoke with Ambriz about immigrating to the U.S., joining the Boys and Girls Club and winning the "Youth of the Year Award."
THE CHRONICLE: What do you do at the Boys and Girls Club?
LAURA AMBRIZ: Today, I am going to go at 6 p.m. and do a swimming boot camp. Then at seven I have a leadership program. In that program, it is a group of teens and we organize events for the community. Yesterday we had planned a pool party for the younger members. We had a St. Patrick's Day pool party that was really fun. It is a really good service and leadership experience.
What is your favorite experience from being in the club?
I like the idea that everyone plays an important role. Everybody can say their ideas and from everyones' ideas we are able make the event possible.
What other events have you put together?
For Thanksgiving, we have a Thanksgiving dinner for the members. We plan a Christmas dinner for the club members and their families. The purpose of the event was for the members to create poetry, dance and cheerleading and the parents would have a chance to see what their child has been doing at the Boys and Girls Club. That was a really good time for parents to bond with the children. So being able to see them one evening and see what they are doing at the club was really nice.
Do you connect with the kids at the Boys and Girls Club?
I did an internship at the Boys and Girls Club a few years ago, and I got to interact with new members, I got to play sports with them and I chap- eroned on field trips. I also had my own dance club. I would teach them a few steps, and they would perform it at the end of the summer camp. It was really nice to see how kids look up to you. To this day, I still talk to a lot of them and still go to the Boys and Girls Club. Yesterday at the swimming pool, I was inside the pool playing water games with the rest of the kids, and it was really fun to see how they really look up to you.
How did you feel when you won the "Youth of the Year Award?"
I was very overwhelmed. It represents all of the struggles that I went through when I got here. It was a lot of hard work. As they were announcing the names, I was really nervous. I felt so amazing when they called my name, I al- most could not believe it. I took me a while to recognize that I had won.
What do you plan on doing with the award?
I plan on putting the scholarship toward my college education. I have not decided where I want to go yet, but I am looking into it. I feel honored to have won.