College's million-dollar deficit shrinks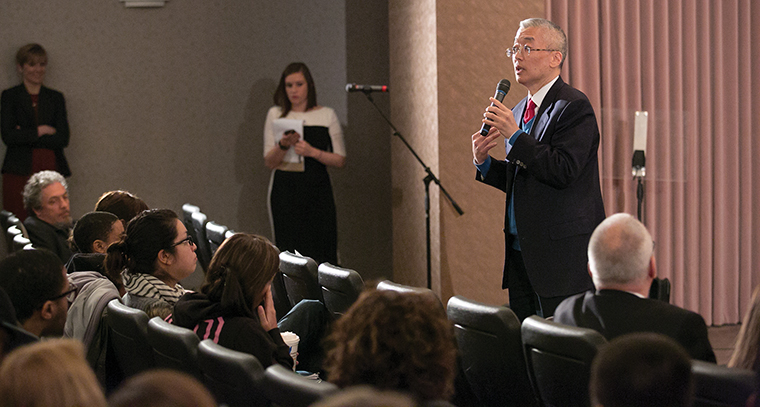 Despite falling enrollment and rising tuition, Columbia's budgetary turbulence may finally be stabilizing.
An unexpected combination of better than predicted enrollment numbers, increased tuition cost and decreased departmental spending has reduced the college's $3.5 million deficit to $1.5 million, said Richard Dowsek, Columbia's interim CFO.
The college incurred the $3.5 million deficit at the beginning of the fiscal year when its $217.5 million in expenditures surpassed the $214 million in revenue the college generated, according to Dowsek.
The $2 million shrinkage in the deficit can be partially attributed to the college's expectation that fewer students would enroll for the 2013–2014 academic year, Dowsek said. The college enrolled 147 more students than it budgeted for, resulting in an additional $3 million in revenue. More students created more expenses though, such as housing and student services, which is why the $3 million did not cover the entire deficit, according to President Kwang-Wu Kim.
"We spend more than we take in and it has finally caught up with us," Kim said. "Enrollment has decreased and our revenues have gotten smaller, but our spending has not shrunk proportionally."
Dowsek said the college's consistent decline in enrollment is making it difficult to project profits and expenses and plan a budget accordingly. The college compensates for these losses  with tuition increases, Dowsek said.
The most recent increase in tuition was 3.3 percent from the 2013–2014 academic year to 2014–2015, as reported Feb. 10 by The Chronicle. Columbia's tuition has been on the rise since the 2009–2010 academic year, when it was $18,490. Tuition totaled $22,884 in the 2014–2015 academic year—a 23.8 percent increase since 2009–2010.
"When you're thinking about balancing budgets, you're looking at increasing revenues sensitively … we know that the bulk of college revenue comes from students," Dowsek said. "Throughout this year, we've been trying to manage expenses so that instead of $3.5 million worth of deficit … we at least break even."
The college is analyzing its spending and strategizing ways to offset some of its expenses, Kim said.
???be able to decrease expenses by looking at its departments' discretionary funds—money set aside for unforeseen circumstances.
With the year nearing its end, some departments may have excess funds remaining because money was set aside at the beginning of the academic year for events that did not occur, Kim said.
Deborah Holdstein, dean of the School of Liberal Arts and Sciences, said she, along with the rest of the college, has been asked to examine her budget to see if there are ways the departments can save money, which she said is a yearly practice.
"The college is being extremely diligent about tightening their belts," Holdstein said. "We are all working very hard to be fiscally diligent and to do what we need to do to take what funds we have and to use them appropriately."
If the college does not resolve its deficit by Sept. 1, the beginning of the next fiscal year, Kim said the college would attempt to balance its budget next year.
He added that it is imperative that the college closes the deficit as soon as possible because repeatedly carrying over the shortfall would force the college to cut into its own financial resources.
However, Kim said he thinks Columbia's progress is encouraging, and he is sure the deficit will improve.
"We are basically in a solid condition," Kim said. "This is not like we are in a crisis. It is just a note of caution to us that we are out of balance between our revenue and our expenses."