Rivers rocks Columbia's boat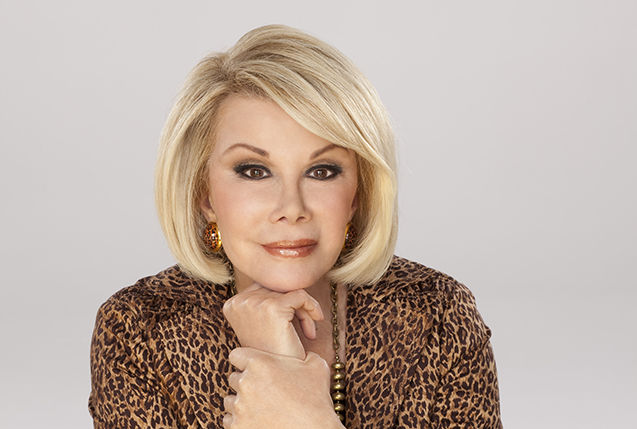 From Chicago's Second City stage and "Saturday Night Live," to "The Tonight Show with Johnny Carson" and "Fashion Police," from books and theater to television, movies and even albums, Joan Rivers has run the proverbial comedy gamut. Renowned for her unrelenting digs at pop culture and the questionable behavior of celebrities, the Queen of Comedy will have Columbia at her mercy Feb. 25.
Rivers will take the stage at Film Row Cinema in the Conaway Center, 1104 S. Wabash Ave., as the second and final speaker in the college's Conversations in the Arts series, which also hosted an Oct. 23 lecture by Horatio Sanz, a former SNL cast member and '92 film & video alumnus. Tickets have sold out for the event, which is free and open to the public, and overflow rooms are also at capacity.
The Chronicle spoke with Rivers about her upcoming visit, her career high points and favorite celebrities to ridicule.
THE CHRONICLE: President Obama and other officials have questioned the practicality of arts majors. Where do you stand?
JOAN RIVERS: [They're] totally right. Nobody should be in your college that doesn't have a calling. The arts—it's something you know when you're born that is where you're going and those are the [students that] should be here. If you have a conscious decision that you have to make between being a dentist and a television producer, be a dentist. By the time children are adults, you know what you want.
CC: How did you become a comedian?
JR: I never had a choice. I always said it from the beginning. It's like the way you know you're going to be a nun or a priest. I knew from the second I could put a sentence together, that's what I wanted. I knew where I was going.
CC: What is it like being a performer?
JR: The highs are the highest in the world and the lows you just have to ride out. There is much more work for everybody because of what is going on with the Internet. It's changing so fast, the way that you can work and perform and present your ideas. It's really a do-it-yourself business. You want to do something, you get on the Internet.
CC: Looking back on your career, what was your most memorable moment?
JR: Right now. I never look back. That's one of the things I'm going to talk about [at Columbia]. You don't look back. You should always be looking forward and you should never be satisfied. It should always be about the next thing you want to do. Anyone that looks back and starts saying, "Look what I did"— you're done.
CC: Who are your favorite celebrities to talk about in your routines?
JR: Everyone that is doing something wrong. God bless the Kardashians. There is always something going on in that household. Woody Allen— thank you for giving me Woody Allen. I finally figured out why he never made a pass at me—I'm 71 years too old for him! Humor is such a glorious thing and it's wonderful. You look for who is making the biggest fool of himself. Anthony Weiner emailing pictures of his erect penis to everyone. [That's] at least three good jokes in my act.
CC: You have been called the Queen of Comedy. What do you think of that?
JR: It should be Empress. [Queen] is much too humble. Empress, supreme ruler—we have to come up with a better title: Supreme Diva of Comedy. That might work.