Crime reports reveal increase in theft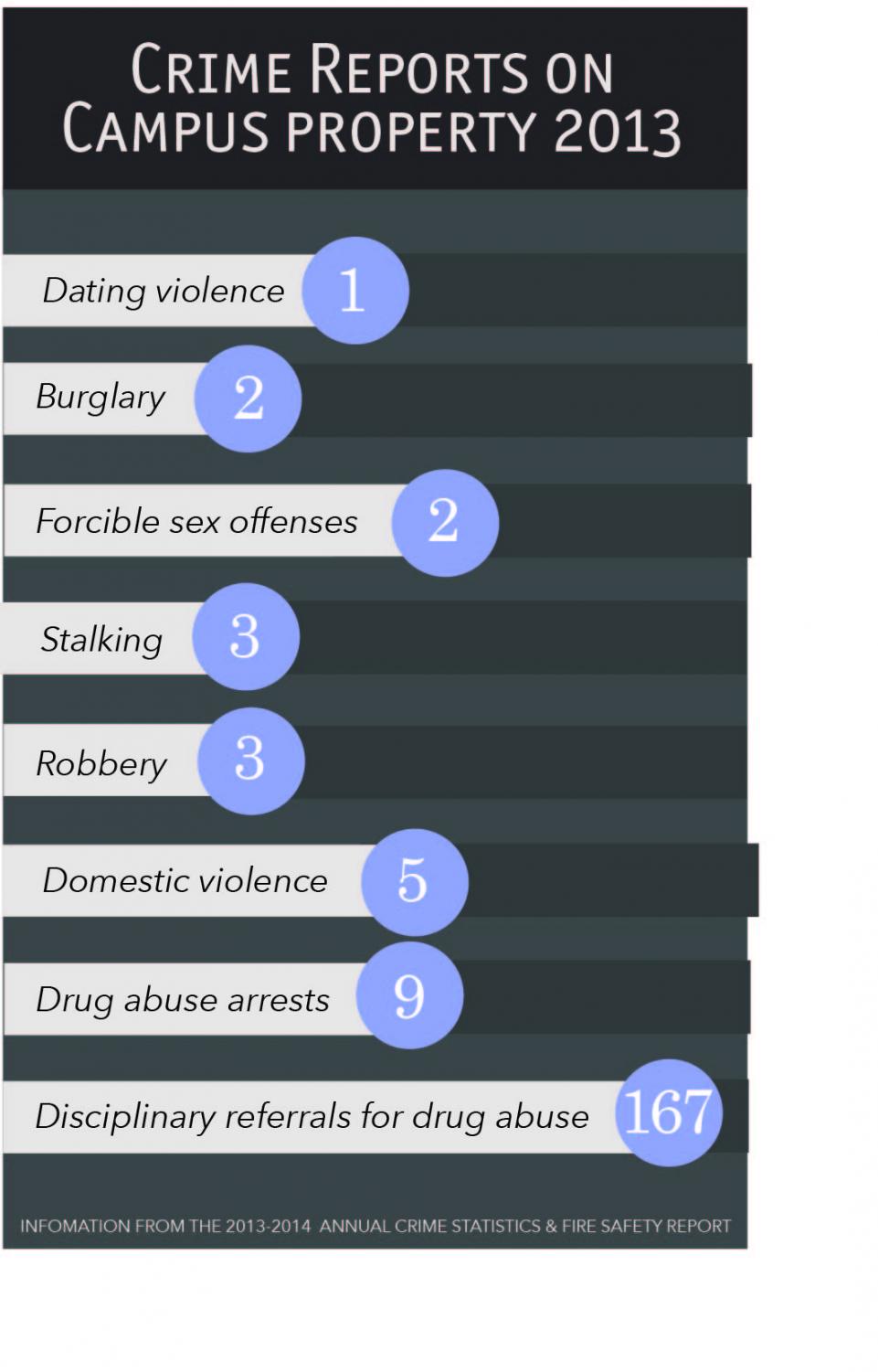 An outbreak of thefts is plaguing Columbia's campus, resulting in stolen backpacks, phones, wallets, a laptop and a bicycle.
In an Oct. 3 email to the college community, the Office of Campus Safety & Security warned students that there has been an increase in thefts occurring on campus, particularly in unsupervised areas. The Oct. 3 email is one of several security alerts recently sent out to students since the semester began. According to an emailed statement from Robert Koverman, associate vice president of Safety & Security, there have been 74 reported thefts from Jan. 1–Oct. 10 of this year.
The thefts have occurred just as the college released the 2013–2014 Annual Crime Statistics & Fire Safety Report, a document detailing on-campus crimes that colleges are required to release every year.
While there is an increase in on-campus thefts this year, the report shows a general decrease in on-campus crimes between the 2012–2013 and 2013–2014 academic years, including reduced incidences of burglaries and forcible sexual assaults.
Martha Meegan, director of Safety & Security, works to compile the annual report, who said the reports always contain a few numbers that surprise her.
"I was happy to see some of the statistics go down," Meegan said. "It's reassuring. [However], I have some concerns about the off-campus and public property statistics regarding robberies."
A burglary is unlawful entry into a structure to commit a felony or a theft and includes unlawful entry, breaking and entering and/or similar attempts to commit the same or similar crime, according to the crime statistics report.
"There are a couple reasons [burglary decreased]," Meegan said. "One is we identified an individual who had been repeatedly conducting some of the crimes. The other is that there has been a clarification in the definition of burglary that came about from the FBI this current year. [Now] it is identified by three different conditions that constitute a burglary."
There are numerous ways to ensure that theft and burglary numbers continue to decrease, according to Meegan.
"One of the things that we have to really work on is continuously reminding individuals to not leave their personal property unattended," Meegan said. "The majority of the cases we have seen are individuals who have literally left [their belongings] out for five minutes and came back and it's gone. [We're dealing with] thefts of opportunity."
According to Meegan, this year also introduced new categories to the  report: stalking, dating violence and domestic violence. An emailed statement from Meegan said the inclusion of the three new categories does not have any bearing on the classification and data collection for incidences of sexual offense. Rather, the inclusion of these categories of crimes offers an awareness that violent acts experienced within a "relationship" are nevertheless considered crimes and can be prosecuted as such. More importantly, the reporting of these crimes to Campus Security, Student Health and Support, Counseling Services or Human Resources initiates conversation about services, which is critical to one's well-being and empowerment.
In 2013, five domestic violence offenses were reported. Domestic violence includes felony or misdemeanor crimes of violence committed by a current or former spouse of the victim or by a person with whom the victim has a child or shares a home. There were three offenses of stalking on campus and one case of dating violence in 2013.
Dating violence occurs when a person commits a violent act against someone with whom he or she is or has been in a social relationship, romantically or intimately. Once this has been determined, three factors are considered when determining the validity of the relationship. These include the length of the relationship, the type of relationship and the frequency of interaction between the persons involved in the relationship.
Because these are new categories, they cannot be compared to statistics from previous years. However, in most categories reported, numbers from 2012–2013 have decreased with few offenses increasing. Arson went from one case to zero cases in the last year, and forcible sex offenses have seen a gradual decrease from seven in 2011 to five in 2012 and two in 2013. On the other hand, some areas saw a slight increase, such as aggravated assault, which went from zero to two offenses. Carrying and possession of weapons arrests, motor vehicle thefts, non-forcible sex offenses and both negligent and non-negligent manslaughter remained at zero offenses from 2012–2013.
In some cases, such as liquor law violations and drug abuse, the offense is listed as either a disciplinary referral or an arrest. When the offense is listed as a disciplinary referral, it does not mean the offender was arrested and vice versa.
Columbia reported 167 drug abuse violations with nine arrests and 441 liquor law violations with no arrests.
"A [reported] liquor violation is anyone under the age of 21 caught with liquor on campus property," Meegan said. "We've got a lot of young offenders for drinking [on campus] property. It's a concern nationwide because over-intoxication is a health concern and can lead to other criminal activity."
Similarly, drug and liquor-related offenses remained the largest issue at surrounding colleges. DePaul University listed 21 drug abuse violation arrests on its Loop Campus. Roosevelt University listed 146 liquor law violations and 137 drug law violations with seven arrests. Robert Morris University listed 23 liquor law violations and 31 drug law violations with no reported arrests.
Representatives from DePaul, Roosevelt and Robert Morris universities were contacted. However, the colleges did not return requests for comment as of press time.
Dominique Jackson, a junior journalism major, said she was not surprised that drug violations were so prevalent at the college.
"I think drug abuse is definitely [going to stay up there] because students are experimenting to take things to the next level and wanting to fit in," Jackson said.
She said one way to combat such  issues is to make students more aware of activities on campus by starting campaigns or student groups that advocate other behaviors in place of a crime.
Lauren Corry, a sophomore marketing communication major, said she thinks workshops informing students about the consequences of their drug- and alcohol-related decisions would encourage them to make smarter decisions.
"I think Columbia already offers a lot of workshops [on campus], but I don't think they are marketed as well as they could be," Corry said.
Corry said the college needs to dole out stricter punishments and have severe consequences because peer pressure will likely influence students to try these substances.
"[Drugs and liquor] can lead to not doing schoolwork and getting kicked out of school," Corry said. "I think policies need to be more strict [so this doesn't happen]."