Chance the Rapper channels Chicago hip-hop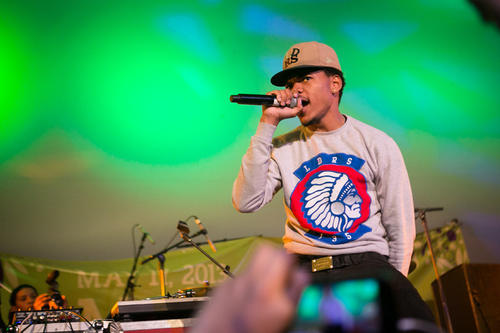 CHANCE THE RAPPER took the hip-hop blogosphere by storm on May 7 when he released his sophomore mixtape "Acid Rap," a matured version of his cartoonish style with classic soul production that includes cameos from the likes of Twista and Childish Gambino. 
Garnering comparisons to Andre 3000 and Kanye West from publications such as Billboard and Rolling Stone, the critical reaction to the local Jones College Prep alumnus' new release has crowned him hip-hop's newest sensation. 
Following a 10-day suspension from Chicago Jones College Prep in the spring of 2011 for smoking weed, where his teachers ridiculed his aspirations to be a musician, he released his first mixtape "#10Day." 
The Chronicle sat down with Chance the Rapper to discuss his early days of rapping, how Chicago has influenced his sound and the making of "Acid Rap." 
The Chronicle: What was your inspiration behind the lyrical content of "Acid Rap?" 
Chance the Rapper: I really wanted to write something that people could use for critical discourse analysis and break down to a lot of different meanings [by] studying the rhetoric and the different word uses. It's really just about people getting from the project what they want to get from it. 
When did you first start rapping? 
First time I rapped I was probably 10 or 11 years old, after the first time I listened to [Kanye West's album] "College Dropout." It was around the time I started writing my own raps, and the first time I recorded I was like 14 [years old] at one of my cousin's studios. 
How has Chicago influenced your sound? 
Chicago influences my music by having such a rich music culture to take from. It's the birthplace of blues, rock 'n' roll, soul, oldies [and] electronic music as we know it comes from Chicago's house music in the '90s. There's just so many influences to play from just being in the city for music. It's a way of life—there's a culture that comes with living in Chicago that's indescribable once you live here. It carries a lot of weight in terms of where my music comes from. 
What does it mean to you to be able to play Manifest ? 
I f—in' love Columbia. It was just somewhere that I thought I was going to go [to college] for forever. It's a dope cultural learning experience for everyone who's a part of it.