River North tech hub expands with college competition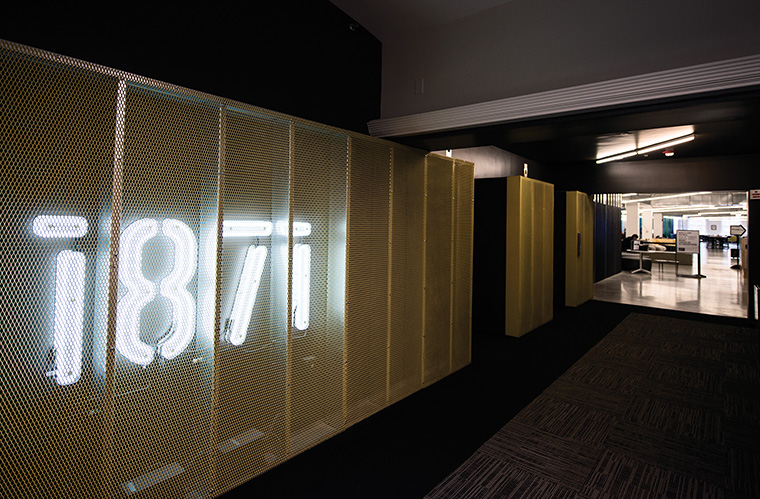 A new city-sponsored competition is illuminating the rapid growth of the city's tech startups, particularly in the River North neighborhood.
The Chicago College Startup Competition will give 10 college startups a space in 1871, Chicago's prestigious River North tech incubator. The competition is meant to encourage college graduates to stay in Chicago as part of the city's efforts to vitalize its tech scene for younger generations, said city spokeswoman Catherine Turco.
The contest, which Mayor Rahm Emanuel announced March 18, will award 10 full-time desks in 1871's 50,000-square-foot tech incubation space to student entrepreneurs who want to continue pursuing their business plans after graduation. By setting up shop in a communal space of reputable startups, winners will gain access to a support group of potential mentors. Applications for the competition can be submitted until June 30 and the contest starts in the fall.
The winners will also participate in ThinkChicago: Lollapalooza, a four-day event that brings 125 technology students to the annual music festival to network with producers and attend the festival.
"We have many wonderful colleges here with great students working hard in the computer science and technology field," Turco said. "We want to make sure that we're not only attracting students but also keeping the ones we already have so they have a vibrant tech community to join once they graduate college."
The city's tech scene is booming, Turco said, noting it is important to encourage students to contribute to the growing industry, especially in up-and-coming hubs like the River North neighborhood.
Many tech companies—such as Motorola Mobility, an American telecommunications equipment corporation, and Catapult Chicago, a tech incubator for startups with funding—have moved to River North in the last three years because the area would bring them closer to their co-workers, according to Will Ruiz, community manager at Catapult Chicago.
"By chance, Catapult was able to get a space in River North and has benefited from being around the corporations and the offices around the area," Ruiz said. "We work with a number of corporate sponsors that are in really close proximity to the River North area."
David Johnson, Merchandise Mart director of public relations, said the tech scene's migration to River North has had a positive effect on the neighborhood and the Merchandise Mart, where 1871 is located. Johnson said 1871 has reenergized the Mart.
"What's really exciting is how the Merchandise Mart has become this high-tech hub and a center for entrepreneurship and innovation," Johnson said. "[We've] seen some businesses in here that are remarkable in their scope and innovative output as the incubator for young startup tech companies."
The Chicago College Startup Competition application is due June 30 and can be found at 1871.com/CCSC.