Temporary leadership in HHSS Department questioned by faculty member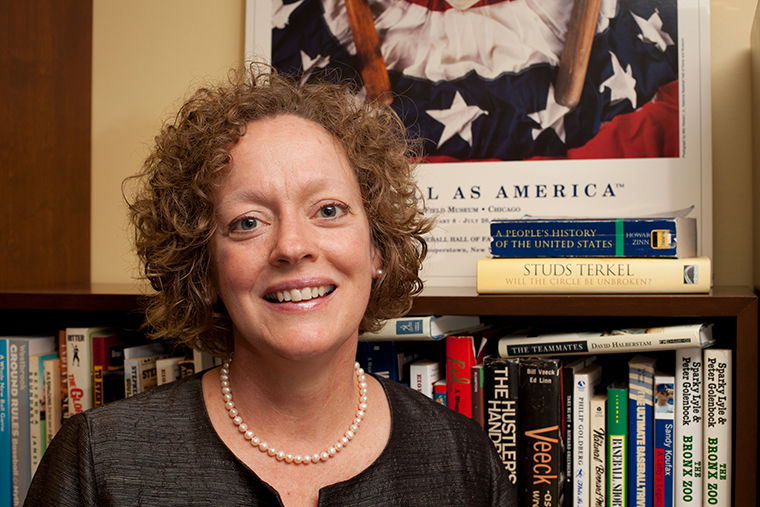 After serving two years as the Humanities, History, and Social Sciences Department's acting chair, Erin McCarthy was named interim chair June 1, a position she is set to hold until a permanent chair is found.
McCarthy said she thinks she was selected for the position to provide a sense of continuity to the work she had done during her two years as acting chair, which she said includes the department's implementation of the college's five year strategic plan during her first year and an evaluation and update the HHSS curriculum during her second. McCarthy added that she plans to continue initiatives she and other HHSS Department members started over the past two years and will be working this year to align HHSS courses with the new Core Curriculum.
McCarthy said this year she and other department members will make adjustments to HHSS courses to align with the new Core Curriculum, which was approved by Senior Vice President and Provost Stan Wearden, May 11. McCarthy said because her department houses a majority of courses in the core curriculum, it is important HHSS works to align its goals and learning outcomes with the new core.
The new Core Curriculum will replace the current LAS Core requirements as part of a college-wide effort to transform Columbia's curriculum, according to School of Liberal Arts and Sciences Dean Steven Corey, as reported by The Chronicle Feb. 20. Corey said Wearden has approved the Core Curriculum proposal and predicts the new curriculum will be implemented for first year students Fall 2018.
However, HHSS Associate Chair Carmelo Esterrich and Wilfredo Cruz, an associate professor in the HHSS Department, both expressed concern about temporary leadership continuing in the department.
Esterrich, now entering his second year as associate chair, said he thinks the department's temporary leadership has made planning long-term initiatives such as curriculum change difficult.
"I have been in this college since 1998―I'm not old but I'm not new―I've been here long enough to know how my department works," Esterrich said. "My department works best when we have a permanent chair who is a good leader,and without that, we are a chaotic jumble of faculty trying to get things done."
Esterrich said McCarthy is effective at meeting the day-to-day requirements ofthe position and always takes other's opinions into consideration when making decisions, but her temporary status prohibits her from making plans for the department.
Cruz agreed with Esterrich and said cycling chairs every few years in the HHSS Department hurts faculty morale and works against cohesion in the department and college and with students.
"You have to have stability and you have to have a person who comes in there and has the time and the resources to implement good programs and create a sense of camaraderie in the department," Cruz said. "But when you have constant turnover, that is not good. It is not good for morale and it is not good for creating a sense of being a department."
McCarthy was named acting chair after Corey, who previously chaired the department, was appointed LAS interim dean on July 1, 2015.
When Corey became the permanent LAS dean June 1, 2017, McCarthy's acting chair status—which denotes filling in for someone who has temporarily stepped away—was changed to interim, which means she will hold the position until a permanent replacement is selected.
Corey declined an interview request made through the News Office.
According to a July 27 statement from college spokeswoman Anjali Julka, Corey will be working with HHSS faculty and Wearden to determine whether an internal or external search will be conducted for a permanent chair at the beginning of the Fall 2017 Semester.
Esterrich said the selection of permanent leadership is overdue and that he wants to be involved in selecting the candidate who will fill the permanent chair position.
"Part of the reason why I said yes to associate chair for one more year is because I want to be in a position of power to influence who is our next chair," Esterrich said.
Esterrich said an external search for a permanent HHSS chair is needed to allow individuals to present new perspectives to the college. Whoever is selected should be able to unite educators from various disciplines within HHSS and advocate for faculty members instead of administrators, he added.
"A chair is the voice of [the faculty] and because he or she is the person who will be in all those meetings, making decisions, while we are not in that room, we need someone who is listening and speaking for us," Esterrich said.
Cruz said he believes it is important to rotate chairs to bring new perspectives into the department but that the positions should be filled for longer than two years to establish rapport within the department. Cruz said he has spoken with other faculty members in the department and believes they share his sentiment.
"I've spoken with some of the other faculty members and they would prefer a permanent person instead of … rotating chairs every couple of years," Cruz said. "It doesn't work and I think there is a preference for stability."
McCarthy said she believes the department's curriculum, scheduling and organization have improved during her tenure and that her department is effectively carrying out the college's long-term plans.
"In my view we have definitely been moving forward with the mission and the direction that administration has asked us," McCarthy said.