Columbia Professor Researches Retention Rates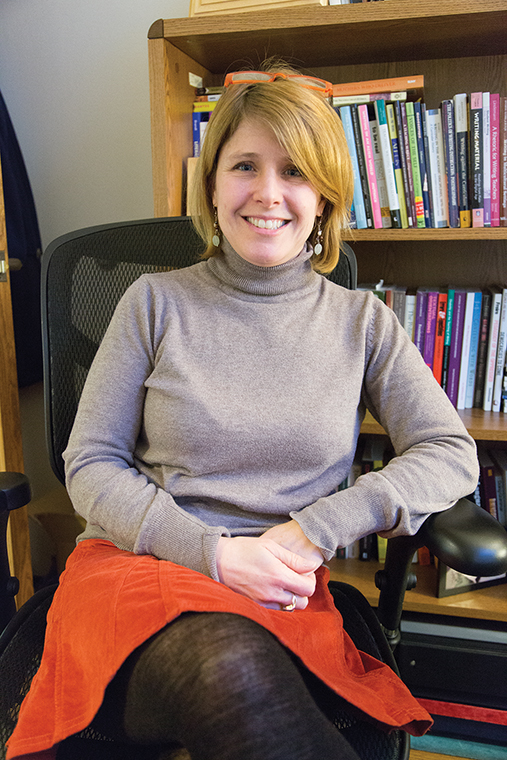 After four years of research, Pegeen Reichert Powell, associate professor in the English Department and director of programming for the Writing and Rhetoric courses, has published her first book "Retention and Resistance: Writing Instruction and Students Who Leave."
The book uses student narratives and a critical analysis to explore the topic of retention in colleges and universities, which has intrigued Reichert Powell since she started teaching 20 years ago. The book, published Feb. 2014, is geared toward English.
"The question I wanted to answer was how, as a writing teacher, I could help students stick around," Reichert Powell said.
Reichert Powell said as she studied trends and talked with professors at other colleges, she became skeptical of whether or not there was anything a college could do to retain students until graduation.
After completing her research, Reichert Powell said she thinks there is a way to improve retention rates: Instructors need to become better teachers. She said if the students' experiences in the classroom are rewarding and productive, students would likely stay in their classes.
"I think we often try to find that one program, whatever it is that will keep all the students here," Reichert Powell said. "I just don't think that there is anything—there's no magic bullet."
Reichert Powell said colleges need to ensure that the quality of their curricula is worth the cost of tuition.
"I totally respect students who decide to leave because it's too expensive," Reichert Powell said. "Students don't leave because it's too expensive, students leave when they start to feel like the expense isn't worth it, and that's where I feel like if we teach really well … the sense of the value of that money increases."
Michael Spooner, associate director of Utah State University Press and editor of "Retention and Resistance: Writing Instruction and Students Who Leave," said he enjoyed Reichert Powell's book and thinks the book made a substantial contribution to scholarship in this field.
"The book addresses a major issue with the students who take that course [retention]," Spooner said. "What Dr. Powell is discussing is something that her field really is invested in and needs to have, and she is making a serious and original contribution to that discussion," Spooner said.
Anis Bawarshi, professor of English and director of the Expository Writing Program at the University of Washington, reviewed Reichert Powell's manuscripts when they were in the editing process and said the book provided two powerful insights.
He said it challenged readers to re-imagine how and why we teach first year composition courses when retention isn't the chief goal and that it helped shift perspective from preparing students only for academic writing to preparing students to develop rhetorical awareness and agility to engage in various writing contexts.
"Second, it provides compelling narratives from students about their reasons for leaving college, which are narratives that are often silent or lost," Bawarshi said.
Reichert Powell said the writing and rhetoric program at the college is currently undergoing changes. She hopes that the ideas covered in her book will be incorporated into the curricula.
"My goal as a writing teacher is to think less about where [students] are headed and more about what would be interesting and important for them to write right now," Reichert Powell said.